Christian Dior, a house known for the way it has shaped femininity in fashion over the last 70 years, has never had a female creative director. But that looks set to change.
After a long search to replace Raf Simons, who stepped down from the lead position in October, Dior will appoint Maria Grazia Chiuri to the role after the label's couture show in July, according to a report from Reuters citing two unnamed sources.
Chiuri is currently half of the creative duo in charge of Valentino. Valentino Garavani himself hired Chiuri and her creative partner, Pierpaolo Piccioli, giving them the task of creating an accessories line in 1999. After Garavani retired from his business in 2007, Chiuri and Piccioli took over as co-creative leads. They quickly reinvigorated Valentino, introducing the popular Rockstud shoe and making Valentino's clothes a regular sight in street-style photography. In 2015, the house topped $1 billion in sales.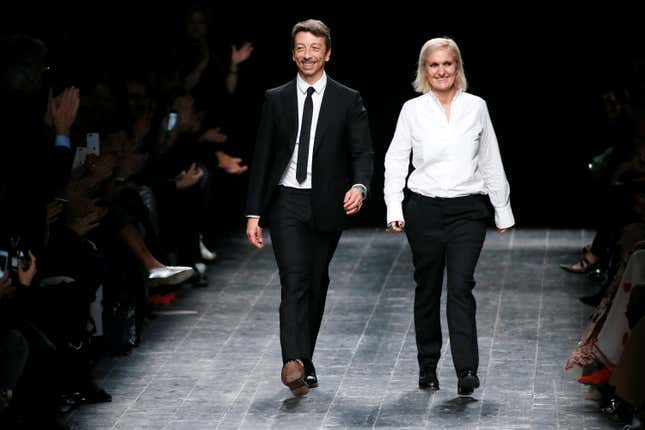 It's not clear at this point how the move would affect the creative leadership at Valentino. We've reached out to Christian Dior and Valentino and will update this post with any new information.
Despite its influence on the silhouette of women's clothing over the decades—it was Christian Dior who introduced the ultra-feminized "New Look" with its pinched waist and full skirt—Dior has always been helmed by men, including Yves Saint Laurent, Gianfranco Ferre, and John Galliano. Even today, men run most of the major fashion houses that make their money selling mainly women's clothing and accessories.
Chiuri's appointment to the head of Dior would help to shift that balance. Earlier this year, Lanvin hired Bouchra Jarrar to replace Alber Elbaz as creative director, making her the fourth woman to hold the position there since Lanvin's founding in 1889.
Whoever takes over at Dior will have a sizable task ahead. In addition to the pressure of designing for one of the most revered fashion houses in Europe, she or he also will have to help it pull out of a sales slump that has dragged on for a year and a half. Like other luxury brands, Dior is facing a slowdown among Chinese shoppers and difficult conditions in Europe.
In Chiuri, Dior would be getting a leader with an exceptional track record of creating both gorgeous couture and accessories that are highly desirable—and sellable.