It's no secret that Greece's economy is a mess. In the country's sixth year of recession, unemployment is nearing 27% and 64.2% of young people are out of work. But there are signs of improvement, and investors are taking note.
On May 14 Greek bonds, a proxy for investor confidence in the country's ability to repay debt, were yielding 7.85%, the lowest since May 2010, before the euro crisis began.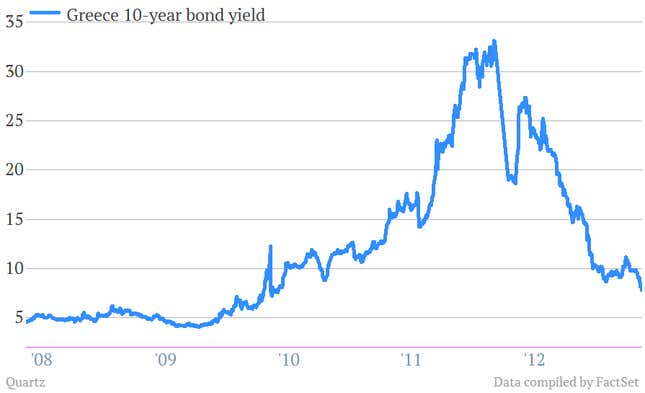 The drop is partly related to the structuring of Greek government debt. Private investors took the hit when Greece defaulted in March 2012. So Greece's primary creditors are now the "troika" (the European Central Bank, other European countries, and the IMF). Those official entities insist that Greece is responsible for repaying the full face value of those bonds, but the payment schedule has been lengthened in an effort to stabilize the economy. The country's debt payments will decline in 2014 and stay reasonably low through 2032.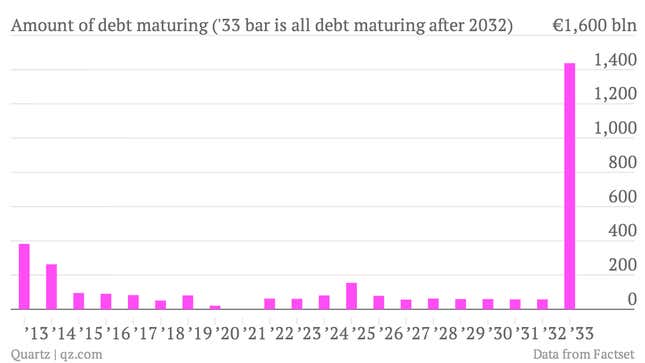 Another driver of low Greek yields: unprecedented global monetary easing. Central banks have been vacuuming up safe assets to depress interest rates and jolt domestic growth, which has also driven investors into riskier assets—for example, sub-Saharan Africa sovereign bonds and Southeast Asian corporate bonds. Greek bonds are yet another high-yield option.
Greek prices are finally falling under the weight of austerity. Wage cuts have lowered prices and export costs. In April, the consumer price index fell 0.6% from a year ago. Greece is hoping to invigorate its tourism industry (a key Greek export) by offering tourists cheaper vacations.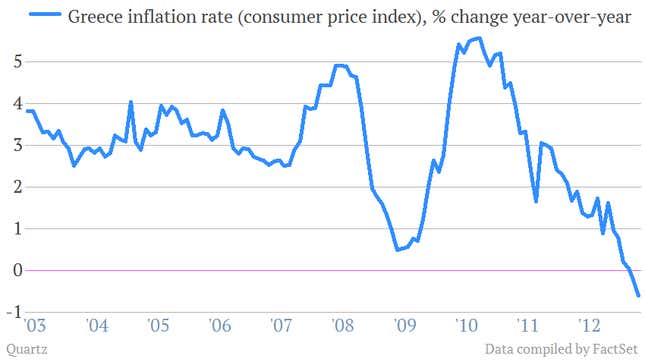 In a rare victory for today's advanced economies, this week Fitch Ratings upgraded Greece's long-term sovereign debt rating from CCC to B- (still a couple of ranks below investment grade).  "The Greek economy is rebalancing: clear progress has been made towards eliminating twin fiscal and current account deficits and 'internal devaluation' has at last begun to take hold," the agency said in a press release.
Those economic reforms make Greek corporate debt, a highly speculative bet when we first mentioned it in November, look more attractive (paywall). As a result, more hedge funds and private equity groups are piling in. Last month, Dan Loeb's Third Point told its investors that it was starting a hedge fund focused on investing in Greek corporations. Oaktree Capital Group, Fortress Investment Group, York Capital Management, Dromeus Capital, LNG Capital and CQS have all been buying Greek corporate bonds. Meanwhile, Morgan Stanley is urging clients to buy Greek government bonds (paywall), arguing that private investors wouldn't take the hit if Greece defaulted again.
Of course, as Fitch noted, the country could easily be blown off course by political or economic headwinds elsewhere in Europe. But if the investing craze continues along with steady reforms, Greece's economy could enjoy some real gains.