After Donald J. Trump upended decades of diplomatic protocol yesterday (Dec. 2) by holding a phone call with Taiwan president Tsai Ing-wen, Beijing was quick to blame Taiwan for the incident, and imply that Trump was duped into talking to Tsai.
The call was nothing more than a "little trick," China's foreign minister Wang Yi said (link in Chinese) during an interview that was broadcast Saturday morning in Asia.
This is only a little trick put up by Taiwan, and it's impossible to change the 'One China' pattern that has formed in the international community. I don't think the US government will change the 'One China' policy it has insisted for years, which is the cornerstone of the healthy development of the Sino-US relations. We don't want any interference or destruction of this political foundation.
He used the word xiaodongzuo to describe the call, which literally means "small action," but in this case implies something deceitful. Some translated Wang's description as "a petty trick" instead. "Taiwan made a petty gesture before Trump is sworn in, and Trump responded to it," state tabloid Global Times wrote, adding he is "not familiar with foreign relations."
While Taiwan has been self-governed since the end of the Chinese Civil War in 1949, and holds democratic elections, it is considered part of China by Beijing, which considers any recognition of Taiwan's leaders a serious affront. Since 1979, the US has recognized the Communist government in Beijing as the country's seat, and no US president has spoken directly, at least publicly, to their Taiwan counterpart. Complicating matters, Trump's real estate company has expressed interest in building hotels in Taiwan, a local mayor says.
Bolstering Wang's claim, Taiwan's government distributed photos of the call showing Tsai flanked by her cabinet, smiling as she talks into a speakerphone.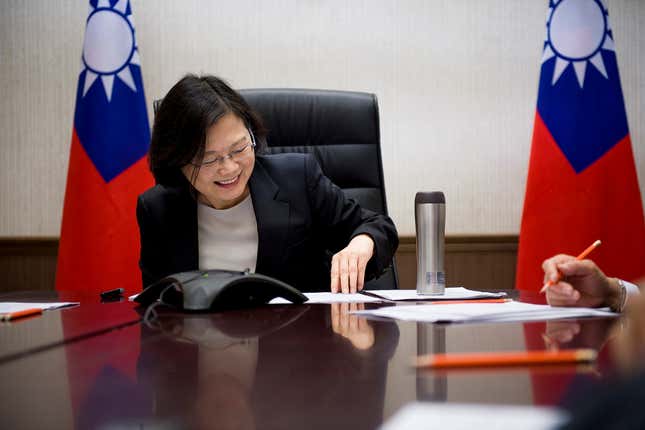 Beijing reportedly contacted the White House soon after the call, and the White House issued a statement that there was "no change" to US policy last night. "We remain firmly committed to our 'one China' policy," Ned Price, a national security spokesman for US president Barack Obama, said.

Today, the foreign ministry said the Chinese government has "lodged solemn representations" to the US over Trump's call, which is akin to lodging a formal complaint. Beijing urges the US to uphold its "One-China" policy and "carefully, appropriately" deal with Taiwan issues, so as not to disturb the Sino-US relations, the ministry said (link in Chinese).
The China-Taiwan relationship is considered one of the world's military flashpoints, and Trump critics like this Democratic senator warned his actions could have disastrous consequences.
Political analysts are struggling to decipher whether Trump had purposefully upended years of US policy, or had simply been ignorant about the history and protocol as China's Wang implied. American diplomats with experience in Asia were sharply critical, including a former ambassador to Korea and assistant secretary of state on Asian affairs:
Even Donald Trump's "China Muse," Peter Navarro, an economist who is deeply distrustful of Beijing and encourages more US engagement with Taiwan, stops short of recommending diplomatic recognition of Taiwan. In July he wrote that American leaders should, essentially, never do what Trump just did, saying "On the 'don'ts' front, the guiding principle here is that there is no need to unnecessarily poke the Panda."
Trump's spokeswoman, Kellyanne Conway, defended his actions on television, saying he was "well aware" of the situation and "fully briefed and fully knowledgeable." But tweets by Trump suggest that he did not know about the complicated history and was completely surprised by the criticism:
The call had been previously arranged by both sides, a Taiwanese official told Reuters. The government of Taiwan said in a statement (link in Chinese) that the two sides had discussed strengthening bilateral relations, and increasing Taiwan's international influence.
Tom Cotton, a senator from Arkansas who has proposed a bill that would punish Chinese officials who suppress freedom in Hong Kong, was one of the few US politicians to quickly rush to support Trump's actions, saying: "I commend President-elect Trump for his conversation with President Tsai Ing-wen, which reaffirms our commitment to the only democracy on Chinese soil."