An island, a territory, a self-governing entity, a renegade province, a breakaway part of China, the place formerly known as Formosa—call Taiwan any of those things, but never a country, a state, or a nation.
The simple fact that it took a phone call between US president-elect Donald Trump and Taiwanese president Tsai Ing-wen to draw attention to one of Asia's most vibrant democracies highlights the humiliating plight of Taiwan in the international arena. The irony that the US and other democratic countries cannot openly recognize Taiwan's achievements for fear of incurring Beijing's wrath has not been lost on many observers, who nevertheless fear that a cavalier move by Trump to upend diplomatic protocol in such a way could ultimately end badly for little Taiwan: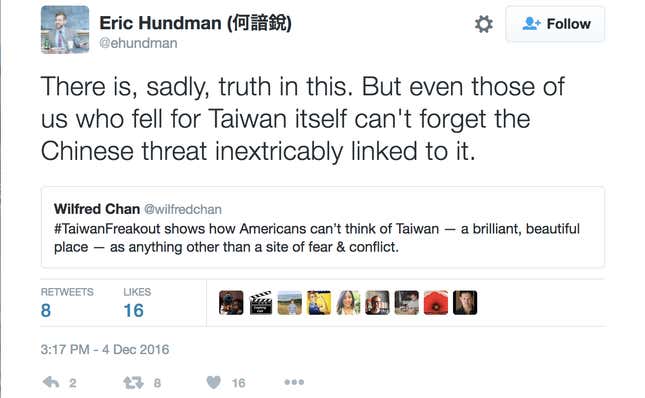 Since 1979, as almost every country in the world switched recognition from Taiwan—or the Republic of China—to Beijing, the "One China policy" has guided how countries conduct "diplomacy" with Taiwan. Only 22 countries, including the Holy See, have embassies in Taiwan. They're mostly smaller, less powerful entities like Burkina Faso and Panama.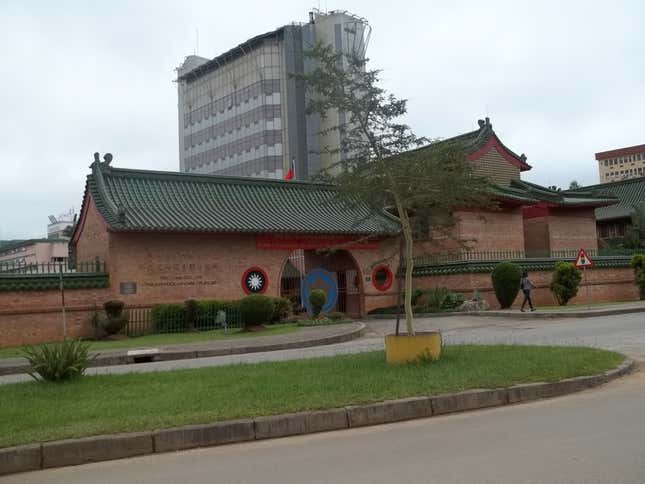 The G20 and the rest of the world have no embassies in Taiwan, although some have alternate representatives there. Just as for decades the US was represented in Havana by the United States Interests Section, there is the American Institute in Taiwan. Other countries have "trade offices" providing consular functions in Taipei. Taipei in return has "cultural and economic" centers abroad.
Once every couple of years, an entity called "Chinese Taipei" competes in international sporting events, like the Olympics. But because mainland China competes as a sovereign entity as the People's Republic of China, Taiwan isn't allowed to use the ROC anthem, or fly the red white and blue ROC flag. 
China squeezes Taiwan diplomatically in myriad other ways, with the noose tightening in response to Taiwan electing Tsai, who represents the nominally pro-independence Democratic Progressive Party, as president this year. This year, Taiwan was barred from attending a meeting in Montreal of the United Nations' air-safety body, the International Civil Aviation Organization (ICAO), under pressure from Beijing. Taiwan does not have a seat (paywall) at the UN, and its citizens are barred from visiting UN buildings because its passport is not recognized. It was allowed to participate in the ICAO four years ago, but Taiwanese journalists were not allowed to cover the event. Only Taiwan's diplomatic ally, the tiny Pacific island of Nauru, stood up against the international community's isolation of Taiwan after the ICAO snub.
In 2003, being shut out of the UN meant that Taiwan was denied access to important information from the World Health Organization even as the Severe Acute Respiratory Syndrome (SARS) virus was killing hundreds of people in Taiwan and elsewhere in Asia.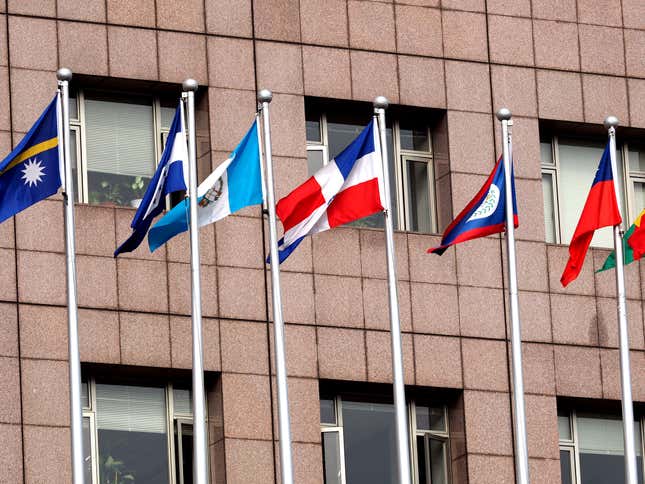 Taiwan is also at risk of losing the Holy See as a diplomatic ally, because after decades of animosity, the Catholic Church looks close to reaching a deal with Beijing, which is systematically demolishing churches and imprisoning Christians. West Africa's Gambia already switched allegiances from Taipei to Beijing this year.
Recently, some of China's allies, such as Kenya and Armenia, have started repatriating Taiwanese citizens who allegedly committed crimes in those countries to China rather than Taiwan.
Even stamp-collecting is sensitive, with Hong Kong boycotting a major philately event held in Taipei this year because of deteriorating cross-strait relations.
That hasn't stopped Taiwan, with its population of 23 million, from going above and beyond in the international diplomatic arena. In 2009, Taiwan ratified two UN treaties, despite its exclusion from the body—the International Covenant on Civil and Political Rights and the International Covenant on Economic, Social and Cultural Rights. Taiwan isn't allowed to take part in the UN's climate change talks, but it "attended" the talks nonetheless by sending non-governmental delegations representing Taiwan's interests. It has gone ahead and implemented its own ambitious goals to reduce greenhouse gases, as per the UN's framework.
Now Taiwan is also on its way to being potentially the first place in Asia to allow same-sex marriage. Even if a proposed bill does not pass, the vibrant and passionate debate over gender equality there has already set it apart from not just its Asian neighbors, but many countries in the world. Just don't call it the first "country" to grant same-sex marriage in the continent.