It looks like a lot of kids are on Santa's "nice" list this year.
Higher-priced toys are flying off the shelves this holiday season, according to recent consumer spending reports.
One firm, The NPD Group, found that toys over $70 had the strongest dollar growth in toy sales over Thanksgiving weekend, compared to the same period last year. Sales in the category rose 8%—the second-highest increase of any price category—the company said. NPD said it could not immediately share the figures behind its report. Here's the chart: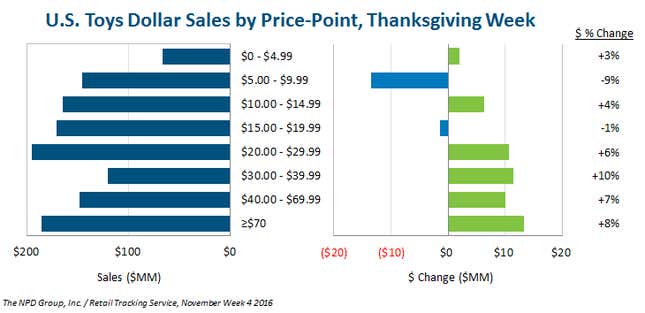 Innovation is driving the trend, said NPD's US toy analyst Juli Lennett. "Both manufacturers and retailers are more open to investing in new ideas and taking risks," she said in the report. "Success breeds innovation, which breeds more success and innovation, and the snowball effect continues to roll."
Parents want to spend more this year to make the holidays memorable for their children. "They seek that special reaction, and they are willing to pay a high price for it," said Lennett, who added that parents are also motivated by the desire to capture and share that moment on social media, for all to see.
US consumers plan to spend an average of $935.38 during the holiday shopping season this year, with more than 60% of that going toward gifts, the National Retail Federation's annual consumer-spending survey found. That's less than last year, but still the second-highest spend in the survey's 13-year history.
What hot high-priced toys are parents buying?
Connected toys like drones, cars, and robotics were at the top of many shopping lists over Thanksgiving week, Lennett said. As were hoverboards, which seemed to have solved the pesky combustible problem from last year, electric scooters, and battery-powered ride ons for younger kids.
In line with NPD's findings, Adobe, which tracks online shopping data, said the best-selling toys from Nov. 1 through Dec. 5 were electric scooters from Razor, Lego sets, DJI Phantom Drones, and Nerf blasters, most of which cost more than $50, with the exception of certain Lego and Nerf products. That drone can run up to $1,500, depending on the model.
The toys parents were most likely to trample each other for, based on out-of-stock messages on retail sites tracked by the company, were Hatchimals, a newly released interactive-toy pet that hatches from an egg, a playset for preschool-aged children called PJ Masks Headquarter Play Set, and Anki's tiny robot toy Cozmo. Each sell for around $70, $150, and $180 or more, respectively. Adobe analyzed aggregated and anonymous data from 24 billion visits to US retail websites, including the top 500 retailers in the US, in its report.
"In prior years, there were one or two hot toys for the holiday, but today there is not any one item," said Lennett, in another report. "While this may create competition for manufacturers, it also presents many opportunities to grow the toy industry in the fourth quarter."