We at Quartz are on Yeezy 2020 watch, dissecting Kanye West's every move before he runs for president as promised in four years.
Today, the would-be 46th president met with the 45th president at the latter's home in New York.
When asked about the unexpected meeting this morning with West and what they talked about (paywall), Donald Trump said only: "Life. We discussed life."
West was captured on camera walking into Trump Tower in New York at around 9am local time—hours after the president-elect stunned the world twice over, first by postponing a critical address he was set to make about his business conflicts of interest, and second by picking the politically inexperienced ExxonMobil CEO Rex Tillerson for his secretary of state.
Trump's meeting with the musician, surely not a well-timed public distraction in the slightest, took place behind closed doors, and neither party revealed particulars about the discussion afterward. But oddly, Trump and West have plenty in common. Topics the pair have likely bonded over include:
West saying he would have voted for Trump, which preceded an exhaustion-induced breakdown that saw him hospitalized (no connection, surely)
their experiences being featured on reality television
preservation of astoundingly massive egos
how to be as sensational as possible on Twitter
the difficulty of existing in Hollywood's cruel spotlight
their celebrity socialite wives
their mutual dislike of American politics
Bill Maher calling Trump "the white Kanye" in 2015
and most recently: blonde hair dye (paywall).
An Associated Press photographer captured what may be a deeply prescient shot of the pair—below—that would seem to foreshadow Kanye's imminent rise to the US's seat of power, as the outgoing president cheers from behind. It's also a likely preview of what their debate might look like before Trump runs for re-election, given Trump's apparent preference of looming silently behind his opponents as they speak.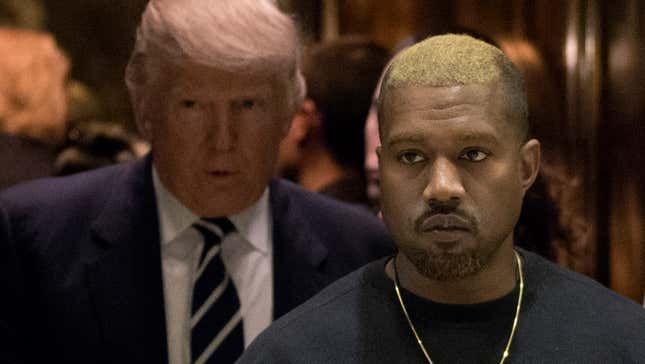 "We've been friends for a long time," Trump told reporters after he and West resurfaced. But of course.