At breakfast time in the household of Londoner Michael Zee, there are no slapdash cereal bowls, instant waffles, or coffee to go.
As a daily act of love for his partner, fashion designer Mark van Beek, Zee rises early each morning to prepare two elaborate home-cooked meals, and then to gorgeously plate them. The final touch before the two sit down to eat together is a quick iPhone photograph to share with his 650,000 Instagram followers.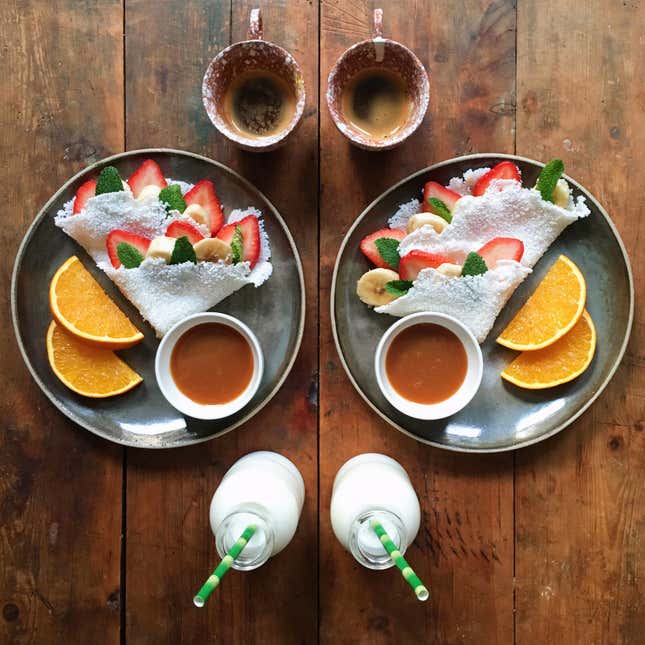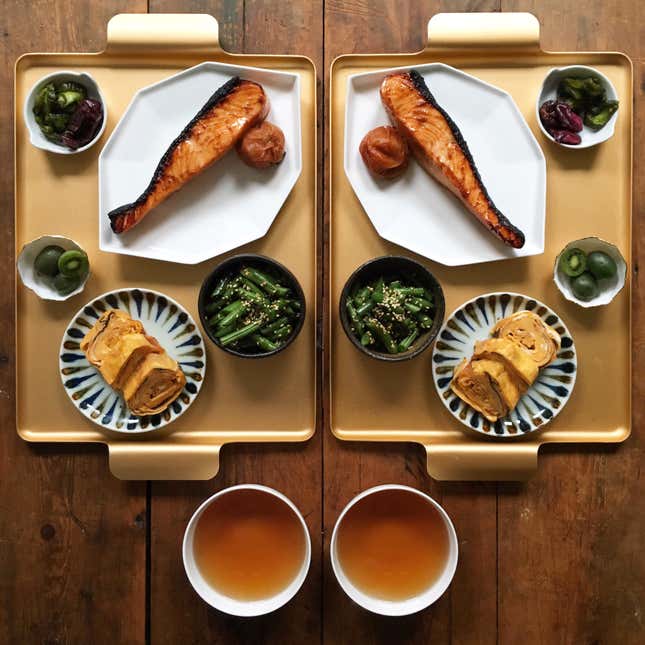 Zee, who is of Chinese and Scottish heritage, delights in scouring the world's cuisines for inspiration. "I suppose the only thing that is consistent is that Mark never really knows what he is going to get until he sits down," Zee tells Quartz. From crispy Moroccan pancakes to Portuguese egg custards to Filipino chocolate rice porridge to magic grits from the American south, Zee has compiled his best recipes in a delightful new book, Symmetry Breakfast (released Nov. 15).
The couple's breakfast tradition started early in their relationship, when Zee prepared a two identical plates of an Atkins-diet-friendly breakfast: avocados, omelets and cold cuts.
He explains that the pleasing Rorschach test symmetry of their meals is not a political statement about equality or sameness, but a visual discovery. "It wasn't so much of a conscious decision to be honest," explains Zee, who studied photography for five years. "[It was about] understanding composition and balance and what we in a larger way describe as beautiful or calming or orderly."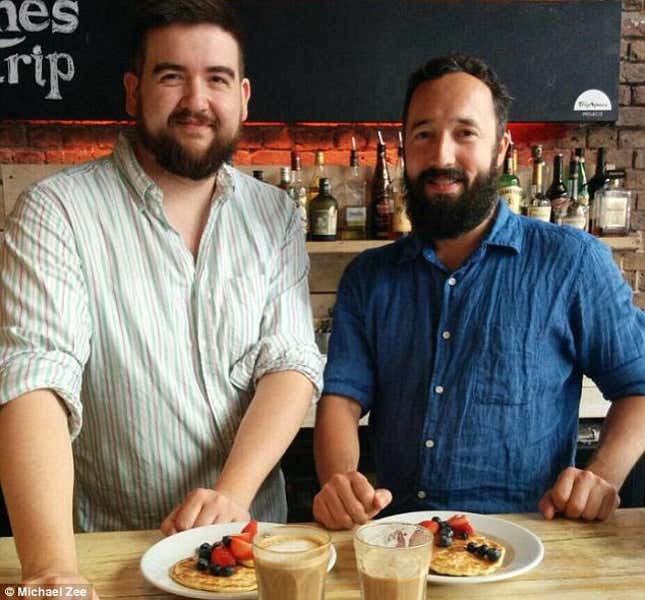 Like beautiful food packaging that influences our perception of taste, good plating is imperative to the enjoyment of food, argues Zee. "Why should you care about the color or size of the plate when you're making dinner for the family, a loved one, or even yourself? Simply because we all need more love in our lives, not less. Food can be designed to promote conversation and sharing simply by the size in which its prepared or way it's served," he explains.
Zee, who wants to design a line of tableware, has nurtured a passion for ceramics while working at the Victoria & Albert Museum, with its unrivaled global collection. The couple's east London flat has its own display of plates from around the world. "I've got a 20-foot stretch of wall with over 1,000 plates from our travels, personal commissions from local ceramicists and many other sources," says Zee. "Its still growing, too."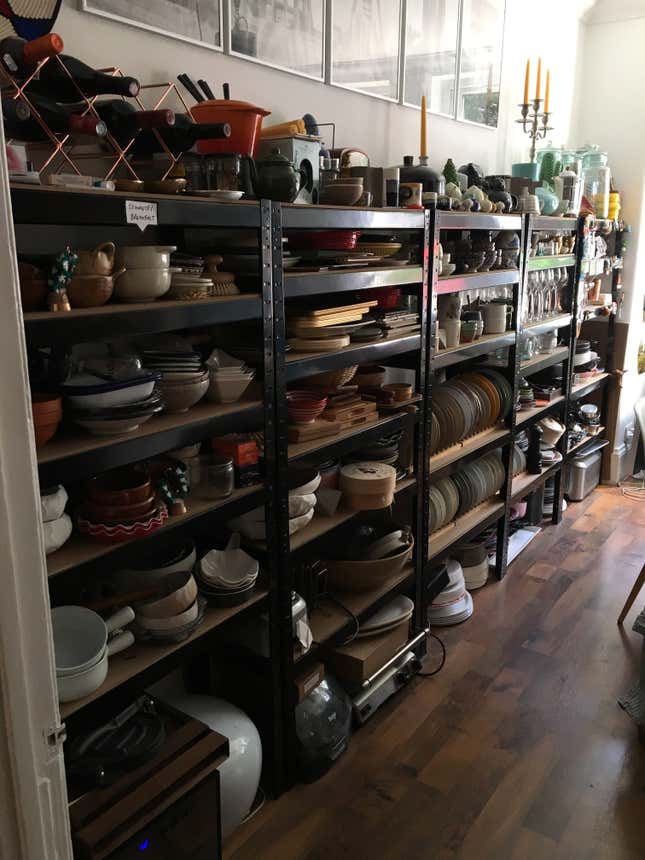 Zee keeps a well-stocked pantry, and he says that inspiration for most breakfasts strikes him on the spot. But sometimes, a world event will shape what's on his plates. For the Brexit vote in June, Zee made a continental breakfast with products from various European countries: Italian ham, French cheese, and Spanish grapes.
And as a tribute to the beleaguered city of Aleppo, Zee donated his talents to UNICEF UK's Children of Syria Fund last month, and cooked up a Syrian-inspired buffet. At the brunch fundraiser, he highlighted the city's Syrian-Jewish culinary traditions with dishes such as pumpkin babka, sweet duck kibbeh with pomegranate molasses, orange blossom and pistachio atayef pancakes, and a fig cocktail.
Spending two or three hours to concoct an elaborate breakfast is not for everyone. But for Zee, dragging himself out of bed each morning is a quest to delight van Beek, who often has to work late nights.
"Breakfast time can be about spending precious moments with the people we love," writes Zee. "For me, it's about making that time count."
After nearly 1,000 beautiful breakfasts together, Zee asked van Beek to marry him via the dedication page of his book. Van Beek said yes.