Since the election of Donald Trump, the walls of New York City's 14th Street Union Square subway station have become a release valve for grief-stricken New Yorkers, who, outside of Staten Island, overwhelmingly voted for Hillary Clinton. Created by artist Matthew "Levee" Chavez, "Subway Therapy" invites anyone to write down their fears, hate and hopes on a Post-It note and tack it on the station's tile walls.
Thousands of Post-Its have formed a thick and colorful wallpaper over the course of six weeks, with many passengers stopping to read notes or take a quick photograph of the growing collage. Chavez estimates about 2,000 new postings are added daily.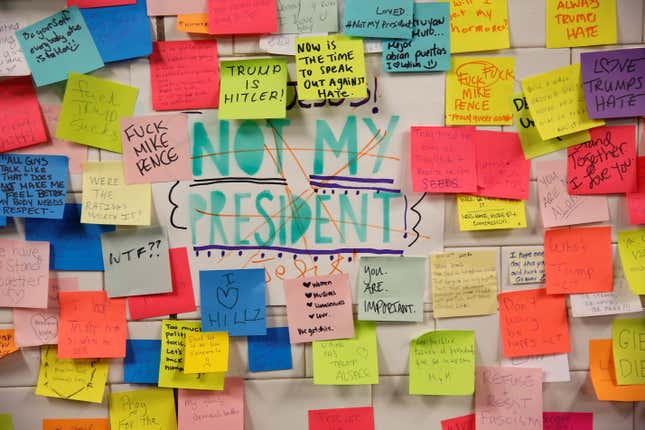 New York governor Andrew Cuomo announced plans to archive a large portion of the collection as a historical record. "Today, we preserve a powerful symbol that shows how New Yorkers of all ages, races and religions came together to say we are one family, one community and we will not be torn apart," said Cuomo in a press statement Dec. 16. Cuomo himself posted a message of unity for New Yorkers during a Nov. 14 visit, scribbling down a line of poetry from the base of the Statue of Liberty.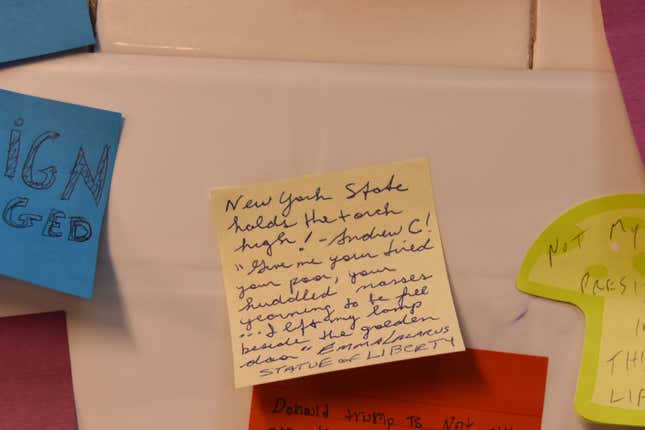 The New York Historical Society will work with the NY Metropolitan Transit Authority to gather and preserve the sticky notes as part of its History Responds program. "We are ever-mindful of preserving the memory of today's events for future generations. Ephemeral items in particular, created with spontaneity and emotion, can become vivid historical documents," said the society's president Dr. Louise Mirrer.