The future of automotive technology looks a lot like one of the most popular types of cars from the 1990s.
Alphabet's newest subsidiary, Waymo—the former self-driving car program within Alphabet's X research lab—said today that it will be rolling out 100 of its new autonomous minivans onto US roads in 2017. The chunky cars were developed through a partnership between Google and Fiat Chrysler engineers, and their design is based on the automaker's new Pacifica minivans.
Waymo was introduced as a standalone company underneath the Alphabet umbrella last week, as the internet giant looks to diversify its revenues beyond search and advertising. In a blog post on Medium today, Waymo CEO John Krafcik (who headed up the project when it was within X) showed off a few photos of the new cars, adding that the company has been testing them at private facilities in California, Arizona, and near Fiat Chrysler's headquarters in Michigan.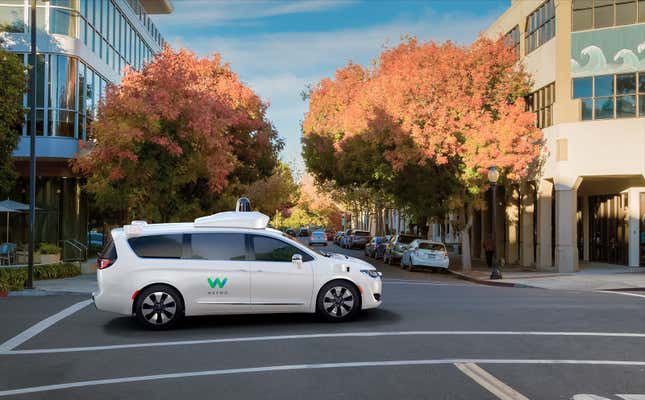 While it's not entirely clear why minivans, the epitome of mid-1990s, suburban American, nuclear family travel were chosen, over say, sport-utility vehicles, Google did say back in May when it first announced its minivan endeavor, that the minivan design "gives us an opportunity to test a larger vehicle that could be easier for passengers to enter and exit, particularly with features like hands-free sliding doors."
Unlike the koala-shaped pods that Google had been using most recently to test out its autonomous-vehicle technology, Waymo's new minivans look pretty much like a regular minivan, apart from the white box, and black Lidar sensor on the roof. But rather like Uber's newest self-driving cars, if one of these pulled up behind you at a stop light, you might not realize that there's anything special about the car, unless you saw the driver wasn't holding on to the steering wheel.
Since the project's inception in 2009, Google's (now Waymo's) self-driving cars have driven roughly 2.3 million miles across four US states. Krafcik added in today's post that in the last six months, these new cars have endured over 200 hours of "extreme-weather testing," which is going to be rather important, given that most driving does not take place under the generally ideal weather conditions of the average Californian day. (It's worth noting, however, that Waymo's cars have driven a mere fraction of the trillions of miles that US vehicles drive every year.)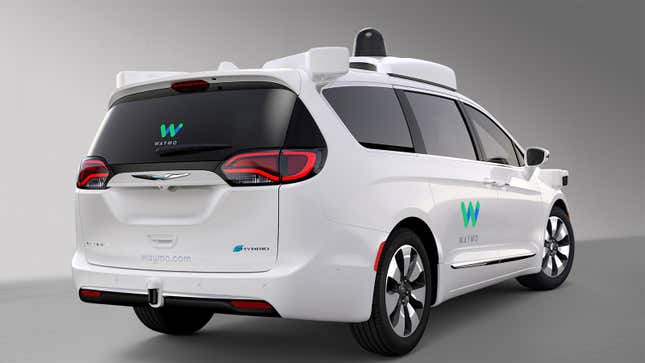 Waymo's new people-movers went into production in October, Krafcik said in his post. The deal with Fiat Chrysler was first struck in May, and Krafcik said they will be tested more publicly in 2017, but didn't give any indication on what that testing might look like. It's not clear whether Waymo intends to start offering a ride-hailing service next year, as companies like Uber and Ford have begun to do in limited capacities, and the company wasn't immediately available to comment.