Up until today (Dec. 21), 22 countries recognized the Republic of China's government in Taipei over the People's Republic of China's in Beijing. Now, that figure has shrank to 21.
Today China's foreign ministry announced the nation of São Tomé and Príncipe has switched its diplomatic allegiance to Beijing.
"China expresses appreciation of this, and welcomes São Tomé back onto the correct path of the 'one China' principle," China's foreign ministry said in a statement (link in Chinese), adding the principle is China's "core interest" and is associated with "over 1.3 billion Chinese people's feelings."
Taiwan, a self-governing island that has held democratic elections for decades, has long been elbowed out of the international community because Beijing views it as a breakaway province since the end of the Chinese civil war in 1949. Under Beijing's one-China principle, countries can either recognize Taipei—the Republic of China—or Beijing—the People's Republic of China—as the legitimate representative of China, but not both. Since 1979, when the US established official diplomatic ties with the government in Beijing instead of Taipei, almost every country in the world has followed suit.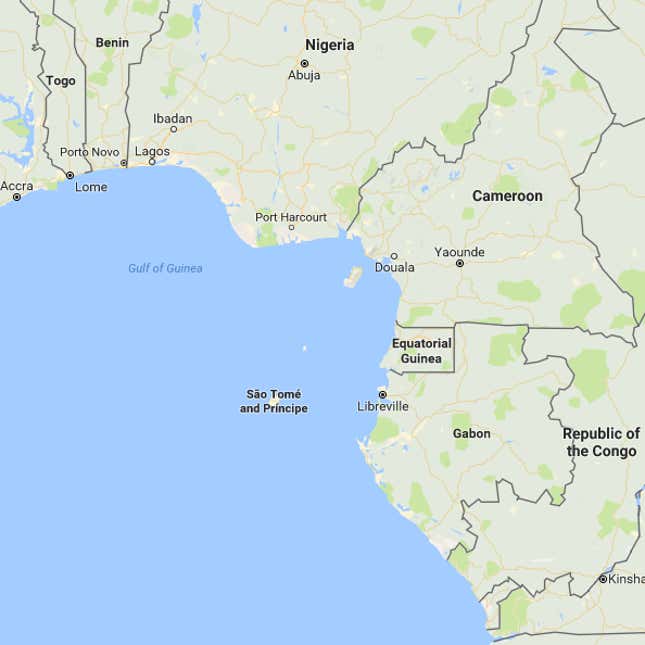 The Taiwanese government said in a Dec. 21 statement that it "deeply regrets" São Tomé's decision and will withdraw its embassy there and end all cooperation projects between the two sides. It added that it assisted São Tomé in many areas, but in particular it helped reduce the incidence of malaria in São Tomé from 50% in 2003 to 1% in 2015.
"The government of São Tomé and Príncipe, however, with excessive financial difficulties, and demands beyond those the ROC could meet, has ignored 20 years of friendly diplomatic relations, playing both sides of the Taiwan Strait while holding out for the highest bidder. The ROC regrets the São Tomé and Príncipe government's abrupt and unfriendly decision, and condemns this action," said the Taiwanese government in the statement.
São Tomé, a Portuguese-speaking country with a population of 190,000 off Africa's west coast, established diplomatic ties with Beijing in 1975, but switched recognition to Taiwan in 1997. As recently as Dec. 8, Her Jian-gueng, the Taiwanese ambassador in São Tomé, attended the opening ceremony of a Taiwan-funded digital center in the small town of Neves, according to the embassy's news release (link in Chinese).
But Beijing had also been making overtures to São Tomé. In 2013 it opened a trade mission in 2013 in São Tomé to promote projects including a $400 million deepwater port. Taiwanese foreign minister David Lin said at the time that it seemed unlikely that São Tomé would switch its allegiances to Beijing.
São Tomé has become more dependent on China than on Taiwan economically in recent years. In 2014 China was the third-largest exporter to São Tomés, shipping $5.7 million worth of goods in manufactures, machinery and transport equipment, according the World Bank.
São Tomé's decision came to Taiwan abruptly—it only notified Taiwan's foreign ministry five hours before the announcement was made (link in Chinese). Taiwan's São Tomé embassy website now redirects to the Ministry of Foreign Affairs website.
Gloves Off
São Tomé, though tiny and economically insignificant, is breaking away from Taipei at a tense moment in cross-strait relations. After Taiwan president Tsai Ing-wen's phone call to Donald Trump and a subsequent suggestion by Trump that the US's one-China policy could be in play, Beijing has signalled its strong disapproval through its rhetoric and military muscle-flexing. Since Tsai—whose party the Democratic Progressive Party has espoused Taiwanese independence—came to power in May, Beijing has steadily tried to squeeze Taiwan's international space further, for example by preventing it from taking part in international conferences.
Jorge Guajardo, a former Mexican ambassador to China, said São Tomé's move is important because it "breaks with China's policy of detente in terms of not poaching each others' diplomatic allies." An unofficial "diplomatic truce" held during president Ma Ying-jeou's eight-year term in Taiwan, during which Taiwan built closer relations with China. The last country to break ties with Taiwan was Gambia at the start of this year.
"The fact that they are going back to poaching each others' embassies means that China is taking off its gloves and will just seek to isolate Taiwan internationally," said Guajardo.
Tsai's upcoming trip to Taiwan's Central American allies in January will be closely watched. According to Wikileaks cables from 2008 and 2009, Nicaragua, Paraguay, the Dominican Republic, and Panama had all expressed interest in recognizing Beijing instead of Taipei, but the requests were denied by Beijing as a gesture of goodwill amid the "diplomatic truce."
Philip Yang, an adjunct professor in political science at National Taiwan University and former deputy secretary-general of Taiwan's National Security Council, said he is "worried" that the recent cross-strait tensions could lead to a "chain reaction" of allies breaking off ties with Taiwan.
Among the remaining 21 allies, Taiwan's relationship with the Vatican is arguably the most important, and one that is under imminent threat as Beijing—which has been persecuting Christians and allows only its own version of the Catholic Church to operate above ground in China—tries to woo the Holy See.
Jason Hsu, a legislator with the opposition Kuomintang party in Taiwan, said that São Tomé's switch is a signal that Taiwan needs to rethink its foreign policy strategy.
"If the diplomatic ties built over the past 20 years are only about money, should we continue to spend large sums of money on those ties?… If the Chinese Communist Party is going to keep applying pressure, [allies breaking off ties with Taiwan] will continue to happen and we need a solution," he wrote in a Facebook post (link in Chinese). Hsu said Taiwan should identify which ties are absolutely vital to keep—namely the Vatican.
Tom Tsui contributed reporting.