Uber's pullout from China in August 2016 marked the ride-hailing company's biggest concession to date. But the rest of East Asia has proven challenging too, as it faces strict laws and unfavorable market conditions that could effectively handicap its business there.
Its most recent hurdle comes in Taiwan, where the company has been operating since 2013. After a months-long battle with the government, its Ministry of Transportation on Dec. 27 passed an amendment to a law that imposes extremely steep penalty fees on Uber and its drivers, for acting as "illegal taxi operators."
The regulation, which president Tsai Ing-wen personally signed off on, places a bounty on Uber drivers, and rewards ordinary people financially for reporting them to police. Drivers caught accepting rides through Uber will face a minimum fine of NT$100,000 ($3,164) and a maximum fine of NT$25 million ($791, 277), depending on the infraction. That marks the highest penalty Uber has been subject to in any market, according to Uber. The regulation also ensures pedestrians who report Uber drivers to police can receive a percentage cut of the fine based on its size—thereby encouraging the public to rat drivers out for cash.
Fines for Uber had technically been in place since September 2014, but they were considerably lower—each infraction was subject to a maximum fine of NT$150,000 ($4,746). Yet these smaller penalties nevertheless accumulated, and cost Uber a pretty penny. According to Focus Taiwan, a government-linked news site, the transportation ministry had received NT$62.86 million ($1.9 million) from Uber to pay back fines. Uber typically foots the bill for penalties doled out to its drivers. If these larger fines are implemented aggressively, that figure could grow much higher, forcing Uber to exit Taiwan or scale back its business dramatically.
True to form, Uber has attempted to drum up public support for the company in hopes of easing its legal woes. Just before the regulation made its way to president Tsai, the company sent out a mass email urging customers to write to her.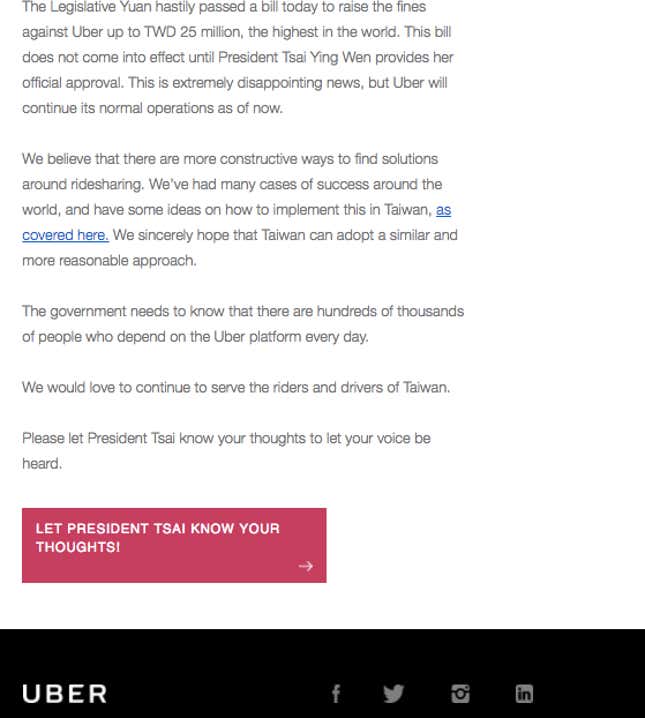 Meanwhile, Uber customers are feeling the effects of the ban, as drivers wary of getting reported turned their apps off.
The company held a meeting with Taiwan's ministry of transportation on Friday, but the two parties did not to come to a conclusive agreement on how Uber might operate legally, according to a spokesman for Uber.
If Uber has a fighting chance in Taiwan, it's because its tussle with the government comes at a politically critical moment for Tsai. The amendment imposing steep fines passed a legislature that is dominated by the ruling Democratic People's Party (DPP), which has close ties to Taiwan's taxi union. But throughout her tenure as president, Tsai has paid lip service to fostering startups and tech businesses and announced an economic policy dubbed "Asia's Silicon Valley" (ASV). She even stopped by Twitter's headquarters on a recent stopover in the US. Accommodating Uber could damage Tsai's standing among her party's core constituents, but bolster her image among Taiwan's business and tech community.
"If the government makes it especially hard for new tech companies to enter the market, it will discourage foreign investors and businesses from participating in the ASV initiative," writes Melissa Newcomb, research manager at the Global Taiwan Institute, a think tank in Washington, D.C. "Whether Taiwan's government can coordinate and endure the messy process of regulatory reform to innovate its industries will be a test for the ASV initiative and Taiwan's ability to restructure its economy going forward."
Out of East Asia
Losing the right to operate UberX in Taiwan isn't on the same level as retreating from China in terms of missed opportunities, but it would mark yet another market in East Asia where the company has been curtailed.
In both South Korea and Japan, a number of factors have prevented Uber from achieving the popularity it has earned in the US, Europe, and elsewhere.
In Seoul, local regulations have continued to hinder the the company's growth. Uber bowed out of Korea temporarily in March 2015 after authorities legally indicted CEO Travis Kalanick, but re-opened for business in November that year. It currently offers rides in three tiers there—UberBlack, a luxury car service typically priced at 1.5 times the price of a cab; UberAssist, a tier designed for disabled and elderly individuals, and UberTaxi, which connects riders with existing municipal taxis. But a formal ban on private car ride-hailing has kept UberX, its flagship tier, out of the country.
The company also faces stiff competition. In March 2015 KakaoTalk, South Korea's most popular chat app, launched KakaoTaxi, an Uber analog that lets users hail certified municipal taxis. The chat app's ubiquity helped turn the service into a success—the company says it has 260,000 drivers using it all over Korea.
"Kakao just leveraged their messaging app, which everyone uses in Korea, to beat Uber," says Eugene Kim, partner at Sparklabs, a venture capital firm in Seoul. "I wouldn't say their brand is that strong in Korea."
In Japan, the government has also banned private car ride-hailing nationwide, forcing Uber to drop UberX in Tokyo and offer luxury car and taxi services only. While it faces no competition from a domestic tech startup, James Riney, a venture capital investor at 500 Startups in Tokyo, says that the country's abundant municipal taxis and ultra-efficient subways will make Uber's journey in Japan a "long, uphill battle."
"Aside from rush hours… it is quite easy to catch a taxi in most places in Tokyo," he says. "I myself love Uber, but I think most people in Tokyo simply don't feel enough frustration with the status quo in order to try something new," he adds.
If Uber exits Taiwan or at the very least shuts down UberX, that would leave Hong Kong and the casino hub of Macau as its last hopes for East Asia. While it offers its low-cost, private car UberX service in those cities , regulators there have hardly been friendly to the company. In Hong Kong, Uber was forced to remove its taxi and van services, and five drivers went on trial in October on criminal charges of operating commercial vehicles without a license. In Macau, the company was nearly driven out after it racked up over 100 million patacas ($1.2 million) in fines placed on drivers. The company has never been known to give up a fight, but with cash-burning wars in Southeast Asia, India, and Latin America, Uber might have to pick its battles carefully and decide which regions are worth staying in.