When Steve Jobs stood on the stage 10 years ago today at the MacWorld Expo in San Francisco's Moscone Center, he started out by saying he was launching three new devices: "An iPod, a phone, and an internet communicator."
In fact, of course, they were a single device—the iPhone, which would lift Apple's fortunes to unprecedented heights. Still that Jobs needed three descriptors to convey the iPhone's function was telling. In 2007, it wasn't entirely clear what a portable web browser would look like; or how a mobile phone could operate without a physical keyboard; or what relationship personal music players had to phones.
The iPhone answered all those questions eventually, but describing it didn't come easily to our distant ancestors of 2007.
It's a monitor you operate with your fingers
It is essentially a computer with a blank screen that users configure so they can operate the monitor with their fingers.
The phone is rectangular, and the entire front surface is a touch screen. All of its functions are activated by touch, but when you bring your iPhone to your face, a proximity sensor will turn off the touchscreen so you don't accidentally face dial.
It doesn't require a "stick"
The iPhone incorporates a new technology called Multitouch rather than a stick, which is used in many hand-held devices already on the market.
It's a screen, and yet it's also a set of buttons
The thin, small slab has a touch-screen which displays whatever buttons, keys or icons are relevant to the task in hand. When playing music, the iPhone shows album covers; when writing e-mail, a small keyboard; when a call comes in, the caller's identity from the address book; and so on.
It's rather like a Newton, or a Samsung Blackjack, or an LG Prada
From Fast Company's Harry McCracken, who's digging up tweets from 2007 today.
Walt Mossberg at the Wall Street Journal:
It is very thin … it is thinner than the Samsung Blackjack which is quite a skinny phone.
CNet:
…Its lack of buttons puts it in a design class that even the LG Prada and the HTC Touch can't match
It's like a work of art…
…it's an iPod, a cellphone, and a portable internet all in a little lightweight package … It's small, sleek, and works without buttons, a touch-sensitive screen controls everything. Getting a look at the iPhone is like going to see the Mona Lisa.
Dale Larson, an early iPhone owner:
It's not like it's a computer, it's not like it's a phone, it's like a living sculpture in my hands.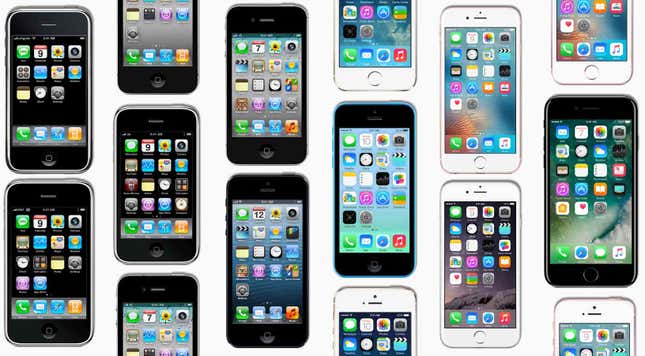 It's like something from a sci-fi movie…
It feels like something straight out of Star Trek.
…the iPhone has only one conventional button – all the rest of the controls appear on screen, adapting and morphing around your fingertips as you use the device, rather like the giant tablet in Minority Report.
…or just another world
David Pogue at the New York Times:
It feels amazing in your hand. Not like an iPod, not like a Treo — but something new. It's so thin, and the rounded stainless-steel edges are so smooth, you can excuse its larger-than-Treo façade. When you're on a call, it's so cool how the screen turns off to save power, thanks to its proximity sensor.
It's so thin, you could almost eat it
It has much the same aesthetic as the other Apple products … all rounded corners and sleek silver-and-black modernity, and no thicker than a digestive biscuit.
But perhaps the only description that really mattered to Apple, and the wider world of technology and business, is this one:
As iPhone sales slow, a very different Apple, under Tim Cook, will be looking to avoid becoming a victim of its handset's success while trying to land a hit with the next big thing—whatever that might be.