It's no secret that Amazon is interested in automation. The company has deployed tens of thousands of robots in its famously efficient warehouses, and is working on grocery stores that don't need cashiers. But the e-commerce giant still has a soft spot for humans.
On Jan. 12, Amazon announced plans to create more than 100,000 full-time US jobs, with benefits, over the next 18 months. That's a 55% jump on the company's full-time headcount, which numbered around 180,000 at the end of 2016. Amazon had 306,800 full- and part-time employees as of the third quarter of 2016, according to company filings.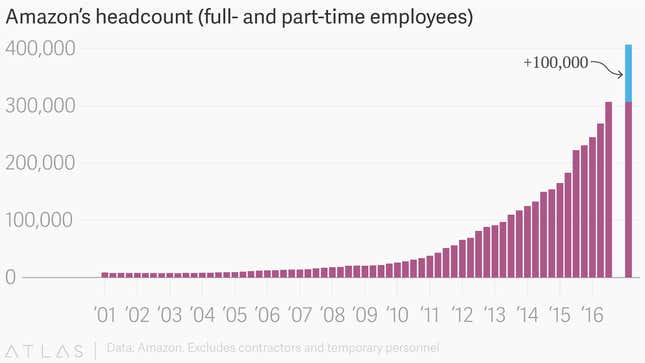 The new hires will range from engineers and software developers to entry-level positions that include on-the-job training, and many of the additions are tied to growth in Amazon's network of warehouses, or "fulfillment centers." The company will add 7,000 jobs in Illinois, where four new fulfillment centers are scheduled for completion this year; 2,500 in Florida, where two warehouses were recently announced; and another 2,500 in New Jersey, also alongside warehouse expansion.
Amazon's announcement comes at a sensitive moment for job creation in America: Donald Trump, who assumes the presidency on Jan. 20, campaigned on bringing back US manufacturing jobs (despite their prolonged decline), and preventing American companies from moving work overseas. Since winning the election, Trump has incorrectly taken credit for Carrier Corp. deciding to keep 800 jobs in the US, and falsely claimed to have prevented Ford Motor Co. from closing a plant in Kentucky.
But Trump has said little about how he sees tech companies fitting into this picture. Last month, the president-elect met with 13 tech executives—including Bezos—in New York, but he has yet to offer an official stance on issues like net neutrality and automation.
Bezos and Trump bickered throughout the latter's presidential campaign. Last summer, Trump told Fox News that Amazon was "getting away with murder, tax-wise" and had "a huge antitrust problem." Bezos, for his part, said Trump's behavior erodes democracy "around the edges." He also joked about sending Trump to space, and sharply criticized his threats against the media. (Bezos bought the Washington Post, a frequent target of Trump's attacks, for $250 million in 2013.)
After the election, Bezos changed his tone. He tweeted Trump a congratulations on his win, and described the December tech meeting as productive, noting that a focus on innovation "would create a huge number of jobs across the whole country, in all sectors, not just tech." But pledging to create 100,000 jobs? For humans? In America? That could be Bezos' best route yet into The Donald's good graces.