Michelle Obama is leaving the White House. For many in the US fashion industry, and those who just loved her impeccable style, the statement is enough to start tears forming.
Over the past eight years, the US first lady did more than just pick lavish outfits that made her look good, though she certainly possessed that ability. She clearly enjoyed fashion, engaged with it, and took an intelligent, thoughtful approach that showed a sensitivity to the way her clothing could communicate in an arena where the eyes of the world never left her. She championed young talents, wore the work of designers from all backgrounds, and deftly mixed clothes from mass-market retailers into her wardrobe, reflecting an understanding that the clothing she wore could be a way to connect with Americans and not just an extravagance remote from their lives.
From the first, her style inspired a fandom normally reserved for pop-culture celebrities. "She had just such a great democratic mix in that she was wearing high-end and she was introducing brands like Gap and Target," Mary Byun, who from 2008 to 2014 documented Obama's outfits on the blog Mrs. O, told Racked recently. "I looked to her style and felt a sense of aspiration but also accessibility, and I would guess that mix was appealing to other people."
Obama's approach to fashion conveyed meaning as well. At state dinners and other political events, she chose garments that honored invited heads of state, or made a subtle political statement of their own. And though she wore the big names—Gucci, Oscar de la Renta, Tom Ford, Versace, Alaïa, Alexander McQueen, and more others than any first lady before her (paywall)—she supported lesser-known labels as well. Tadashi Shoji, Bibhu Mohapatra, Tracy Reese, and Christian Siriano were among them.
Over two terms as the first lady, her clothes reflected the diversity of the country through the designers behind them, and in turn represented an idea about America itself. Here are nine outfits among the many of note that capture Michelle Obama's fashion legacy.
J.Crew cardigan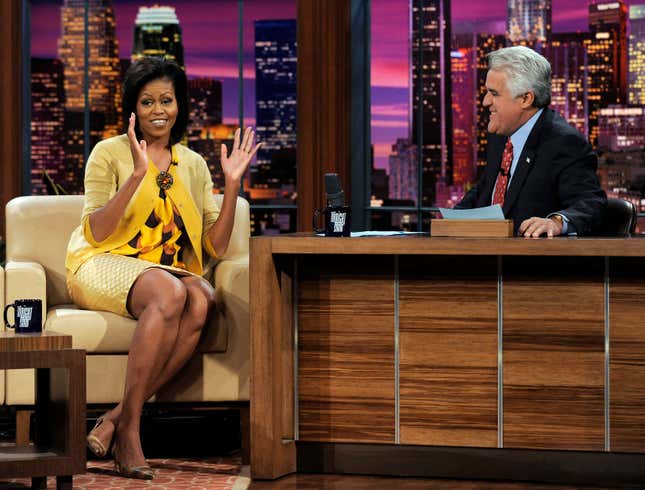 "I want to ask you about your wardrobe," host Jay Leno said when Obama appeared on his show on Oct. 27, 2008, just before the presidential election that put the Obamas in the White House. "I'm guessing about 60 grand? Sixty, 70 thousand for that outfit?" The joke was about the news a week earlier that the Republican National Committee had spent more than $150,000 on the wardrobe of Sarah Palin, vice-presidential running mate of Republican candidate John McCain.
"J.Crew," Obama replied. "Ladies, we know J. Crew. You can get some good stuff online." J.Crew's sales got a boost because of the appearance, and Michelle Obama became someone millions of American women could relate to. Cardigans would remain a staple of her outfits.
Jason Wu white chiffon dress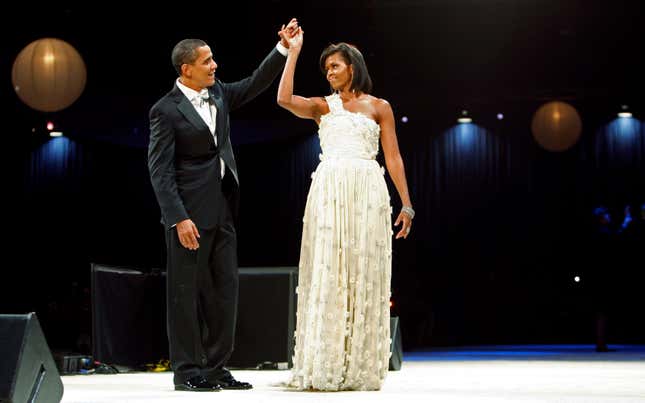 Rather than go with an American institution such as Ralph Lauren, the newly minted first lady chose an unexpected name to design her gown for the inaugural ball on Jan. 21, 2009. Jason Wu, a 26-year-old Taiwan-born graduate of New York's Parson's School of Design, had just launched his label a couple years before. He created an elegant chiffon gown that immediately established Obama as a fashion favorite. The gown drew raves, and launched Wu to prominence.
Naeem Khan strapless gold-and-silver gown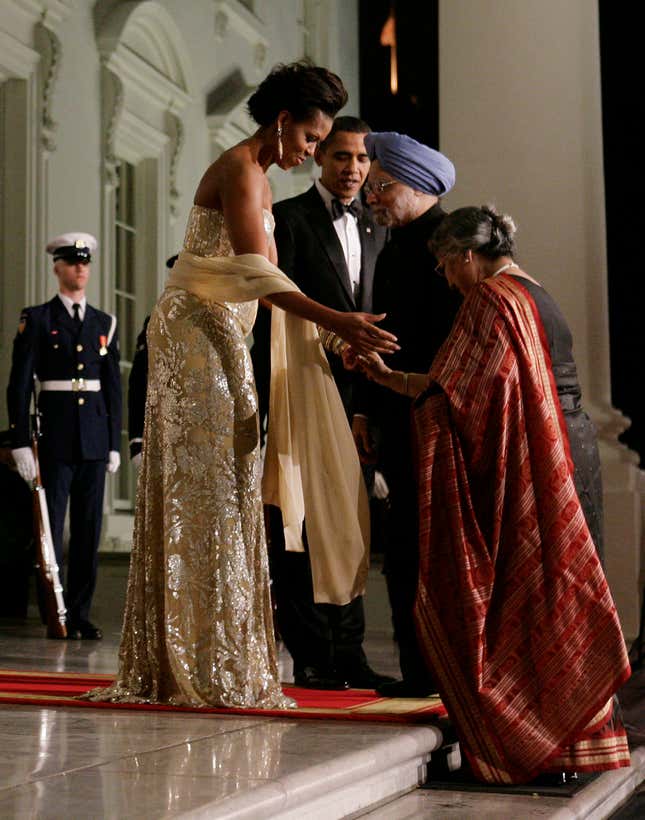 For their first official state dinner on Nov. 24, 2009, the Obamas invited Indian prime minister Manmohan Singh and his wife, Gursharan Kaur. For the occasion, Michelle Obama chose a dress by someone who reflected both her country and that of her guests: Indian-American designer Naeem Khan.
Khan was born and raised in Mumbai, and moved to New York in the 1970s, where he worked with the artist Andy Warhol. The dress was Khan's tribute to Warhol, "a combination of Warhol's Poppies and traditional Indian work on a classic American shape," he told The Times of India.
Obama looked stunning, and her culture-straddling dress showed she could use fashion as sartorial diplomacy while reinforcing the ideal that the United States embraces people from all over the world. It was the first of many such instances.
Tracy Reese custom silk dress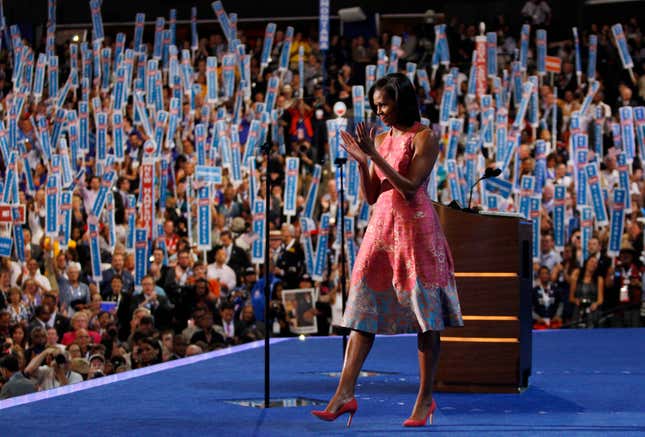 On Sep. 4, 2012, Obama took the stage to deliver her speech at the Democratic National Convention wearing a custom dress by Tracy Reese, a black American designer from Detroit. (Her shoes, by the way, were J.Crew.) Obama had worn Reese's work before, but never for such a major event.
American fashion is notorious for its diversity problem. So for the first lady, by this point a bona fide fashion star, to select the work of a black designer who was not yet a household name was significant. It made clear that she was aware this part of the industry exists, though it's often overlooked. And it made countless other Americans who loved the dress aware of it as well. "I became known to a whole other realm of customers," Reese later told the New York Times (paywall).
Michael Kors silk dress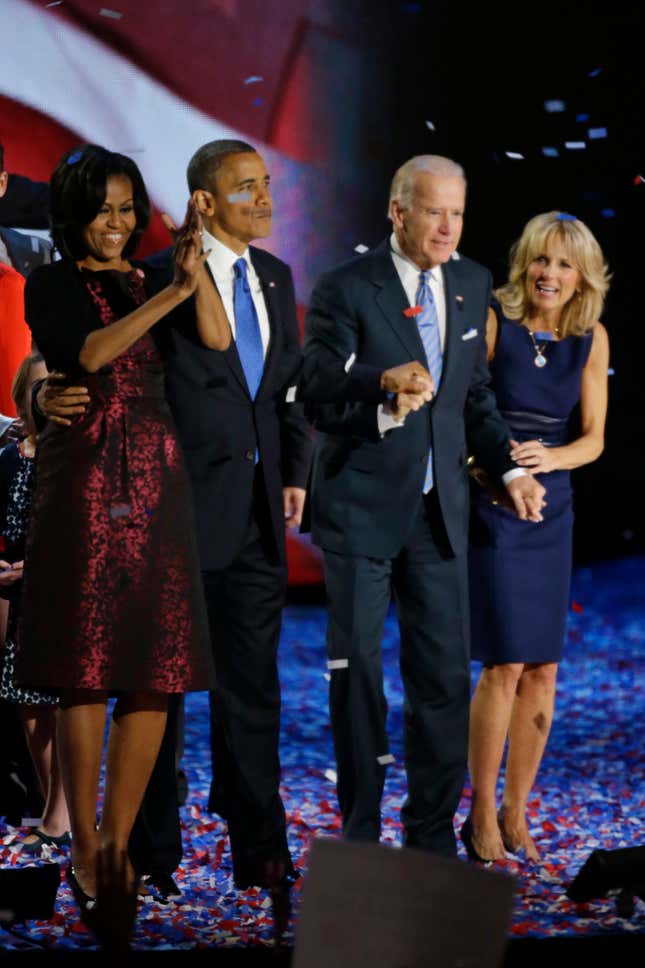 To celebrate the reelection of her husband and his vice president, Joe Biden (and wife Jill), to the White House on Nov. 7, 2012, Obama opted for a Michael Kors silk dress. What was noteworthy wasn't exactly the dress itself, but the fact that Obama had worn it multiple times before.
An event of such importance would seem to demand an extravagant new look, if Obama were thinking like a celebrity. Instead, she behaved like the many Americans who voted for her husband and wore what was already in her closet. In doing so, she showed an understanding of her audience and communicated that four years in the White House had not left her disconnected from their lives.
Thom Browne coat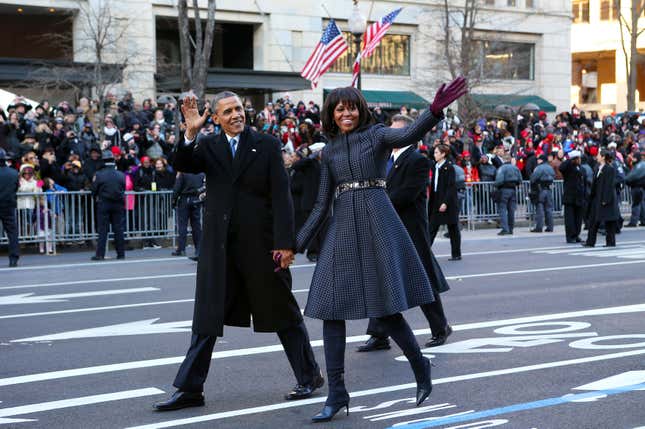 It was chilly on Jan. 21, 2013, the day Barack Obama was sworn into office for his second term. Michelle Obama accompanied him through the event wearing a coat by Thom Browne, accessorized with a J.Crew belt, boots by Reed Krakoff, and purple gloves to stay warm.
Both Browne and Krakoff are American, which was appropriate for the event, but what made the look memorable was how bold, powerful, and unexpected it was. It was fashion of the sort more likely to appear on a runway in New York than on the streets of Washington D.C., and it was daring for Obama to choose it for one of the most momentous days of her tenure as first lady.
Vera Wang mermaid gown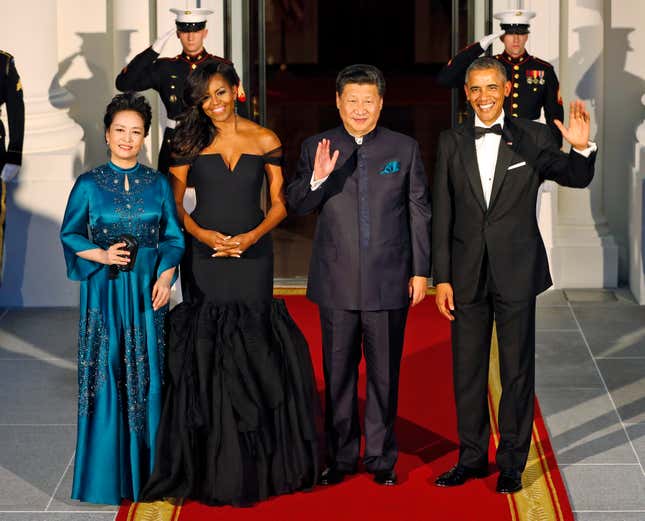 The Obamas welcomed Chinese president Xi Jinping and his wife, Peng Liyuan—herself known as a fashion fan and "master of diplomatic dressing"—to a state dinner on Sep. 25, 2015. Michelle Obama wore a dramatic black mermaid gown by Vera Wang, the US-born daughter of Chinese immigrants.
Though the gown, like many before, paid respect to both her guests and the roots of its American designer, it also drew attention because it showed Obama gave an ear to her critics (paywall). In 2011, the first lady chose a dress from British label Alexander McQueen for the visit by previous Chinese president Hu Jintao, leaving the US fashion industry feeling slighted. Obama made up for it with the Vera Wang gown, which of course was a hit.
Narciso Rodriguez crepe dress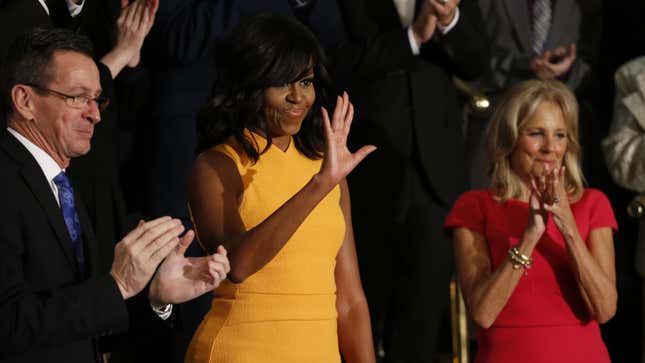 By the time of president Obama's state of the union address on Jan. 12, 2016, Donald Trump had emerged from a crowded field of Republican hopefuls as a genuine contender in the upcoming US presidential election. But to millions, his controversial stances represented a backlash against minority groups and a threat to their rights.
In that atmosphere, Michelle Obama appeared for the speech in a marigold crepe dress by Narciso Rodriguez, a married gay man and the son of Cuban immigrants who sought a better life in the US. It was a subtle yet powerful political statement, affirming the value of those minority groups who now felt at risk and endorsing the inclusivity promoted by the left and the president.
Versace custom rose gold gown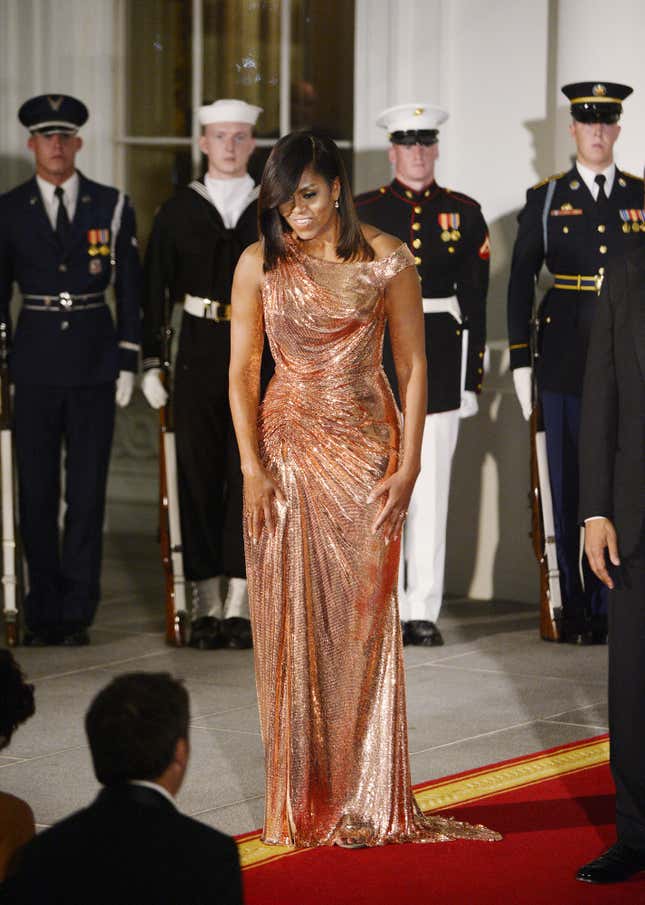 The golden, shimmering Versace gown Michelle Obama wore for an Oct. 18, 2016, state visit by Italian prime minister Matteo Renzi and his wife, Agnese Landini, would have stunned on a red carpet in Hollywood. Vogue called it "a mic drop on eight years of fashion slayage." Others considered it her best fashion moment.
Though the gown wasn't by an American, it delivered a message relevant to American women. The dinner came a week after passionate speech about Donald Trump's treatment of women, and it seemed telling, as New York Times fashion critic Vanessa Friedman noted (paywall), that Obama chose a dress in armor-like chainmail by Donatella Versace, a champion of female strength. It offered a message of power and empowerment, while being appropriate to the event and looking amazing—a balancing act that, for eight years, Michelle Obama had made routine.