Today, Melania Trump, wife of soon-to-be president Donald Trump, becomes the new first lady of the United States.
For the occasion of her husband's inauguration, she chose a striking monochrome look in sky-blue double-faced cashmere, designed by one of the great names in American fashion, Ralph Lauren.
The reveal of her outfit (paywall) as the Trumps made their way to St. John's Church before heading to the White House settles the lingering question of who would ultimately dress the incoming first lady for this occasion. Since the election in November, a number of designers who oppose Donald Trump's policies and his comments about women and immigrants have expressed reluctance or outright refusal to dress Melania Trump, potentially leaving her at a disadvantage in following the powerful fashion legacy of her predecessor, Michelle Obama.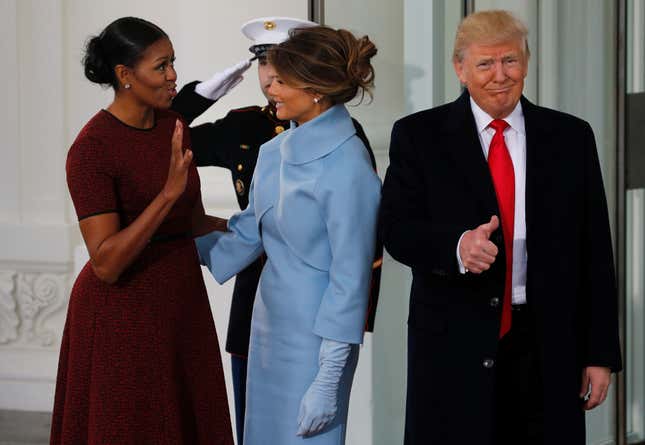 It was rumored beforehand that Ralph Lauren, who dressed losing Democratic candidate Hillary Clinton through much of her campaign, would avoid getting political and dress Melania, who has often favored European names for her public appearances. And indeed the incoming first lady, the first who was foreign-born since Louisa Adams in 1825, worked with the all-American designer.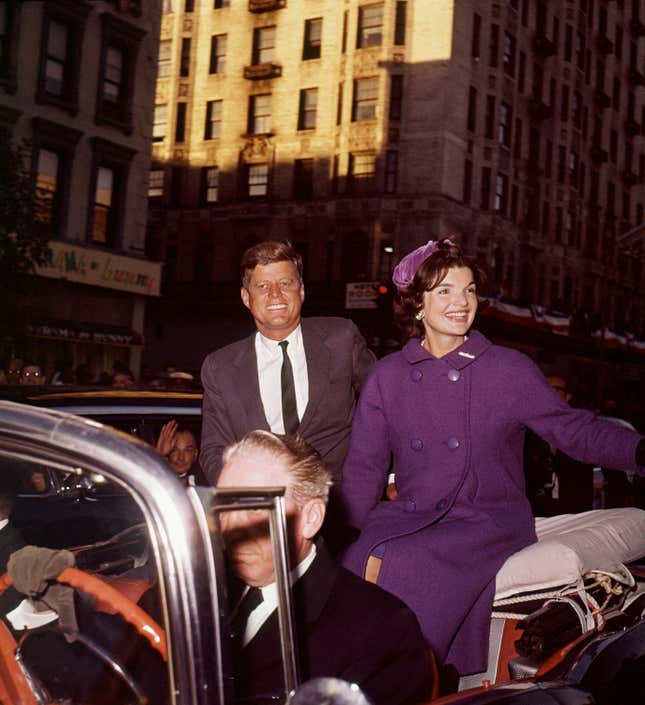 The former model's look today has drawn comparisons to Jacqueline Kennedy, wife of president John Kennedy, who often favored similarly elegant, sophisticated jacket-and-skirt pairings in monochrome colors. The gloves and updo Melania Trump chose added to the throwback quality.
She wasn't the only one garnering attention for her clothing though. Kellyanne Conway, who was Trump's spokesperson for much of the campaign and will serve as a counselor once he is president, wore an all-American look of her own that got lots of people talking: a red, white, and blue Gucci coat she described as "Trump Revolutionary Wear."