Two weeks into his presidency, Donald Trump has spoken with 18 foreign heads-of-state, either by phone or in person. Xi Jinping's name is conspicuously missing.
Over the weekend, Trump called Ukrainian president Petro Poroshenko and New Zealand prime minister Bill English. Those phone calls came after he had already spoken to 16 foreign leaders since he took office—with an emphasis on "his priority of American national security"—according to a White House statement released on Feb. 4.
Here's the full list:
President of Mexico, Enrique Pena Nieto
Canadian Prime Minister, Justin Trudeau
President of Indonesia, Joko Widodo
Israeli Prime Minister, Benjamin Netanyahu
President of Egypt, Abdel-Fattah El-Sissi
Indian Prime Minister, Narendra Modi
British Prime Minister, Theresa May
Prime Minister of Japan, Shinzo Abe
German Chancellor, Angela Merkel
President of Russia, Vladimir Putin
President of France, Francois Hollande
Prime minister of Australia, Malcolm Turnbull
King of Saudi Arabia, Salman bin Abd al-Aziz Al Saud
Crown Prince of the UAE, Mohammed bin Zayed
Acting President of South Korea, Hwang Kyo-Ahn
King Abdullah II of Jordan
President of Ukraine, Petro Poroshenko
Prime Minister of New Zealand, Bill English
(Trump met with May and King Abdullah in Washington, D.C., and spoke with other world leaders by phone.)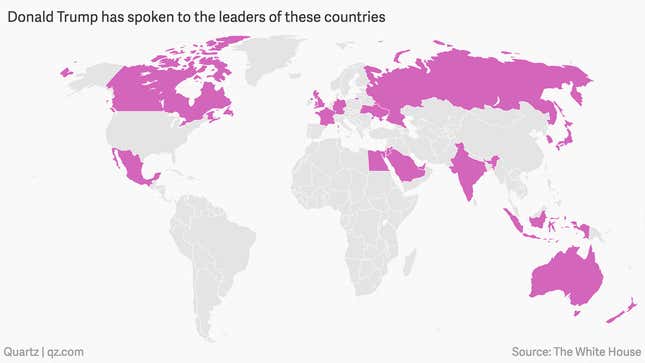 Xi and Trump have in fact communicated, but that was before Trump was inaugurated. Xi sent a congratulatory telegram and made a phone call to Trump soon after he won the election in November. The last reported interaction between the two was in the form of holiday greetings—Trump told the Wall Street Journal (paywall) in an interview published on Jan. 13 that he had received a "beautiful card from the chairman."
By comparison, 10 days after his inauguration in 2009, president Barack Obama and then Chinese president Hu Jintao discussed global trade imbalances in a phone call. In March 2013, a day after Xi was formally elected president, Obama called Xi to congratulate him.
The communication gap has raised eyebrows among China watchers, particularly as tensions between the world's two biggest economies are mounting over issues including the South China Sea, Taiwan, and trade. In January, Xi rebuked Trump's protectionist policies—without actually mentioning Trump's name—in his big speech at the World Economic Forum in Davos.
When asked about the timing of the first call between Xi and Trump after Trump's inauguration, Lu Kang, a spokesperson for the Chinese foreign ministry, didn't directly address the issue at a Feb. 3 press briefing, but said the two sides are "in close contact right now."
On the same day, China's top diplomat Yang Jiechi told Trump's national security advisor Michael Flynn in a phone call that the two sides should "manage and control disputes and sensitive issues," a foreign ministry statement paraphrased Yang as saying, without giving details.
In another apparent snub, Trump ignored a decades-long tradition of sending holiday greetings to the Chinese public during the recent Lunar New Year holiday.
Enter Ivanka Trump. The president's daughter attended a Lunar New Year reception hosted at the Chinese embassy in Washington, D.C. last week with her five-year-old daughter Arabella, who is learning Chinese.
Ivanka later posted a video of Arabella singing a song in Chinese, once again winning the hearts of Chinese people on the internet, as she had done on a previous occasion where she showed off her Mandarin skills.
A commentary piece (link in Chinese) published by China's state newswire Xinhua called the charm offensive "princess diplomacy," and said that it was part of a carrot-and-stick approach that allows Trump to maintain his intransigent stance on China while "giving the Chinese people enough face."
Echo Huang contributed reporting.