During his time as official photographer for former US president Barack Obama, Pete Souza opened the White House Photo Office to the public online, publishing behind-the-scenes images on the White House's popular Flickr page, or to his 850,000 followers on Instagram. Using these emerging platforms allowed Souza to carefully craft an enduring image of the Obama administration.
It's been interesting then, to see Souza now posting on Instagram as a civilian, after leaving the White House in January. His most recent images, chosen from the nearly two million he shot while at the White House, appear to sync up with the controversies and damaging reports coming from the new administration of US president Donald Trump. (Disclosure: I was an intern for a summer in the White House Photo Office under Souza during the first year of the Obama Administration.)
In the days following Trump's "Muslim Ban" executive order, Souza shared images of the former US president meeting with a young refugee in Malaysia, and talking to a young American boy concerned about the fate of a Syrian child whose image after an airstrike went viral.
His photos of Obama with Australian Prime Minister Malcolm Turnbull, and Mexican President Enrique Peña Nieto, coincided with Trump's disastrous phone call with Turnbull and the cancellation of a meeting with Nieto via Twitter.
As Trump was preparing to announce his nomination of Neil Gorsuch for Supreme Court justice, Souza posted a picture of the judge whose confirmation by Obama to the court was held up by Republicans last year. "Merrick Garland. Just saying." he captioned the photo.
And just this week, Souza shared an image of Obama at his desk surrounded by women, and captioned: "Meeting with top advisors. This is a full-frame picture. I guess you'd say I was trying to make a point."
Trump has faced criticism for his predominantly white male circle of advisors. Only four of his cabinet nominees are women. Only three of them are non-white.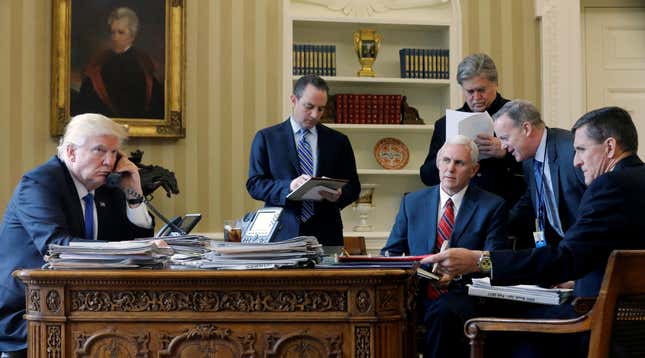 And following a New York Times story that reported Trump's aides had trouble working the lights in the cabinet room, Souza offered this:
The pictures could be interpreted just as gentle ribbings from a member of the previous administration—Souza declined to talk to Quartz about his selection. But sharing pictures of a time just barely in the past can show the difference a few months, an election, and an inauguration can make.