Delivered by a newly arrived immigrant to the United States, and praising the country's inclusive history, the runway show presented by Calvin Klein yesterday (Feb. 10) will probably go down as the most all-American collection at New York's first fashion week under US president Donald Trump.
The show, which marked the full debut of Calvin Klein's new creative director, Raf Simons, was the most anticipated fashion event in years, perhaps even decades.
Simons is by now a living legend. From his native Belgium, he became one of the principle forces that drove the industry to outfit an entire generation of guys in skinny suits. He rose up to become the creative chief of celebrated couture house Christian Dior. He surprised everyone by leaving that role in 2015, and then decamping Europe for America and Calvin Klein, to become the first person since Klein himself to take complete creative control of the label.
The arrival of Simons to America is part of an attempt by Calvin Klein, which does most of its business selling jeans, underwear, and perfume, to restore its relevance to high fashion.
What Simons showed in his awaited presentation was his view of America—but not just America as it exists in places such as New York, or just in the present moment. It was a sweeping mashup of references, embracing America's rural frontiers as much as its cities, all synthesized into something new. Simons explained:
It reflects the environment. All of these different people with different styles and dress codes. It's the future, the past, Art Deco, the city, the American West…all of these things and none of these things. Not one era, not one thing, not one look. It is the coming together of different characters and individuals, just like America itself. It is the unique beauty and emotion of America.
In the clothes, these ideas appeared in cowboyish shirts done in bold block colors, parkas of the sort seen all over the country's cold cities lined with homespun quilts, and lots of urbane tailoring with crisp, clean lines.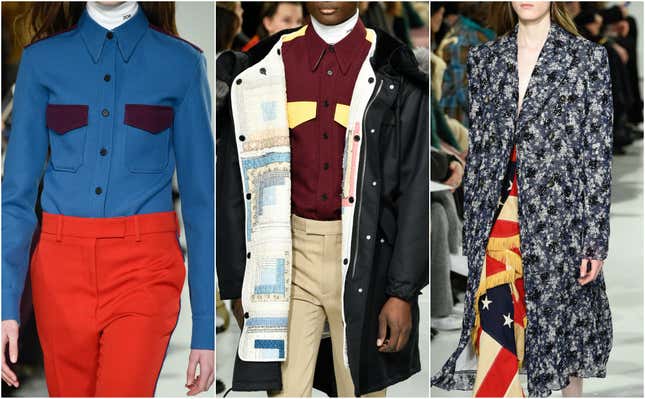 Denim was key, as well, referencing America's pioneers as much as Calvin Klein's place as a part of American pop culture. Levi's built its brand selling the first modern blue jeans to miners and cowboys in the 19th century, and jeans, along with underwear and racy advertising, helped build Calvin Klein into the household name it is today. The patches on the denim alluded to Calvin Klein's famous 1980 ad featuring a very young Brooke Shields.
Simons has acknowledged that that political climate in the US has affected him, and that he believes fashion can be a form of protest. The David Bowie song "This Is Not America" was part of his show's soundtrack.
But this show wasn't overtly political—unless you consider it partisan these days to praise them American melting pot. It was a view of America from a foreign perspective that sees beyond the country's dividing lines.