A rare piece of fiction from one of the world's most repressive regimes reaches English speakers for the first time this week.
The Accusation is thought to be the first fiction published abroad by someone still living in North Korea. Its author is pseudonymous North Korean writer Bandi, and its English translator is Deborah Smith, who won the Man Booker International Prize for her work on Han Kang's The Vegetarian. The Accusation was released March 2 in the UK, from Serpent's Tail, and today in the US, from Grove Atlantic.
In seven short stories written between 1989 and 1995, ending with the death of Kim Il-Sung, Bandi shows a world of paranoia and police chases. He portrays a rigid social hierarchy based on one's family history with the Workers' Party of Korea, and furtive phone calls with government officials demanding colleagues to inform on one another. The people in The Accusation live out a nightmare scenario in a legendarily despotic regime.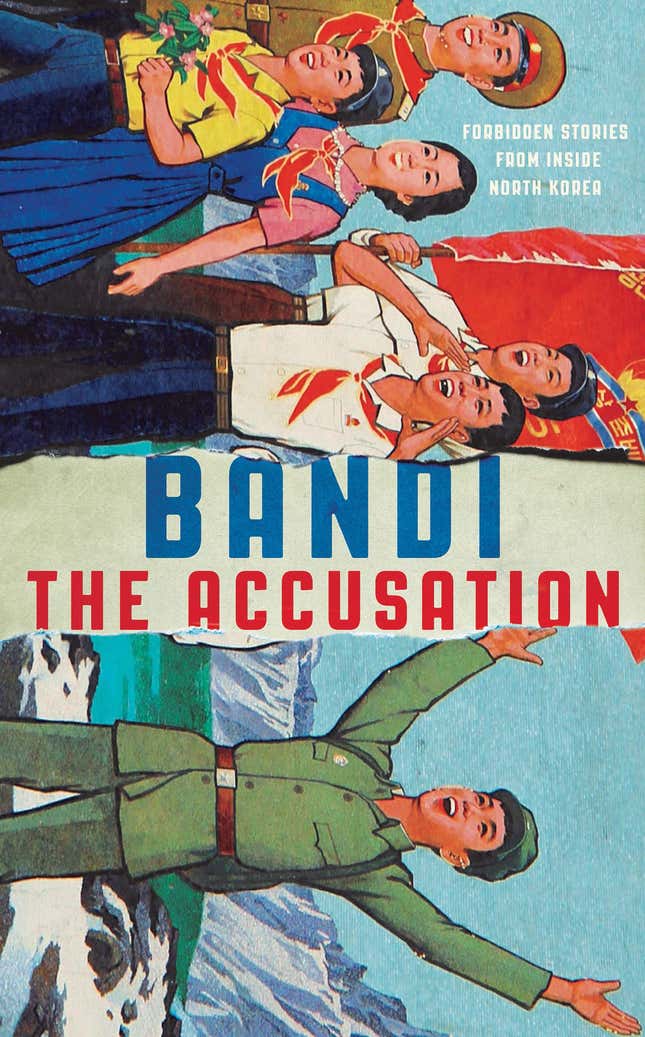 Bandi's most idiosyncratic characters are exceptionally able-bodied. In the stand-out "City of Specters," the strapping well-to-do Gyeong-hee is a mother and marine product manager in Pyongyang. Her career and cavalier outlook set her apart from others, but she's eventually undone by the demon of Karl Marx, whose monstrous portrait sends her son into hysterics.
In "Life of a Swift Steed," Seol Yong-su is a former wrestler and war hero with a sunny disposition. His devotion to an elm tree in his yard, which he foolishly sees as a symbol of prosperity to come again to North Korea, is his downfall. For both characters, strength and talent can't protect them from the unforgiving regime.
Not every story hits its mark. The English is formal, and with few exceptions, Bandi's characters are either cartoonish government villains or compassionate family members. Nevertheless, this book is a dramatic page-turner.
But the thrill of reading Bandi's collection is complicated. The book is no fantasy, no thought experiment. It's the reality for some 25 million people living out unparalleled human rights violations, according to the United Nations.
In the afterword, writer Kim Seong-dong details the author's unusual position: Bandi, who's nearly 70, is a prominent writer in the country and a member of the North Korean writers' association. While other memoirists critical of the regime have published works after defecting from the country, Bandi remains in North Korea protected by a pseudonym.
According to Kim, the author smuggled his stories to a North Korean refugee activist in China, and the book was published in South Korea in 2014. Though the provenance of the story is difficult to prove, Grove Atlantic writes in a final note from the publisher that it believes the reports of Bandi's biography are accurate.