International Women's Day, invented by the Russian Communist Party a century ago, is being turned into a celebration of women's purchasing power in China.
To attract female shoppers online, retailers in China are rebranding International Women's Day as a day celebrating material indulgence and cosmetic beauty. Alibaba's Tmall, for example, one of China's biggest e-commerce portals, is using the slogan "Queen Day, Live your beauty" as its International Women's Day campaign along with a photo of a woman staring longingly at a red high-heel shoe. Jumei, a site focusing on cosmetics, pledges to "make you look good" on "Goddess Day."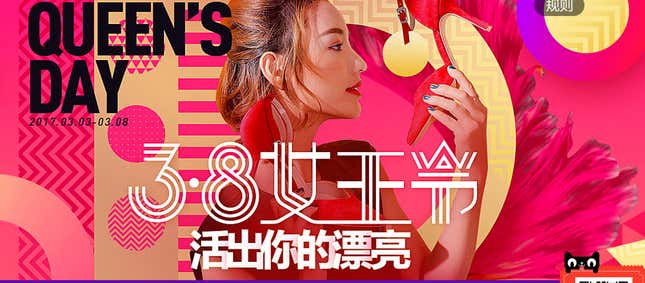 New York-listed Vipshop, which is marketing International Women's Day as a day for a "spring makeover," shows a ticking timer on its page for underwear discounts.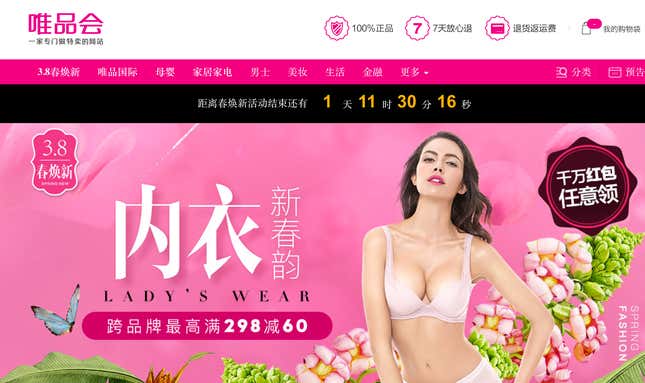 "You could go bankrupt facing so many temptations," says 25-year-old Annie Lu, who works in healthcare marketing in Guangzhou. She purchased three boxes of facial masks on JD.com, one of Alibaba's main competitors. "I will have to stop looking at these shopping sites."
On Monday (March 6) afternoon, Tmall had already set a new sales record that surpassed last year's full-day sales, according to a company spokesperson.
"Women's Day has already turned into a shopping festival in China," commented Ai Jun (link in Chinese), a folk-culture writer on Weibo, a popular social network. "It is an indicator of women's increasing economic power."
But even as women's economic prowess grows in China, women's rights are going backward under president Xi Jinping. In early 2016, the government shut down a renowned women's center in Beijing  that had for two decades been specializing in providing legal advice on sexual harassment in the workplace, domestic violence, and divorce, among other issues. Chinese authorities also arrested five feminists on Women's Day in 2015 for planning a protest against sexual harassment.