It's an infuriating irony that the field of women's fashion remains largely dominated by men. In 2015, New York Times fashion critic Vanessa Friedman noted that fewer than 20% of the labels showing at Paris Fashion Week had female creative directors. Chanel? Karl Lagerfeld. Louis Vuitton? Nicolas Ghesquière. Yves Saint Laurent? Then, Hedi Slimane. Now, Anthony Vaccarello.
While we see women as creative directors of family-run brands in Milan such as Prada, Versace, and Missoni, at the Paris-based mega-luxury labels—where such a visible and powerful role can set a designer for stardom—it's rare.
For the last two decades Chloé, the Richemont-owned Paris-based fashion house celebrated for its bohemian dresses, luxe leather goods, and 1970s-inflected outerwear, has been an exception.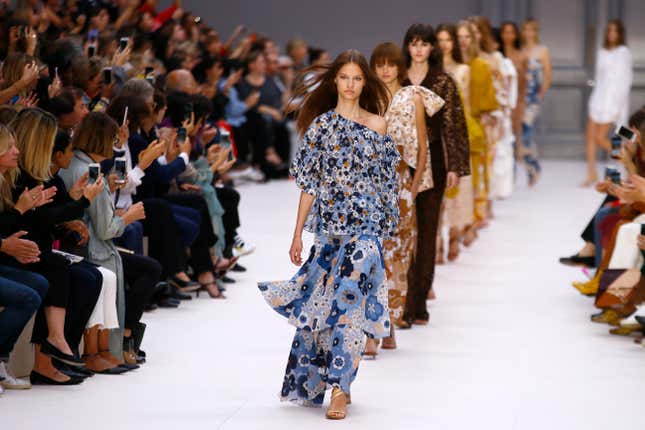 In 1997, Stella McCartney took over the role from Karl Lagerfeld, and made a name for herself as a designer in her own right, far more than just rock star progeny with a penchant for fashion. She held the role until 2001, and today runs her own eponymous label and was one of the first designers to get into modern activewear, through her collaborations with Adidas. Phoebe Philo, McCartney's former assistant, followed in the position afterward. Today, she is the creative director at Céline, and frequently lauded for being a designer who actually designs what women want to wear. (Imagine that!) It seems that being a woman—and a working mother, as McCartney, Philo, and their successor Clare Waight Keller, who took the reins in 2011, all are—might also help to design with a busy, modern woman in mind.
Now, a fourth female designer will follow in their footsteps. Beginning in April, Natacha Ramsay-Levi—a thirty-something Parisian who has a son with Purple editor Olivier Zahm—will step out from behind Louis Vuitton creative director Nicolas Ghesquière, who she has worked with for 15 years, to take on the role.
With Ghesquière—first at Balenciaga, and then at Louis Vuitton—Ramsay-Levi designed clothes that might be characterized as tougher and edgier than Chloé's filmy dresses, leather sandals, and shaggy sweater-coats. Geoffroy de la Bourdonnaye, Chloé's chief executive, sounds confident that the new creative director will be able to translate the label's sartorial codes for a free-spirited woman:
"When we make this kind of a choice, we don't look at what someone has done, but what they've learned and who they are," he told The New York Times.
"I am very proud to join a house founded by a woman to dress women," said Ramsay-Levi in a statement. "I want to create fashion that enhances the personality of the woman who wears it, fashion that creates a character and an attitude, without ever imposing a 'look.'"