In the Trump family's first television interview after Donald Trump won election as US president, daughter Ivanka Trump appeared wearing a bracelet from her jewelry line. It was a gold bangle trimmed in diamonds and, according to the ethically questionable "style alert" her brand sent out, it retailed for $10,800.
The pricey bracelet was part of the Ivanka Trump Fine Jewelry collection, which started in 2007 with the opening of a "jewel-box boutique" on New York's rarefied Madison Avenue and served as a launch pad for the larger Ivanka Trump fashion enterprise that followed. It epitomized the image of the wealthy, fashionable Ivanka raised in Manhattan penthouses.
But as Vanity Fair first reported, after a decade in business, the fine-jewelry collection is being discontinued. The brand is focusing on more affordable items, including fashion jewelry of the sort that working-class supporters of billionaire-turned-populist Donald Trump might actually be able to buy.
The shift began last fall, when Ivanka herself was still managing the business. It launched a fashion-jewelry line priced well below the fine-jewelry collection, with pieces such as a bangle with faux pearls and glass and epoxy stones that sells for $128 at department-store retailer Lord & Taylor. The closest equivalent from the fine-jewelry line might be a hinged gold cuff with 1.6 carats worth of diamonds costing $11,980 on the brand's site, which at the moment still has an array of pricey items available.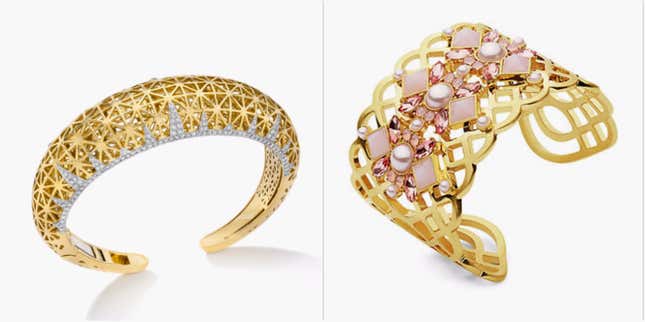 Abigail Klem, president of the Ivanka Trump brand, said in a statement that the intent is to focus on existing and new categories that are "most relevant" to customers. "As part of our company's commitment to offering solution-oriented products at accessible price points," she said, "we have decided to discontinue the Ivanka Trump Fine Jewelry collection."
The brand has been trying to navigate its role as an unlikely point of focus in the battles between Donald Trump's supporters and opponents. Sales and demand for the brand have fluctuated depending on what's happening in the news and which retailer you look at. The brand itself said sales grew 21% overall for 2016. But at Nordstrom, its sales fell (paywall) throughout the year, plunging especially during October, when boycotters opposed to Donald Trump's policies and his statements regarding women targeted the chain.
Online sales for the brand struggled in January, but in February, when the brand returned to the news, sales skyrocketed. First, on Feb. 8, president Trump tweeted his displeasure with Nordstrom's decision to drop the label, and then on Feb. 9, White House counselor Kellyanne Conway broke a government ethics rule by saying in a nationally televised interview that people should "Go buy Ivanka's stuff." That day, online sales for the brand recorded an unprecedented spike.
Data from both Slice Intelligence, which tracks actual receipts from online purchases of shoppers who opt into its research panel, and Lyst, a large ecommerce aggregator that works like a search engine for fashion, show sales jumping sharply for the month of February. "If you compare February to Ivanka Trump's average orders in 2016, the brand sales increased 557%," Lyst said.
Clearly Ivanka Trump's label has its supporters. It makes sense to sell items that more of them can afford.