Canada Goose, maker of pricey, expedition-ready parkas that double as status symbols in cities all over North America, is set to go public on March 16, in hopes of raising as much as $240 million.
Investors can't wait. It's been nearly three years since the last luxury-goods IPO, and boding well for the Toronto-based label is the fact that its rival in pricey performance outerwear, Moncler, is trading at a record high since its own initial public offering in 2013. One particular group, though, is anxious to get in ahead of all the rest: People for the Ethical Treatment of Animals (PETA).
The animal-rights group "plans to be first in line" once the shares list, group spokesman Ben Williamson says.
PETA's motivation isn't a financial return. It says it intends to buy the minimum shares it needs to be part of Canada Goose's annual shareholder meetings, where it plans to present shareholder proposals asking the company to stop using down filling and coyote-fur trims on its coats. Recently it has bought into two other luxury-goods makers, Hermès and Louis Vuitton owner LVMH, both of which use leather and exotic skins, with similar intent.
According to Williamson, the strategy has been successful in the three decades PETA has used it, starting with proposals submitted to Procter & Gamble and Armour-Dial in 1987.
"Our status as shareholder has allowed us to effectively engage companies, including Kraft and WhiteWave about dairy products and Marriott International, The North Face, Restoration Hardware, Williams-Sonoma, and Ethan Allen about down," he says. "Tesla now offers an all-vegan leather interior option on its highly-coveted Model X and Model S vehicles, something that may never have happened if we hadn't spoken directly with Elon Musk at the company's annual meeting."
Down filling has long been a target of animal-rights activists who say the process of plucking live birds for their plumage is painful and potentially deadly. PETA also has released a graphic video showing how coyotes caught in traps are brutally killed. Protesters are a common sight at some Canada Goose locations, such as its new store in New York.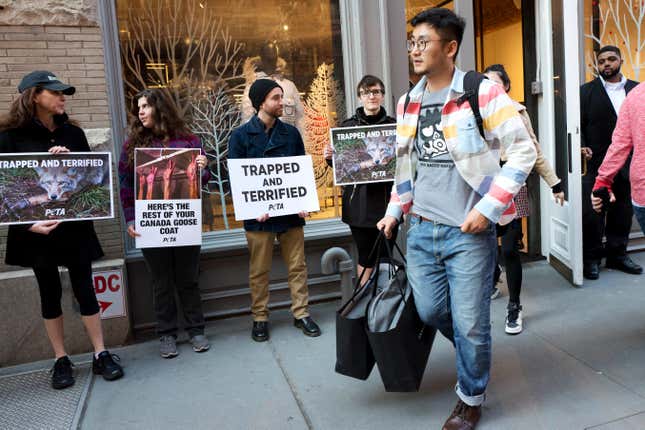 Canada Goose maintains that it sources the materials for its products ethically and sustainably, and does not use down from live birds. "We only use down that is a byproduct of the poultry industry and we only purchase down and fur from suppliers who adhere to our stringent standards regarding fair practices and humane treatment of animals," the company said in its February IPO filing.
The company isn't likely to back away from its use of fur and down easily. In the filing, it said it uses down "because it is recognized as the world's best natural insulator, providing approximately three times the warmth per ounce as synthetic alternatives." The occasional fur trim is intended to "protect the skin from frostbite in harsh conditions."
Notably, these are also some of the markers that help it command the premium it charges for its in-demand parkas.
PETA has its work cut out for it, but it has never been known for backing down from a challenge. We have reached out to Canada Goose for a comment and will update this story as warranted. The company's shares are expected to price today (March 15) after the close of regular US trading, and begin trading tomorrow.