The key to the US economy is housing. And the key to housing is credit. And increasingly, the key to getting to access to housing credit is Wells Fargo.
The San Francisco-based megabank has quietly become the largest force in American home lending in recent years. It now originates more than one in every four US home loans.
So when Wells talks about conditions in the mortgage market, everyone should listen.
Today at an investor conference Wells' Chief Financial Officer Timothy Sloan fielded questions from a few analysts who've been watching the wave of US mortgage refinancing peter out as interest rates rise. (For those who want to follow along, here's an admittedly ugly chart that at least gets the message across.)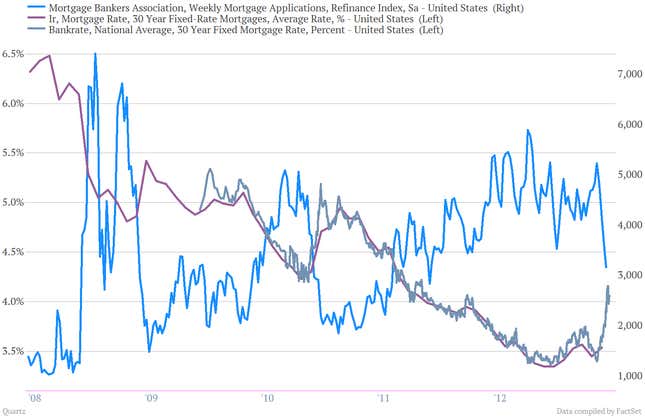 Wells' CFO told the attendees of the Morgan Stanley Financials conference, refinancing activity should slow.
Overall, our expectation, which we've been talking about now it seems like for the last year, is that mortgage originations, because so much of mortgage origination for the entire market, including us, are driven by refinance volume, is going to continue to tail down. You've seen our total originations decline from $139 billion in the third quarter of last year to $125 billion to $109 billion. I don't know what they're going to be this quarter, but I do know that we've had a nice, strong first part of this quarter, which has been good. My expectation is they'll continue to decline in this kind of rate environment.
So is housing going to return to the doldrums? Probably not. Sloan also suggested that the recent rise in housing prices is helping to unlock new parts of the mortgage markets. In other words, more homeowners who had been ineligible for refinancing (because they owed more than their home was worth) may finally get a break.
The other phenomenon that's going on which I think will be helpful to mortgage revenues over time is that as housing values continue to increase, you're also seeing more customers able to refinance that were in that zone between, say, 80% and 100% loan to value that didn't qualify for one of the federal programs or wouldn't have qualified in a more typical refinance environment.
As we've told you before, that's long been a key reason for the Fed's focus on the housing market.