From tuition-free college education to excellent healthcare, there are many superlative benefits to being German. But arguably, the most precious benefit of German citizenship is a document that lets them get out of the country.
For the fourth year in a row, the German passport has been crowned "world's most powerful passport." It gives German citizens the freedom to travel to 176 out of 218 countries and territories in the world, without visas or entry special permits.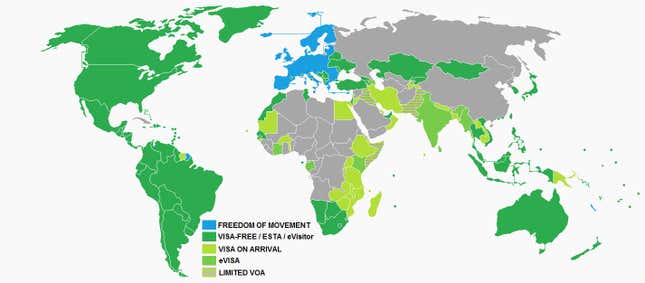 The annual passport ranking is compiled by citizenship and immigration firm Henley & Partners according to "travel freedom." With data from the International Air Transport Association, their Visa Restrictions Index ranks countries according to the total number of countries and territories citizens can travel to without needing a visa (or where they can get a travel permit upon arrival).
In second place for most powerful passport was Sweden's, which offers passport-holders visa-free travel to 175 countries. To challenge Germany in the rankings, Swedish diplomats could work to foster consular relations with Mongolia.
Denmark, Finland, Italy, Spain and the US tied for the third spot with visa-free access to 174 countries. The UK slipped to fourth place, tying with Austria, Belgium, France, Luxembourg, the Netherlands, Norway, and Singapore.
UK citizens used to enjoy the same level of travel freedom with Germans, when they shared the top ranking from 2013–2015. Since the Brexit vote last June, the UK passport has become a charged symbol signifying its diplomatic stance with the rest of the world. British Prime minister Theresa May is expected to trigger Article 50 by March 29, officially starting their exit from the European Union. Experts conjecture that the UK citizens won't likely be required to obtain visas to enter the 26-nation Schengen zone, though they may have to go through the hassle of applying for a travel permit and pay a fee to visit Europe like other non-EU citizens.
Peru gained the most ground since 2016, climbing 15 spots in rankings. The Afghanistan passport was ranked last, with visa-free access to only 104 countries. But there's a way for citizens of countries from the bottom of the list to enjoy the privileges of those on top of the ranking: The purpose of Henley & Partners's Index is to lure the world's wealthy to consider "citizenship-by-investment" programs. Foreigners who make a direct investment ranging between 3 and 10 million euros in Austria can also apply for a local passport, and enjoy visa-free travel to 173 countries and territories.