If social media is any gauge, United Airlines might be the worst company in the world. A graphic video of security agents dragging a ticketed passenger, David Dao, off a United flight after he refused to give up his seat for airline crew led to calls for a boycott of the airline. The tepid response from the carrier's chief executive added to the public relations disaster.
It wasn't United's only brush with bad publicity in recent years. It has suffered technical problems that grounded or delayed hundreds of flights—including a major systemwide outage in July 2015. Not long after that, United boss Jeff Smisek resigned amid a scandal in which New York's Port Authority chairman pressured United to reinstate an unprofitable route between New Jersey and South Carolina, where the chairman had a weekend home. Regulators fined United $2.4 million for obscuring the rationale behind running the so-called "Chairman's Flight." Most recently, people trashed the airline on social media after United refused to let two teenagers wearing leggings board a flight. The airline said the passengers were inappropriately dressed for their company-sponsored tickets.
Investors haven't harbored similar hate for the airline, at least not for long. Investors know that a series of mega-mergers in the industry have left airlines with fewer competitors—and passengers with fewer choices. (Parent company United Continental Holdings was born from a 2010 merger between, you guessed it, United and Continental.)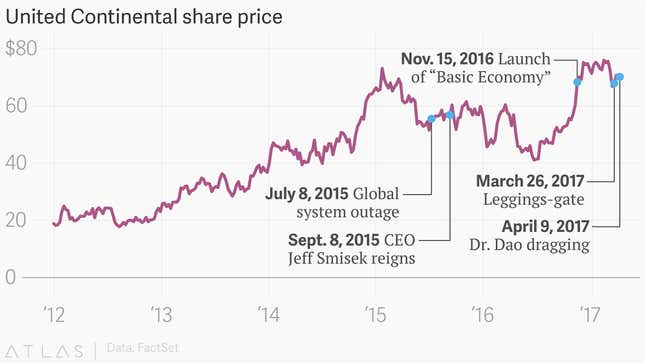 The six biggest US carriers last year marked their fifth consecutive year of profits, according to Bloomberg. Investors have time and again rewarded United, in particular, on the hopes that it could wring more money from passengers and find inventive, if painful, new ways to cut costs. Airlines' steady recovery since the global financial crisis, and respite from high fuel prices, has drawn investors like Warren Buffett in recent months.
United's stock has more than tripled over the past five years. Rival Delta is doing even better; it's shares have more than quadrupled. Over the same period, the S&P 500 has registered a relatively pedestrian 70% gain.
United CEO Oscar Munoz apologized again for the incident with Dr. Dao after the airline's shares fell sharply on Tuesday (April 11). United's stock is currently trading around where it closed last week, before the weekend's ugliness. But that matter isn't over yet. The Department of Transportation says it's investigating the incident, so there may be more turbulence ahead for United.