There are two places in the world where you can hear the Wu-Tang Clan, 1970s Christian folk music, and the theme song to Perfect Strangers all in the span of one hour. The first is an especially weird edition of Spotify Discovery Weekly. The other is on The Leftovers, the critically acclaimed HBO series that features the boldest and most diverse musical stylings on television.
And the curator of that crazy soundtrack is the show's music supervisor, Liza Richardson. The former DJ's job is twofold: source cool songs, and then license them for use on the show. It's a unique position, combining left-brain and right-brain thinking as she gets to flex her creative muscles while simultaneously negotiating deals with her team to secure the rights to broadcast your next musical obsession.
"I love the business side of negotiations and making deals for songs," Richardson told Quartz. "I'm lucky that I can do both."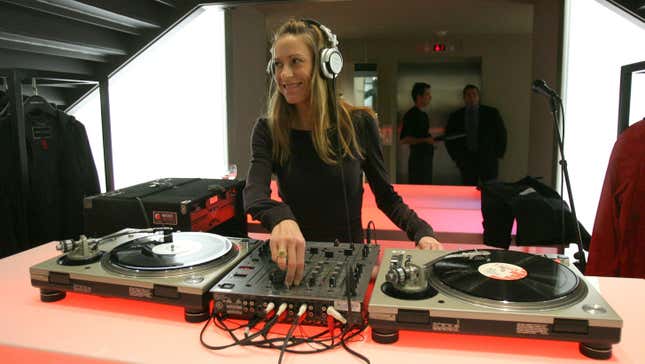 A DJ for almost 30 years, Richardson possesses an encyclopedia knowledge of music that spans genres, styles, and centuries. That makes her a good fit for The Leftovers, which prides itself on unusual creative choices, in its music most of all. In addition to The Leftovers, she has supervised the music for Friday Night Lights, Narcos, and a number of other TV shows and films.
The Leftovers isn't the only show to attract attention for its bold music supervision. Indeed, this era of "peak TV" has also created something of a golden age for soundtrack music. Mr. Robot and Netflix's Stranger Things, among others, have been praised for their distinctive soundtracks (worth a listen as playlists even without the shows' context).
Perhaps because there's so much good work in the industry, the Emmys have taken notice: This year will be the first time ever an award is handed out for the best music supervision, putting a huge spotlight on a traditionally hidden, obscure position in the entertainment business.
The Leftovers incorporates more bizarre musical selections in only the first two episodes of its stunning final season than any other show has this year (blowing another HBO series with an eclectic soundtrack, Big Little Lies, out of the water). Its opening scene, a wordless, enigmatic sequence that takes place in 1844, is set to a sarcastically on-the-nose song about the Rapture by a Christian folk group.
"There's no time to change your mind, the son has come and you've been left behind," they sing, appropriately for a TV show that's literally about the people "left behind" from a Rapture-like event in which 2% of the world's population has inexplicably vanished.
The second episode's opening credits is cut to the exceedingly cheesy theme song to the 1980s sitcom Perfect Strangers. Later, we hear a delicate piano reprise of the theme, interpreted by the show's composer, Max Richter. (Perfect Strangers is something of a running in-joke in the world of The Leftovers, as the entire cast "departed," except for actor Mark Linn-Baker.)
Perhaps zaniest of all, two characters jump in slow-motion on a trampoline as the Wu-Tang Clan's "Protect Ya Neck (The Jump Off)" bumps in the background.
Richardson points out that these musical selections are not solely hers to make. She works closely with show-runner Damon Lindelof and his team of editors, who decide together which piece of music works best for a scene. But Richardson is the one who sources most of it, and they're often choosing between songs she found.
Usually, choosing a song for a scene isn't a hard decision. "One's just the obvious winner," Richardson said. But when all the songs work equally, they'll go with the most provocative choice—the one most likely to stick out and start a cultural conversation around it. Songs like "Homeward Bound" and "Let the Mystery Be" by folk singer Iris DeMent—the show's season two opening credits song—are now forever tied to The Leftovers.
"The shows that have a real musical imprint, I put together a huge collection so that the editors have them on hand for inspiration," she said. In what amounts to essentially a gigantic playlist for the show, Richardson sends this mix of hundreds of songs to Lindelof before the season so he can think about them while writing and cutting episodes. "I just give them these giant bins of music," she added.
Often mixed into these playlists are songs from artists no one—except Richardson—has ever heard of. "We call it 'discovery music,'" she said. "It's so rewarding when we can help an artist that we believe in and love. It's incredibly gratifying." (Of course, she must also work within the constraints of a budget, and unknown indie artists are the cheapest to license.)
Richardson's first job in music was DJ-ing for a public radio station in Dallas, Texas, right after college. She worked the graveyard shift—midnight to 5am—playing an odd mix of music for insomniacs. Over the years, she's built an uncommonly large arsenal of songs to recommend to show-runners around Hollywood. Today, she DJs a weekly show for KCRW, the National Public Radio station based in Los Angeles.
With the help of Richardson, The Leftovers has developed a reputation for its provocative song selection over the course of its three seasons. Sometimes, the actual characters sing: In season two, Kevin Garvey (played by Justin Theroux) must sing a karaoke cover of "Homeward Bound" by Simon & Garfunkel in order to escape the afterlife and return to the world of the living. Another character (or rather, the ghost of one), Patti Levin, "Rickrolls" him.
Unsettling covers of popular songs are also employed liberally: The first season featured Apocalyptica's creepy orchestral version of Metallica's "Nothing Else Matters." The second season used a haunting piano cover of Pixies' "Where Is My Mind?" by Maxence Cyrin (which also showed up in USA Network's Mr. Robot).
Richardson has to be considered one of the favorites to win the inaugural Emmy for best music supervision. But if doesn't, don't cry for her. After all, she has one of the coolest gigs in the world—whether people know her name or not.