The theme of this season's highly anticipated costume exhibit at the Metropolitan Museum of Art is the work of Rei Kawakubo, whose label Comme des Garçons has for decades gleefully blurred boundaries between art and fashion. Its focus is on how Kawakubo has challenged nearly every common assumption about what clothes are, and how they should make us look.
But it seems like nobody explained that to the attendees at the glitzy Met Gala. Guests at fashion's biggest annual party traditionally dress to represent the theme of the exhibit, but those taking a spin on the red carpet last night were done up in the usual attire, reaffirming all those standard notions of fashion and beauty that Kawakubo—the honoree of the evening—has spent years questioning. With only a few exceptions, the night missed the punk spirit of Comme des Garçons.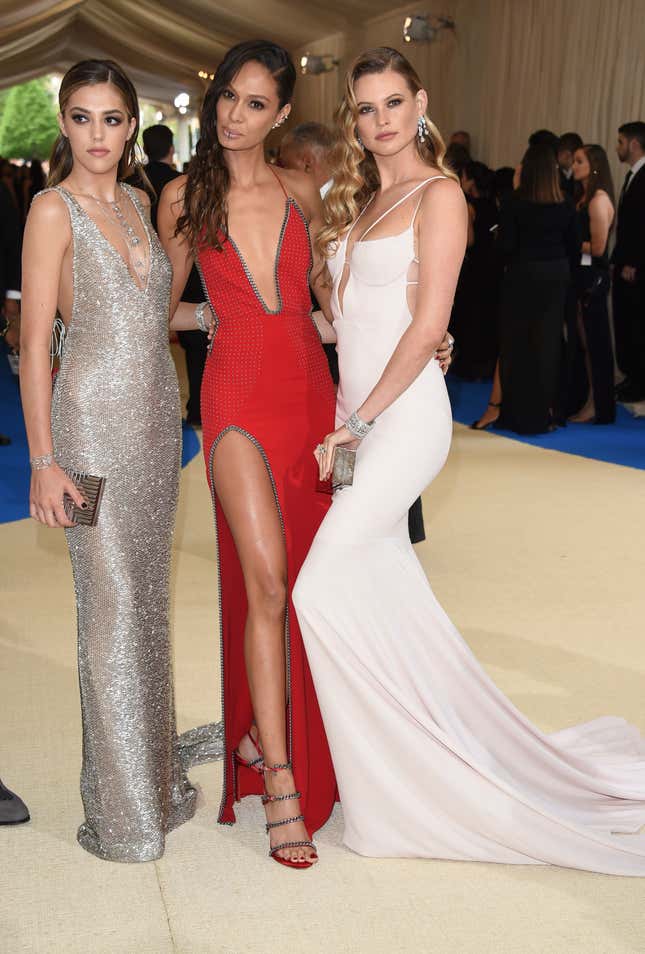 There were the long, dramatic trains. There were pretty, form-fitting dresses aplenty. There was the now practically obligatory naked dress, this time on model and reality TV star Kendall Jenner—and on her sister Kylie, and on friend and fellow model Bella Hadid.
All these looks weren't bad, but they had nothing to do with Comme des Garçons. "[She] completely upended every ideal of the fashionable body: the idea of a slim waist; the idea of a pert bottom; the idea of high, pert breasts," Andrew Bolton, curator of the Met exhibit, explained in an interview at a press preview earlier in the day. "She just challenged us to think about the body in different ways, and showed that fashion itself has no bounds."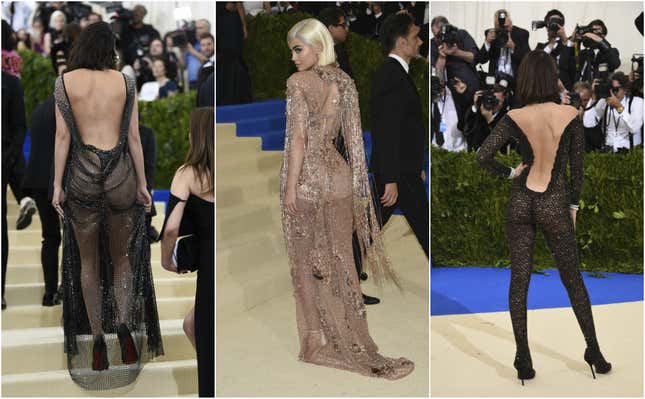 There is little of the avant-garde on red carpets generally. In fact, red-carpet dressing is so standardized that a woman in a suit rather than a dress becomes noteworthy.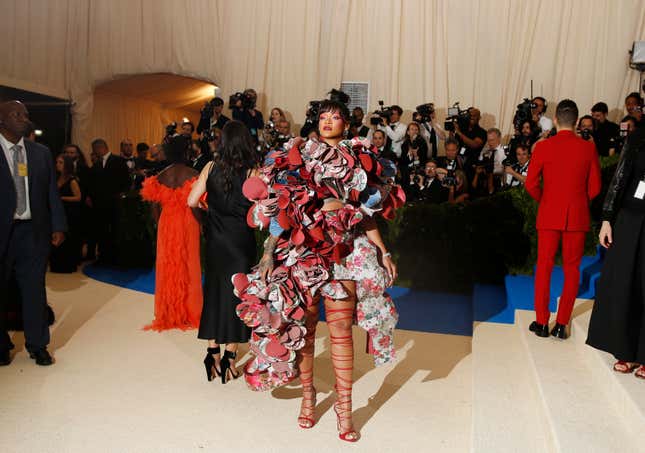 The Met Gala did have a few on-theme standouts. Rihanna wore an elaborate floral creation from Comme des Garçons' fall 2016 collection, and stole the night in many people's minds. Caroline Kennedy, the former US ambassador to Japan, where Kawakubo is from and still based, nailed a daring look from the same collection, while Tracee Ellis Ross chose an amazing piece made of folds of blue fabric from spring 2016.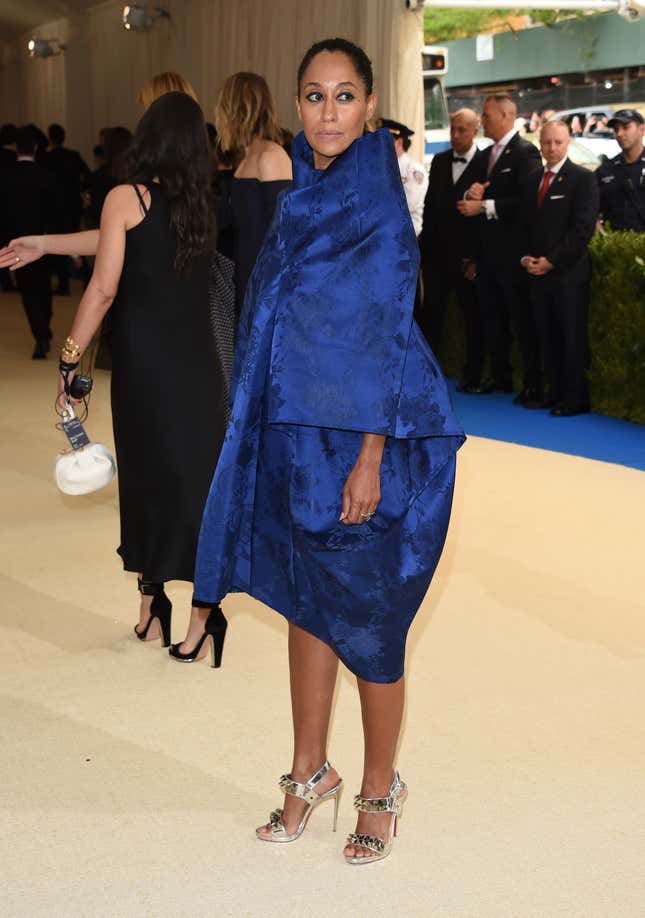 Guests didn't have to wear Comme des Garçons to match the spirit of the brand either. Ruth Negga was stunning in a columnar, draped ivory piece by Louis Vuitton. Journalist Amy Fine Collins wore a Thom Browne tuxedo-dress hybrid that recalled Comme des Garçons' own experiments in blending stereotypically male and female elements into one garment. Katy Perry went weird in custom Margiela, and Dakota Johnson in black floral Gucci offered a subtle nod to Comme des Garçons' love of the color. (She attended with Gucci creative director Alessandro Michele, who wore a Comme des Garçons skirt and trousers.)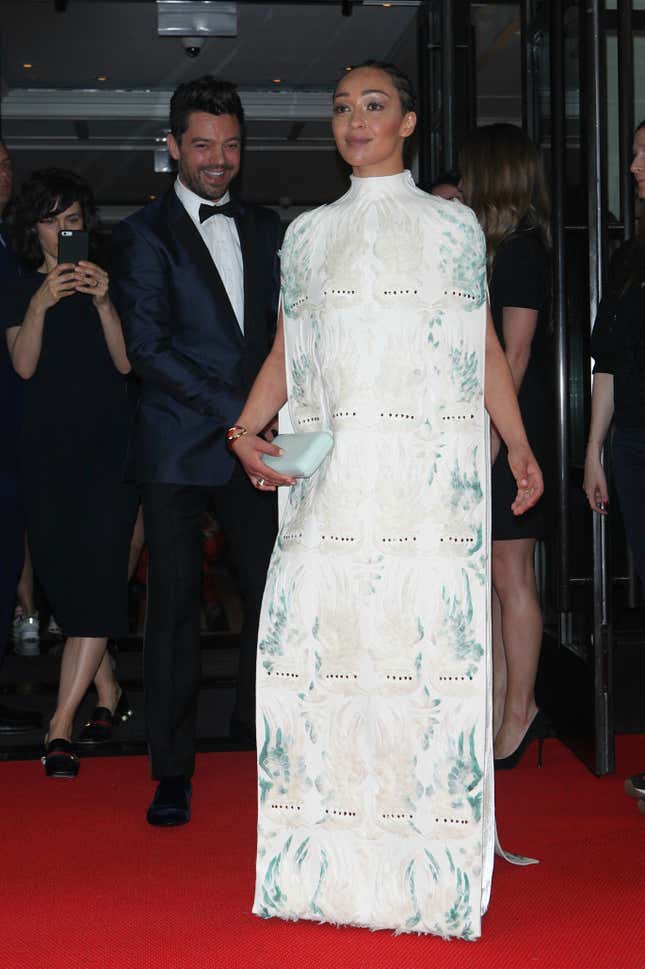 "It takes a certain amount of bravery to wear her clothes," Bolton also said of Kawakubo that day. He added that clients are "usually strong women who use fashion as a way to express rather complex ideas about identity and sexuality."
What was missing at the Gala was that complexity. The Met itself can hardly be blamed. The evening is an important fundraiser, and it just sets the tone. The letdown was on the part of those who had the perfect opportunity to have fun and challenge convention, but chose instead to stick to it.