"We have nothing to do with that."
Vladimir Putin was put on the spot by an American reporter in Russia last night, asked to comment about US president Donald Trump's abrupt firing of FBI chief James Comey the day before. Given the controversy about alleged Russian meddling in the recent US election—the subject of a high-profile FBI investigation—it was a fair question to ask the Russian leader.
And no, your eyes aren't deceiving you: Putin batted away the reporter's question while fully kitted out in hockey gear.
The interview took place on the sidelines of an annual exhibition match promoting the Night Hockey League, an amateur organization that Putin founded in 2011. Putin plays in the league's gala matches, showing off skills that any man of his age would envy.
Equally as newsworthy as the Russian president's blunt dismissal of his country's role in American politics was the 64-year-old's performance out on the ice. Last year, Putin had a bad game by his lofty standards. But last night, he proved to the former professionals, ministers, oligarchs, and others who took part in the match that he's still got it.
Putin scored six goals and had five assists for his team, which was packed with retired pros like Pavel Bure and Vyacheslav Fetisov. Putin's squad "crushed" the competition, which featured several billionaire businessmen, by 17 to 6, according to the state-owned TASS news agency.
Putin is a life-long judo enthusiast who reportedly took up hockey just before turning 60. A better question for the president might be about the workout routine he keeps in order to play at such a high level, especially since the competition is surely not cutting him any slack once the puck drops.
---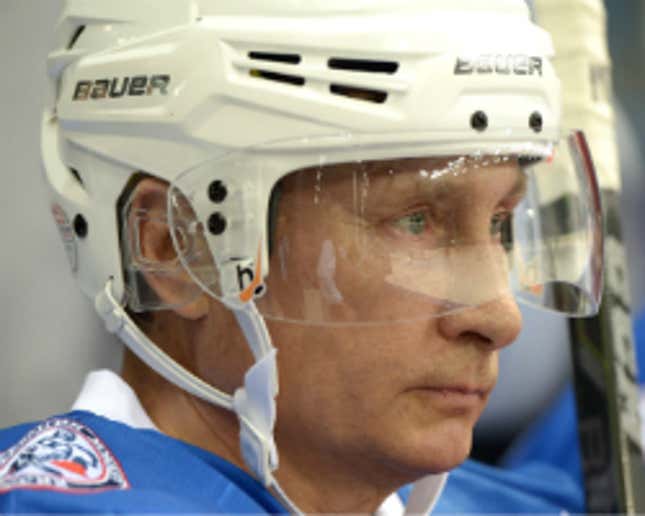 PLAYER STATS
Vladimir Vladimirovich Putin | Russia
Born: October 7, 1952
Height: 5′ 7″ | Weight: ~160 lbs
Shoots: Left
Position: President