Taipei, Taiwan
Crammed with bridal boutiques, tailors, and wedding studios, a short stretch of camphor tree-lined Zhongshan North Road is the epicenter of Taiwan's once-booming wedding industry. But the area is now a shadow of its former self.
"During the best times there were more than a hundred shops here," Cheng said. "Now there's a lot fewer, maybe only forty," said Sunny Cheng, who has worked at the boutique-studio Cinderella x Hera for 22 years.
Since peaking in 2000, when 182,000 couples got hitched, the number of marriages in Taiwan has dropped by 20%, according to government data, owing to the ultra-low birth rate combined with young Taiwanese choosing to marry later in life. But a historic court decision last week means Taiwan is on track to become the first country in Asia to legalize same-sex marriage, throwing a lifeline to the wedding industry.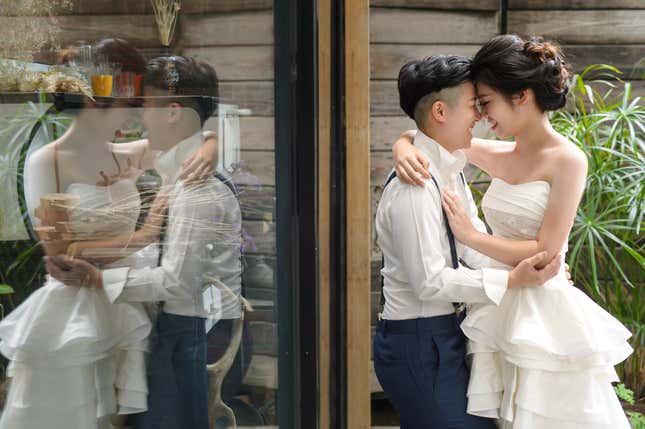 While marriage equality could take up to two years to be enshrined into law, the decision further burnishes Taiwan's credentials as Asia's most LGBT-friendly country. Wedding service providers such as photographers, hotels, and jewelers, who have already benefited from the growing number of symbolic same-sex weddings held in recent years, are expecting a further boost to their business, both from domestic same-sex couples and those from other Asian countries.
Yang Jing-wei, a photographer who specializes in shooting couples, said business has been brisk lately, helped by the 20% of his clients who are in same-sex relationships, and believes demand will "definitely increase." Yang makes frequent trips to San Francisco with gay couples from Taiwan and Hong Kong, taking photos for their wedding albums, for which he charges a minimum of $2,000 plus expenses.
New Zealand is currently the only country in the Asia-Pacific region that recognizes same-sex marriages, and the country has seen a sharp spike in same-sex couples going to get married there, particularly from China.
Lin Chi-xuan, who runs a photography business with his boyfriend, photographer Austin Huang, said many Taiwanese same-sex couples who have already married in other countries are likely to have larger second weddings in Taiwan.
"When they go to the US or Europe, they take their close friends," Lin said. "But if they have a wedding in Taiwan, there will be relatives, bosses and colleagues."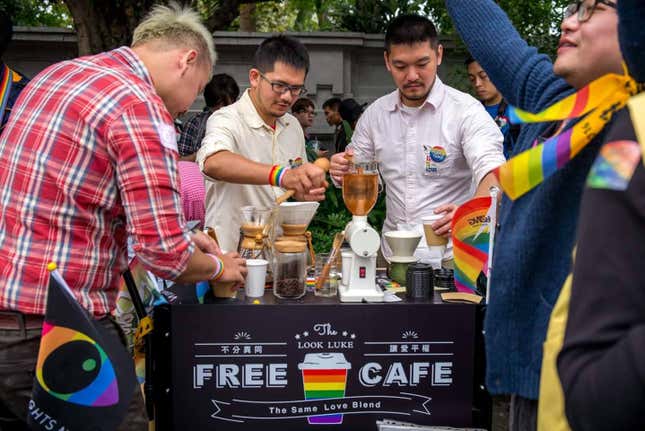 Even coffee roasters and bakers are expecting to see better business in Taiwan's rainbow economy. Willie Tsai and Luke Kuo, who have been together for seven years, founded their coffee roastery and bakery Look Luke, which operates out of their home, in 2014. The couple has built up a small but loyal clientele, which grew significantly since a large rally for marriage equality in Taipei in December where they handed out more than 600 free cups of manual-filtered coffee.
The couple plans on opening their first cafe in November, and expects to sell plenty of wedding cakes for their clientele, which they described as "70% women, 30% gay."
The biggest potential source of new business is China. Gay and lesbian Chinese have already shown interest in both overseas weddings and in visiting nearby Taiwan, not least because many have long looked across the Taiwan Strait as a source of inspiration. Homosexuality is not illegal in China, but it still carries vestiges of the social stigma that led to it being officially considered a mental illness until 2001, and LGBT groups have not been immune from the growing political and social crackdowns in China in recent years.
Meanwhile, corporate China has become more accepting of LGBT people, given the financial incentives—LGBT-linked spending in China is worth an estimated $280 billion to $300 billion, according to public relations firm Weber Shandwick. Even the notion of same-sex marriage is gaining traction there. In 2015, internet giant Alibaba held a widely publicized contest for LGBT couples, where 10 winning couples received a trip to Los Angeles to get married.
For now, there is no indication that other countries in Asia will follow Taiwan in recognizing same-sex marriage.
Beijing resident Ling Jueding, 36, founder of the gay relationship app Zank, married his partner of four years ceremonially in June 2015, hosting a wedding banquet in China's capital with more than 300 guests in attendance. He believes that marriage equality in China too is only a matter of time—"maybe in 20 years… maybe 10″—but that legally marrying his partner in Taiwan with his friends and relatives present would be "a good substitute," for now.