"Enhance."
"Enhance."
"Enhance."
You won't actually have to say the word, but the newest security camera from Nest might make you feel like a TV detective, endlessly zooming in on suspects. Nest, the connected-device company owned by Alphabet, announced its latest smart camera today, the Nest Cam IQ.
The camera constantly records what it sees. Owners can check back over the last three hours of footage from their smartphone (it deletes recordings after three hours), or the last 30 days, if they choose to pay Nest $30 a month for the privilege. The IQ has a 130-degree field of view and can stream its feed in 1080p HD to smartphones, though it actually records in 4K.
"Supersight," the camera's biggest feature, allows users to do something that's generally only been seen in fantastical TV crime dramas. (You've seen the scenes when some random person in a police agency's IT department somehow manages to enhance an image from a security camera by furiously typing away on a keyboard.) Now, homeowners can do what every episode of CSI pretended to do: By tapping in on the video the IQ has recorded, users can seamlessly zoom in on faces—or any other suspect items.
Nest told Quartz that the camera has a twelve-times digital zoom. In a demo, Nest showed its camera zooming in on the face of someone pretending to rob a home with a Nest set up. The IQ produced clear shots of people that you might actually be able to share with local authorities, rather than the pixellated messes from other cameras on the market.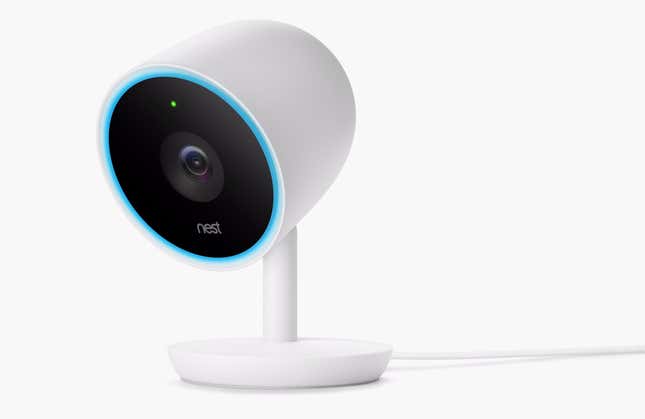 Taking design cues from the outdoor camera Nest launched last year, the new indoor camera has a range of new features. The camera can, like its predecessor, detect when people are walking by its field of view, but it can also differentiate people it's seen before from new people.
The IQ can send alerts to let you know that family members are in the kitchen (perhaps rummaging through the cookie jar when they're not supposed to), and it can also alert you when it doesn't recognize someone. If it's someone you know, you can teach the camera to learn that face. Nest said its camera will continue to learn faces better with each interaction. All of the facial information is stored locally on the camera.
Although Nest is owned by Alphabet, the company said that it aims to be platform agnostic, so you can use an Amazon Echo to control the camera just as easily as you could with a Google Home. Nest does lean on its Alphabet sister company for some technologies inside the IQ: The facial recognition software, for example, is built on Google's own FaceNet technology. But Nest said it's intending for its products to be complimentary to Google's smart-home offerings, just as much as any other popular manufacturers' technology. (Over 30,000 developers have built technologies that integrate with their platform, according to Nest.)
The $299 Nest Cam IQ is available for preorder today, and the company said it should ship mid-June.