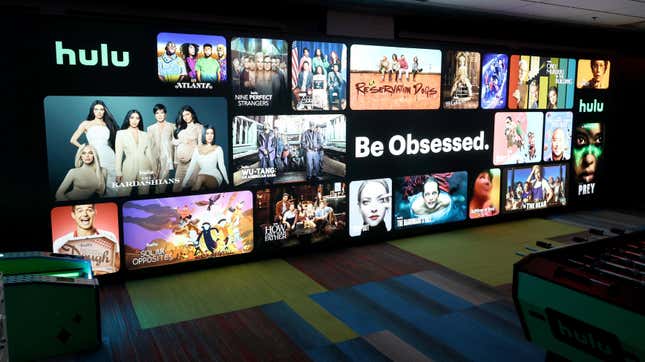 Disney+ is trying to bring the Hulu eyeballs into its fold.
On an earnings call yesterday (May 10), Bob Iger, Disney's CEO, said the company will offer a "one-app experience" in the US after incorporating Hulu content into its flagship streaming service, Disney+, by the end of this year. Iger cited the "advertising potential for the combined platform" as the driving force behind the decision.
Disney is following a wave of streaming consolidation by its rivals: Paramount+ combining with Showtime, or Warner Bros. Discovery's announcement of a new streaming platform named Max, which merges HBO Max and Discovery+.
Iger's remark comes as Disney, which has a 66% stake in Hulu, weighs buying the other third from Comcast.
As part of a streamlining effort to boost revenue, the company is also looking to raise prices of its ad-free Disney+ and boot some content off its platforms. And that's in addition to firing 7,000 workers.
Will Disney buy the rest of Hulu from Comcast?
According to the terms of a 2019 deal, Comcast can force Disney to buy—or Disney can require Comcast to sell—that remaining stake in January 2024. In February, Iger told CNBC in an interview that Disney hadn't taken a decision, and that "everything was on the table." However, he has changed his tune since, touting the complete acquisition of Hulu as the best path to grow the business.
Standalone options for Disney's platforms—Disney+, Hulu, and ESPN+—will remain. The three services have been available as a discount-priced bundle since 2020, but the streaming experience have continued to be separate, with the content available on the individual apps.

While Disney+ launched its cheaper ad-supported tier last December, Hulu's version of this service has been a benchmark in the industry, with even Netflix tipping its hat to Hulu's success in the category.

Charted: Hulu's solid first quarter
By the digits: Disney's earnings for the fiscal quarter ending March 2023

4 million: The number of subscribers Disney lost in the quarter
200,000: The number of subscribers Hulu gained in the quarter

$659 million: The quarterly loss from Disney's streaming business, narrowing from $887 million during the same period a year ago
$21.82 billion: Disney's revenue in the , up 13% from the same period last year and beating estimates
At least $9 billion: How much Disney would have to pay Comcast to buy out the final one-third stake in Hulu

21%: The quarterly rise in revenues from Disney Parks, Experiences and Products, to $8.7 billion
$1.5-$1.8 billion: The "impairment charges"—or reductions in asset value—that Disney will have to bear as it yanks some content off its platform
One 🎢 thing: What's next for Disney's Florida parks?
Disney amusement-park revenues mostly grew on the back of domestic parks and experiences, which posted "higher volumes and increased guest spending," the company noted in its earnings presentation.
But Florida, home to Disney's biggest theme parks, is no longer a hospitable state. The rift between Disney and Florida governor Ron DeSantis keeps widening. Yesterday, Iger explicitly asked if Florida would like Disney to continue doing business there. "Does the state want us to invest more, employ more and pay more taxes or not?" he said on behalf of the state's largest taxpayer.
Related stories
🧑‍⚖️ The Florida board handpicked by DeSantis called its predecessor a "puppet government" in a lawsuit against Disney
🗣️ Disney sues Ron DeSantis on First Amendment grounds
🎢 Disney's feud with Florida's Ron DeSantis keeps escalating