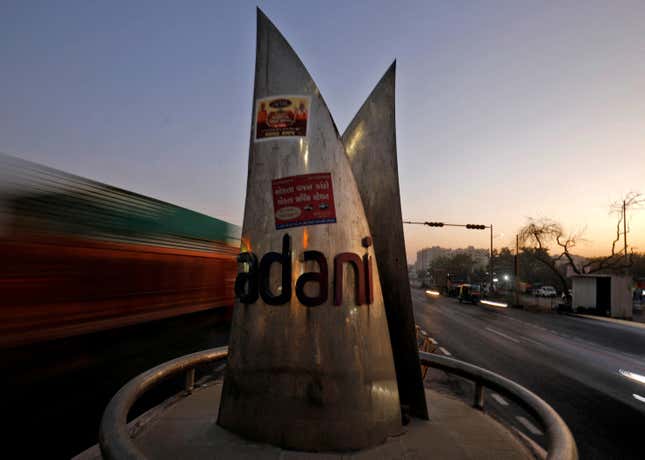 Badly bruised by allegations of fraud made by Hindenburg Research's report published three weeks ago, India's Adani group has reportedly halved its revenue growth target. The group, struggling to keep its credibility, plans to scale down fresh capital expenditure, too.
"Adani group will now shoot for revenue growth of 15% to 20% for at least the next financial year, down from 40% originally targeted," Bloomberg reported yesterday (Feb. 12). The news agency's report cited unnamed sources familiar with the matter.
The report said that the move was aimed at rebuilding investors' confidence.
"The shift shows how the ports-to-power conglomerate is focused on conserving cash, repaying debt, and retrieving pledged shares as it scrambles to undo the damage from a scathing report by Hindenburg Research on Jan. 24," it said.
Adani is in damage-control mode
Adani's move to scale down capital expenditure will slam the brakes on its aggressive expansion plans that were in the works till the Hindenburg crisis erupted. Quartz reported this earlier this month.
For instance, the group has been planning to invest millions of dollars in India's aviation sector since 2020, which now seems unlikely. Likewise, the fate of its $50 billion green hydrogen bet is now uncertain.
The Adani group has found itself in troubled waters since Jan. 24 when Hindenburg, a US-based short-seller firm, released its report accusing the conglomerate of stock manipulation.
While the Indian firm has denied any wrongdoing, its investors don't seem to have bought its defense. Ten listed Adani group companies have lost more than $100 billion in market value since Jan. 24.
The Bloomberg report published may have worsened their fears as key entities like Adani Enterprises and Adani Total Gas had dipped by more than 5% at the time of publishing today.
To counter Hindenburg's allegations, the Adani group has now hired a US-based legal firm, Watchell. Meanwhile, the Supreme Court of India is hearing petitions seeking a probe against the coal-to-cement conglomerate.