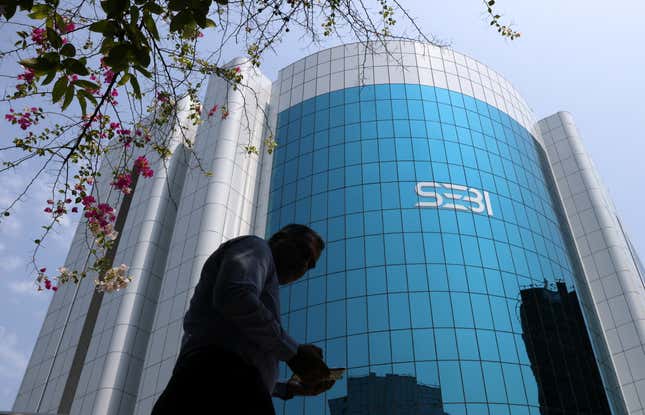 India's market regulator, the Securities and Exchange Board of India (SEBI), has drafted new measures to make foreign investments into a single company or group more transparent.

Should you keep investing in Big Tech?
The proposals, laid out in a consultation paper today (May 31), follow a massive rout in India's stock markets, triggered by allegations of stock manipulation by the Adani group, a ports-to-power conglomerate. In January, Hindenburg Research, a New York-based shortselling firm, alleged that Gautam Adani, the group's founder, had used shell companies in Mauritius to manipulate the stock prices of his companies listed in India.
SEBI's new measures will force foreign portfolio investors (FPIs) who hold more than $3 billion in total in Indian equity markets to disclose granular information about their investments. The rule will also apply to any FPIs who hold 50% of their equity assets under management in Indian equities.

"Enhanced transparency measures for fully identifying all holders of ownership, economic, and control rights may be mandated for certain objectively identified high-risk FPIs that fulfil certain criteria," the SEBI paper says.
SEBI's investigation into Adani has hit a roadblock
In a way, the SEBI paper is aiming to deal with precisely the kind of obstacles it is encountering in its post-Hindenburg probe into Adani.

Several foreign funds invested in the Adani Group have come under SEBI scrutiny. But some jurisdictions are refusing to reveal granular information requested by the investigators, citing client confidentiality and foreign privacy laws. Some even called SEBI's demands for information as "fishing" queries.

Until now, foreign funds have been declaring only their fund managers and compliance officers as beneficial owners. But under its new measures, SEBI wants to identify the actual investors behind the funds.
"They have already provided the beneficial ownership requirements as per market norms, but SEBI wants the names of actual investors behind the fund," Mint reported earlier this month, quoting people aware of the matter.
Hindenburg had identified five Mauritius-based companies that held sizeable stakes in Adani group companies for nearly two decades. But Mahen Kumar Seeruttun, the finance minister of Mauritius, rejected claims that these are shell companies and that they were used for money laundering, calling Hindenburg's allegations "false and baseless."