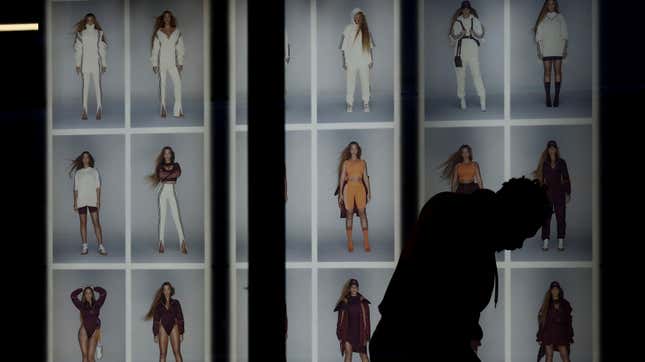 Beyoncé and Adidas will no longer be growing Ivy Park together.

Once touted as a fashion collaboration for the books, the gender-neutral, size-inclusive athleisure clothing collection has failed to gain traction over the years. As a result, the German sportswear brand and the "Lemonade" singer will part ways at the end of 2023, according to the Wall Street Journal.
The news comes days after a Hollywood Reporter exclusive revealed "major creative differences" between Ivy Park and Adidas, adding that Beyoncé is "excitedly looking to reclaim her brand, chart her own path and maintain creative freedom." Quartz has contacted Adidas for comment.
Last year, Adidas terminated its Yeezy collaboration with Ye, the rapper formerly known as Kanye West, over the latter's anti-semitic rants. The decision left the German company with a $1.3 billion problem in the form of unsold stock.

Collaboration with artists like Beyoncé and Ye are rare in the sportswear world, where partnerships are usually forged with athletes. But even Adidas's rivals Nike and Puma have recently dabbled in the music world, collaborating with pop stars Billie Eilish and Dua Lipa, respectively.
A brief timeline of Ivy Park x Adidas
March 2016: Co-founded by Beyoncé and retail magnate Sir Philip Green two years prior, Ivy Park launches as a joint venture with Topshop.
November 2018: Beyoncé gains full ownership of the brand after parting ways with Green in the wake of allegations of sexual harassment and racial abuse involving the British billionaire.
April 2019: Beyoncé announces the first collaboration between Ivy Park and Adidas—the singer calls it "the partnership of a lifetime for me"—marking a relaunch after the Topshop fallout. The athleisure clothing line adds shoes, performance gear, and lifestyle apparel, to its catalog.
January 2020: The pre-sale for the first Ivy Park collection sold via Adidas's website is so successful that the clothes sell out online in six minutes. Within a day, the line also sells out at offline locations like select Adidas stores worldwide, as well as Bloomingdale's, Nordstrom, Foot Locker, and Finish Line locations in the US.
January 2021: Matt Powell, a senior footwear analyst at NPD Group, predicts that Ivy Park x Adidas "has the potential to be larger" than other Adidas collaborations, including Yeezy by Kanye West, "if managed properly." (Spoiler alert: It doesn't come close.)
Fun fact: Where does the name Ivy Park come from?
Ivy represents Beyoncé's daughter, Blue Ivy Carter, and Park comes from Parkwood Park in Houston—where Beyoncé used to go to exercise and find personal strength. "I ran and trained in the park, and that state of mind has stayed with me all these years later," she told Elle. "It's the first place where I learned to listen to my body."
Beyoncé's burden on Adidas, by the digits
More than 50%: How much sales of the Ivy Park brand slid down by in 2022
$20 million: Annual compensation Beyoncé gets despite Ivy Park losing money for Adidas.
The Ivy Park partnership that wasn't: Reebok
Before the Adidas deal was announced, Beyoncé was apparently in talks with Reebok. That collaboration didn't work out. The popstar apparently said "Nobody in this room reflects my background, my skin color, and where I'm from and what I want to do," writer Nick DePaula revealed during an episode of ESPN's The Jump in April 2019.
Reebok, acknowledging months-long discussions with the singer, dismissed the idea that a row over diversity at the company ended the deal. It said the claim was "categorically false."
Related stories
💸 Ending the Yeezy deal created a billion-dollar problem for Adidas
👟 Ye is out, but Yeezy is staying at Adidas