Harare, Zimbabwe
Zimbabwe's army chief, general Constantine Chiwenga has been described by president Robert Mugabe's Zanu PF party as treasonous as tensions and uncertainty in the country rise over the sacking of vice president, Emmerson Mnangagwa. This is happening as talk of a coup attempt spiked after army tanks and military trucks were seen approaching Harare on Tuesday.
Chiwenga warned Zanu PF to stop the sacking of party members that participated in the country's war of liberation from Britain. Chiwenga and some members of the army are said to back ousted Mnangagwa who was dismissed last week for claims he lacked loyalty and was plotting to oust Mugabe.
Local state media ignored the statement by Chiwenga, but a prime time bulletin on Tuesday gave wide coverage to criticism of the army chief by the Zanu PF party's spokesperson and by the youth league. "Zanu PF will never succumb to any threats" by the military," said Simon Khaya Moyo, spokesperson for the party. He added that Chiwenga's conduct was an "outrageous violation of professional soldiership" which suggested "treasonable conduct"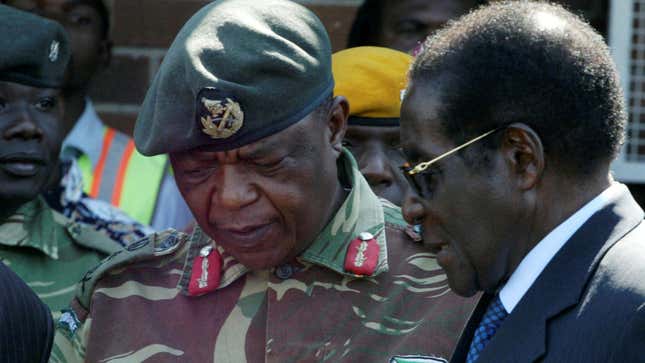 The army spokesperson Alphios Makotore said he could not comment over the phone on reports the army was Tuesday afternoon advancing towards the city from the Inkomo Barracks, just north of the capital, Harare. Some residents in the northern suburbs said the military trucks that had been spotted were now trooping back to the barracks. There were also reports that heavily armed soldiers were patrolling central Harare but Mugabe had been at his official Munhumutapa office amid rumors that he was being hostage by the army.
"This is not the way a coup happens and these movements if true at all could just be something else but not a coup. But we are in interesting times and we will see how Mnangagwa's backers will respond to this after the statements rubbishing the army chief," said Ernst Mudzengi, an analyst in Harare.
Unlike in other parts of Africa, military coups have extremely rare in southern Africa's post-independence history. Coups have generally become rarity across Africa as democracy has taken hold. Since winning independence from Britain in 1980, Zimbabwe has been led by Mugabe, now 93 years old.
Out on the streets
On the streets of Harare, people went about their business on Tuesday as usual as the day progressed but discussions centered on the reported movements by the military. Pictures were quickly shared via social media and  it sparked lively debates and speculation on Facebook, Twitter and WhatsApp.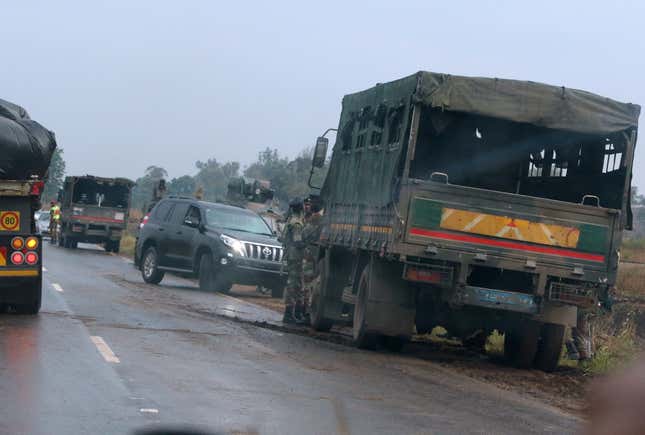 While many discussions expressed concern about the military starting to intervene in Zimbabwe's politics and whether the army's chief's actions were unconstitutional, there were also many who suggest this might be the only way get rid of Mugabe.
Dewa Mavhinga, southern Africa director for Human Rights Watch @dewamavhinga tweeted that "situation tense but rumors of army deployment are so far, just rumors". He highlighted that the "Army Commander Chiwenga was on collision course" with Mugabe.
Civic activists and some Zanu PF government ministers have described the social media messages as fake news. The next few days are likely to be key for Zimbabwe's immediate future as Mugabe is expected to respond further to the dabbling in politics by his army general while Chiwenga may also react to the public criticism he has received from the Zanu PF party.