One month after attending the China-Africa Cooperation (FOCAC) in Beijing, Sierra Leone's president wants the country to turn its back on a piece of China's largesse.
President Julius Maada Bio, who took office in April, has cancelled a loan deal signed by his predecessor for China to build a new $400 million international airport at Mamamah. The government now says the project is "uneconomical" given its only existing international airport is "grossly under-utilized." The new airport was supposed to be completed by 2022.
Sierra Leone's aviation minister says the country's sole international airport will be renovated instead. The government is also considering building a bridge to connect Freetown, its capital city, to Lungi, the town where its only international airport is located. Travelers currently have to travel by boat from Freetown to Lungi.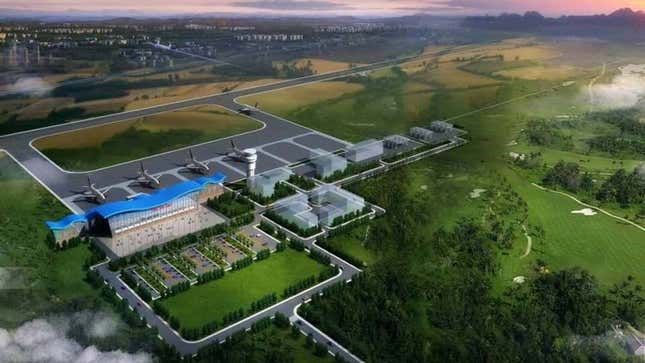 Sierra Leone's decision to cancel the project tails earlier warnings by the World Bank that the airport loan would increase its debt burden. It also comes at a time when China's so called "debt-trap diplomacy" in Africa is increasingly under scrutiny. In March, Rex Tillerson, former US secretary of state, criticized China's economic model in Africa saying it "endangers Africa's natural resources and its long-term economic political stability."
It's a sentiment China has been keen to rail against. During the FOCAC summit last month—while pledging an additional $60 billion funding to African nations—president Xi Jinping claimed China's "win-win" co-operation policy with Africa "follows the principle of giving more and taking less, giving before taking and giving without asking for return."
But platitudes aside, data shows China's millions might leave some African nations in the red. For instance, China accounts for about 70% of Kenya's bilateral debt after increased borrowing and Zambia's government has been forced to deny reports China could take over its national electricity company if it defaults on its mounting loans.
Sierra Leone is one of the world's poorest countries and was ranked 184 out of 189 countries in the 2017 Human Development Index. It has been trying to stabilize its beleaguered economy over the last decade after coming out of a civil war and combatting with a deadly Ebola epidemic in 2014.
News of the plan to cancel the Chinese airport loan comes a few days after a team from the International Monetary Fund wrapped up a three-week long mission to the country. The IMF said the country's economic environment remains challenging, with output growth expected to be under 4 % amid high inflation as it's still recovering from a recent loss in iron ore mining and reduced activity in the non-mining sectors. The fund also welcomed the country's attempts to stabilize its public debt and improve economic management.