It is now official: Africa's free trade agreement has drawn enough signatures to go into operation.
On Tuesday (Apr. 2), The Gambia's parliament was the 22nd nation to ratify the agreement, the minimum threshold expected to approve the deal among the 55 member states of the African Union. The move posits a major step forward for the African Continental Free Trade Area (AfCFTA), which was created last March in Rwanda. The trade agreement is set to become operational within a month after the required number of endorsements are deposited with the AU chairperson's office.
Once in place, the AfCFTA will cover a market of 1.2 billion people and a combined gross domestic product of $2.5 trillion—making it the world's largest free trade area since the formation of the World Trade Organization seven decades ago. African leaders hope the agreement will eliminate current high tariffs, generate employment opportunities for a rapidly growing young workforce, and harmonize the work of already-existing regional economic communities. It could also enhance intra-African trade by 52.3% annually, according to the United Nations Economic Commission for Africa (UNECA).
"Posterity will recall this day," the ex-president of the African Development Bank Donald Kaberuka wrote on Twitter. His sentiments were shared by the former executive secretary of UNECA Carlos Lopes who wrote, "Africa made it." Lopes noted that it took the continent a year to operationalize the trade deal, "an absolute record for these type of agreements."
Trade deals have a reputation for being slow and drawn-out affairs with the European Union-Canada deal, for instance, taking seven years to negotiate after being 22 years in the making.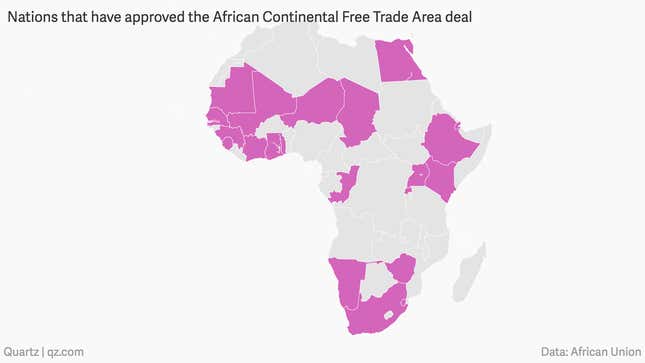 Yet not all is rosy with the historic free trade agreement. Africa's largest economy Nigeria—along with Benin and Eritrea—is yet to sign the agreement, presumably due to pressure from trade and labor unions. Only 15 out of the 22 nations that have ratified the agreement have also submitted their ratification documents at the AU headquarters in Addis Ababa.
Private sector leaders have also expressed their concern about how the deal will be executed and if governments will be bold enough to move the deal forward. "The challenges are going to be in the implementation," Naguib Sawiris, the executive chairman of the Egyptian investment holding Orascom said at the Africa CEO Forum in Kigali, Rwanda last week.
In a speech at the same conference, Rwandan president Paul Kagame said making sure AfCFTA succeeds represents "the very highest consequence for Africa's future." He acknowledged the role of politics and policy in driving countries and the continent forward, stating that he reached out to Nigerian president Muhammadu Buhari to sign the deal.
"Whatever we try to do, even in terms of economic development, the result comes back to the politics surrounding it," he said. "If the politics is bad, everything else is bad. That is why open, responsive, and accountable governance is so critical."
Sign up to the Quartz Africa Weekly Brief here for news and analysis on African business, tech and innovation in your inbox