For what would have been his 80th birthday, Google Doodle is honoring Hugh Masekela, the trumpeter and bandleader fondly remembered as the father of South African jazz.
Masekela, who died on Jan. 23, 2018 after a battle with prostate cancer, was more than a musician. He was also a leading activist during his country's rule under the repressive apartheid government. He ended up in exile for 31 years and did not return home until the release of Nelson Mandela from prison in 1990. But during his exile, he kept playing and raising awareness about the conditions in his country and around the world.
Born on April 4, 1939, Masekela first picked up a trumpet after seeing the film Young Man With a Horn and encouraged by activist Father Trevor Huddleston. Often described as the "father of South African jazz," Masekela was an icon of South Africa's Sophiatown, the political and cultural enclave of Johannesburg that was razed by apartheid police but remains a symbol of black freedom.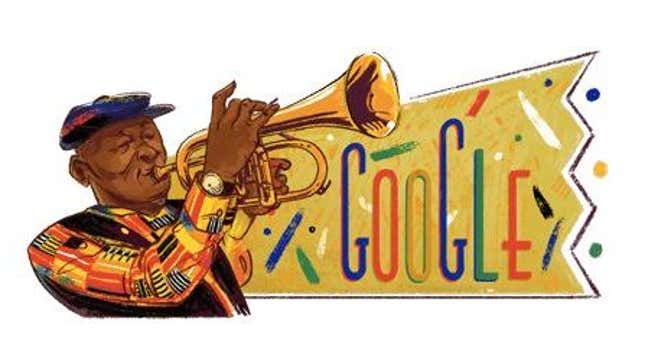 His birthday anniversary doodle is available in South Africa, the US, UK, and a few other countries. It is also being marked on social media with the hashtag #HughMasekela80th.
In a career that spanned decades, Masekela performed alongside musicians such as Miriam Makeba, Miles Davis, Abdullah Ibrahim, Fela Kuti, and Harry Belafonte. Like his contemporaries, Masekela's performance was closely tied to his political beliefs. His music became the backdrop to the struggle against apartheid, with anthems like Bring Back Nelson Mandela and Soweto Blues.
Masekela's last public performance was scheduled for November last year alongside Zimbabwean musical legend Oliver Mtukudzi and a host of young musicians, but was forced to cancel due to ill health. Sadly, Mtukudzi himself died almost exactly a year later in January this year.
Read next: Listen to how Hugh Masekela reinvented his sound through decades of collaborations
Read next: The best anthem for Workers' Day is Hugh Masekela's tale about apartheid's migrant labor system
Sign up to the Quartz Africa Weekly Brief here for news and analysis on African business, tech and innovation in your inbox