As Jumia's initial public offering (IPO) is set to launch, one question is waiting to be answered: how well will the stock perform?
The largest e-commerce operator in Africa, which will trade as "JMIA", has set a price range of $13 to $16 per share and company executives have likely spent recent days on an investor roadshow to gauge and pique interest. As the first e-commerce company operating in Africa to list on the New York Stock Exchange (NYSE), Jumia is pretty much in uncharted territory. And, by itself, that novelty could be a driving factor for investor interest, according to veteran investors in e-commerce companies from emerging markets.
"I suspect that many people will think of it as exciting, as the 'Amazon of Africa," says Kevin Carter, founder of EMQQ, an Oklahoma City-based exchange traded fund focused on internet and e-commerce companies in emerging markets. EMQQ's holdings currently include Naspers, Tencent and Alibaba. "As a headline, retail investors specifically are going to say 'that sounds like the future' [but] institutional investors will be a lot more discerning beyond just the headline," he tells Quartz Africa. 
Eric Jackson, president of EMJ Capital in Toronto was a relatively early investor in Chinese e-commerce giant  Alibaba after it went public on the New York Stock Exchange in 2014. He is also positive about Jumia but for different reasons.
"People are familiar with the business model of e-commerce so it boils down to an easy-to-understand pitch, its first mover advantage and the large market that's only going to become wealthier overtime. There should be a good amount of interest." In addition, Jackson says, "the road ahead of them [Jumia] has been plowed by the successes of Amazon, Alibaba and, to a lesser extent, MercadoLibre in Latin America."
Jumia's IPO is also significant because it will be the first major African-focused venture-funded tech company to go public and will be seen as the flagship for a business sector that is still very much in its infancy but is seen by some as playing a vital role in driving a new type of African development based around technology and innovation.
Usually, amid an IPO launch, the scale of media coverage is one of the markers of public and investor interest. In that regard, Carter believes "the wow factor" of Jumia's status as an Africa-focused online retailer launching in New York will receive some coverage in local US media.
But as Jumia's IPO is happening amid a flurry of major tech IPOs including Uber and Pinterest, it could ultimately be drowned out. And just as its focus on African markets could prove novel, that effect is unlikely to linger for too long, Jackson predicts. "MercadoLibre (Latin America's most popular e-commerce platform) has never been the most popular stock on US business television. It just doesn't get as much attention as an American, European or Chinese-focused stock," he tells Quartz Africa. "At the end of the day, that doesn't mean Jumia won't be successful. A lot of American enterprise-focused companies don't get as much attention as American consumer oriented companies and they do just fine."
Jumia's media mileage could also benefit from the pedigree of Rocket Internet, its parent company known for founding and replicating proven startup models globally. "Most tech people are familiar with Rocket Internet and familiar with their story," Jackson says.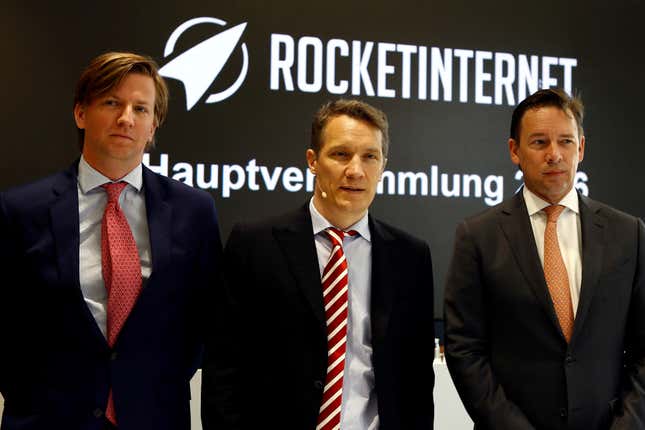 As they typically do, prospective investors would have scrutinized Jumia's S1 filing which showed the scale of its losses: as of Dec. 31 2018, the company has accumulated losses of nearly $1 billion. But Carter says investors are unlikely to be scathing in their judgement of Jumia's loss-making history. "The question is 'what's the critical path to get past those losses'?".
In addition, with similar track records of large losses pre-IPO increasingly common, "Wall Street has a history, particularly with internet and e-commerce companies, of looking past [the losses]," Carter adds. Indeed, recent events back up that prediction with loss-making tech companies like Uber planning their IPO any day now and Lyft successfully launching its IPO amid solid investor interest. Carter predicts investor interest in Jumia will not be hurt by its losses so long the company shows investors "its path to profitability" during the roadshow.
Amid all the attention Jumia is subjected to as it launches in New York, Carter emphasizes the significance of its launch. "The e-commerce story in emerging markets is a very big story," he tells Quartz Africa. And Jumia's launch, he adds, is an "important milestone."
True as that might be however, Jumia is still far from being a globally renowned success story. Indeed, two stock analysts who cover Amazon and Alibaba declined to comment for this story as they'd never heard of Jumia.
Sign up to the Quartz Africa Weekly Brief here for news and analysis on African business, tech and innovation in your inbox