The relationship between China and the world is under focus again this week.
World leaders are in Beijing this week for a summit on the Belt and Road initiative: the sweeping infrastructural project aimed at expanding global trade links and connecting China by land and sea to the rest of Asia, Europe, and Africa.
Developing countries have welcomed the idea since it began six years ago in a bid to fund much-needed roads, trains, ports, and other facilities. Yet the high costs of these projects have prompted complaints that some nations are falling into a "debt trap," with critics warning sovereign entities might have no choice but to hand over controlling stakes in strategic assets to China.
While the BRI's infrastructure is positioned to strengthen commerce, much of the conversation in Africa is still focused on trade deficits. Even as Sino-African bilateral exchanges have increased in the past decade and a half, imbalances continue to persist with African countries importing enormous quantities of consumer and light-manufactured goods as well as machinery and electronics. China, in turn, mostly buys minerals and metals from Africa since it doesn't have enough natural resources of its own to meet its expanding industrial needs.
This has meant that some of the largest exporters to China from Africa in the past few years have been resource-rich nations. In fact, as the most recent data from MIT's Observatory of Economic Complexity shows, many of Africa's most mineral-rich states currently rely on China for a sizable margin—if not an outright one—of their exports.
The minerals Beijing lifts include crude petroleum from Angola and South Sudan, zinc and copper ore from Eritrea, cobalt from DR Congo, raw tobacco from Zimbabwe, besides iron and titanium from Sierra Leone.
Tying minerals to deals with China has proved precarious for some nations. As one of Africa's largest oil exporting nations, Angola has sent oil in exchange for financing key infrastructure—a move that was undermined by the slump in commodity prices worldwide. In 2016, the southern African state was left with only one cargo to sell on the spot market, undermining its ability to raise cash.
Recent research from the China-Africa Research Initiative at John Hopkins University also shows that when Angola is removed from the list of Belt and Road-linked loans, the extent of Chinese lending to BRI signatories "shows a sharp decrease" between 2013 and 2014.
China also gets 95% of South Sudan's crude petroleum exports as of 2017. These included funneling a sixth of its total daily output—30,000 out of 170,000 barrels—to the Export-Import Bank of China to fund the young nation's infrastructure needs. Yet exploration and production have come at a cost for the China National Petroleum Corporation, whose employees have been killed and whose bottom line has been hurt by declining crude outputs due to the civil war. Beijing had hoped to avert such outcomes by deploying peacekeepers to oil fields, a strategy that has proved deadly with the killing of its soldiers.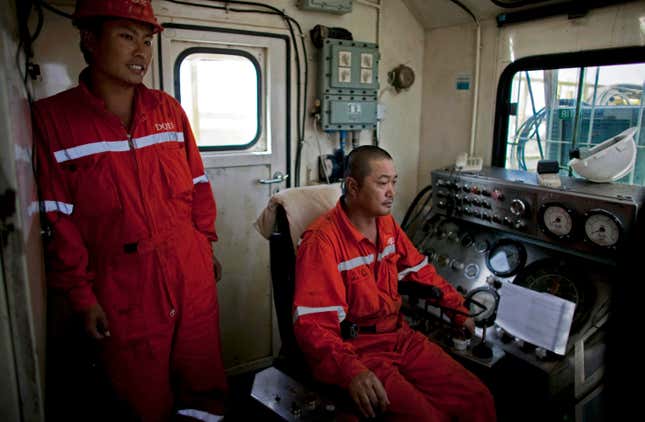 The issue with some of these barter deals is that they don't include any guarantee of the actual value countries would get in exchange for Beijing accessing valuable minerals. And with no competitive bidding for the infrastructure contracts to ensure transparency, observers have noted that the final projects could be shrouded in secrecy and delivered at grossly inflated costs.
China says it wants to fix the trade imbalance and help diversify imports from Africa. At the third summit of the Forum on China–Africa Cooperation last September, president Xi Jinping proposed eight key initiatives that included increasing non-resource imports from the continent. At the upcoming Sino-African trade expo in June, poorer African states will be exempted from paying exhibition fees to showcase their products.
Xi also said they will support mechanisms to promote e-commerce cooperation and hold joint activities to market Chinese and African brands. Beijing also committed to setting up a $10-billion special fund for development financing, showcasing a possible change from a resources-for-infrastructure model of financial engagement.
Beyond the bouquets of loan offers, grants, and debt cancellations dished every so often—with Ethiopia being the latest—the onus of balancing trade with China is equally the responsibility of African governments. And while the answer to widening disparities might lie with fairer and more open trade, observers say the African countries should look to each other for products and markets.
One way Africa could capitalize on itself is to implement the continental free trade agreement, which drew enough signatures to go into operation early April.
Sign up to the Quartz Africa Weekly Brief here for news and analysis on African business, tech and innovation in your inbox