Fidgety oil companies and investors heaved a sigh of relief in August when Kenya and Uganda announced they had picked a route for the world's longest heated pipeline. Finally, there was a plan for getting the estimated 1 billion barrels in Kenya's remote northwest out of the country.
The proposed route cut from northern Uganda's Albertine region, into Kenya, through the Lokichar Basin, and then southeast before terminating in Kenya's coastal Lamu County. It would have allowed Kenya to share the cost of piping oil with Uganda, which has 6.5 billion barrels of its own oil that it wants to get to market.
But this week Uganda turned around and announced it had instead signed an agreement with Tanzania and Total (which is exploring in Uganda) to consider a pipeline for Ugandan oil through Tanzania, bypassing Kenya altogether.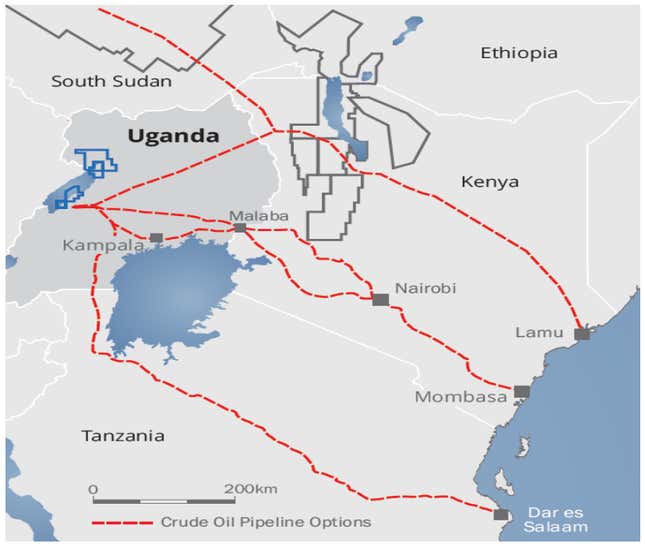 If that plan goes ahead, Kenya's oil companies—Tullow Oil and its local partner, Africa Oil—would have to foot the bill for the 1,500-kilometer (930-mile) Kenya pipeline, estimated at $4.5 billion, alone. The high price is because the waxy nature of the region's oil requires that the pipeline be heated, basically to prevent it from becoming a giant candle. With low oil prices as low as they are, it seems more likely that the project will be put on ice.
Uganda's change of mood threatens more than just the Kenya pipeline. It calls into question the entire $20 billion LAPSSET (Lamu Port South Sudan Ethiopia Transport) Corridor. This an ambitious Kenyan project that includes not only the oil pipeline, but also a road network across the north of the country and a coal-fired power plant.
When LAPSSET was conceived, the idea was to also pump oil out of South Sudan, Kenya's neighbor to the northwest, thus spreading the costs further. But with South Sudan now embroiled in war, if Uganda steps out of the picture there'll be less need for the pipeline—and little financial interest or support for the rest of LAPSSET.
You can be sure that Tullow and Africa Oil will scramble to make Uganda believe the Kenya pipeline is the better option. If it were only about costs, they might still have a shot. But Total's CEO, Patrick Pouyanne, said on Oct. 16 that the company's chief concern is security.
The planned route is not far from Kenya's border with Somalia, and Kenya doesn't have a fantastic track record of protecting its territory from al-Shabaab incursions. Lamu County has suffered a series of attacks by al-Shabaab since Kenya joined the battle against the Islamist militia in Somalia; it also borders Garissa County, where al-Shabaab killed 148 people, mostly students, at a university in April.