On Monday (Oct. 19), students at three of South Africa's top universities "shut down" their campuses with protests against fee increases for the 2016 academic year.
The mass demonstrations began at the University of Witwatersrand in Johannesburg last week Wednesday (Oct. 14), after the university—ranked as the 2nd best South African university in the 2015 QS World University Rankings—announced that it would hike tuition fees by more than 10% next year, and would start demanding an upfront fee of 10,000 rand ($752) from each student at the beginning of the academic year.
Since then, protests have spread to the University of Cape Town and Rhodes University, with students at the picket lines arguing that the proposed hike would financially exclude mainly black and poor students.
The University of Witwatersrand has argued that its hands are tied: government subsidies for South African universities are declining, and utilities have increased higher than inflation. Furthermore, the weakening of South Africa's currency has placed pressure on the university as it purchases its research equipment, books and journals in foreign currencies.
University funding not enough
The nationwide protests have launched a debate about the role of state funding in education, in a country where a university education—inclusive of tuition, accommodation and books—costs an average of R 100 000 per year, against the backdrop of high unemployment (25% in the previous quarter), and low monthly wages for the average South African worker.
South Africa continues to spend considerably less on universities than its emerging market counterparts, says Belinda Bozzoli, former deputy vice-chancellor at the University of the Witwatersrand and a current South African member of parliament.
"South African university funding languishes at levels below those of dozens of emerging economies—at a mere 0.6% of GDP it is dwarfed by the levels in Saudi Arabia (2.3%), Russia (1.8%), Argentina (1.4%) and India (1.3%)," wrote Bozzoli  on the South African commentary and news site, Politicsweb on Oct. 19.
While the cost of education in South Africa has risen over the past six years, according to data from South Africa's statistical agency, StatsSA, government subsidies to South African universities have not kept up.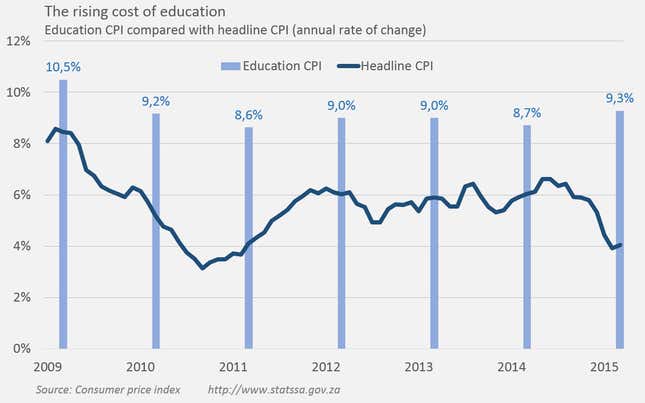 South Africa's government does offer the National Financial Aid Scheme (NSFAS)—a part loan, part bursary funding scheme that has assisted over 400,000 students this year with university fees, in a pool of 900 000 public university students.
Established in 1999 as the Tertiary Education Fund for South Africa, NSFAS has grown its budget from R441 million in 1999 to R9.5 billion in 2015 and has helped many black and poor South African students access higher education.
But this hasn't been enough. The levels of higher education participation in South Africa still favor wealthier, white South Africans.
2015 may well go down in South African history as the year of the student. From the March #RhodesMustFall protests against public monuments and universities, to the current protests over university fees, South African students are finding their voice.