Tanzanians, like other Africans on the continent, are doing almost everything via their phones these days—from paying bills, depositing and transferring cash, to accessing loans.
And now an app has introduced a new way for people to read newspapers. M-Paper is distributing printed editions directly to readers' phones.
"After M-pesa for mobile money, why not have M-Paper for mobile papers?" Edwin Bruno, chief executive officer of Smart Codes, the digital agency behind the app, told Quartz.
While print media in the West is feeling the pressure of having to compete for readers and ad revenue from all sorts of online sources, in Africa the situation is slightly different. People here still trust newspapers more than online platforms to deliver the news.
But infrastructure problems have always made it difficult to distribute newspapers in a timely fashion beyond the country's urban centers. On top of that, a reluctance to embrace digital tools has meant that the online presence of most newspapers is either severely limited or non-existent altogether. So as soon as mobile emerged as the primary mode for people to access and consume information, it was inevitable that someone would leverage the platform to distribute content.
"What we wanted was to give people authentic news over their mobile phones," said Emmanuel Kawedi, director of projects at Smart Code.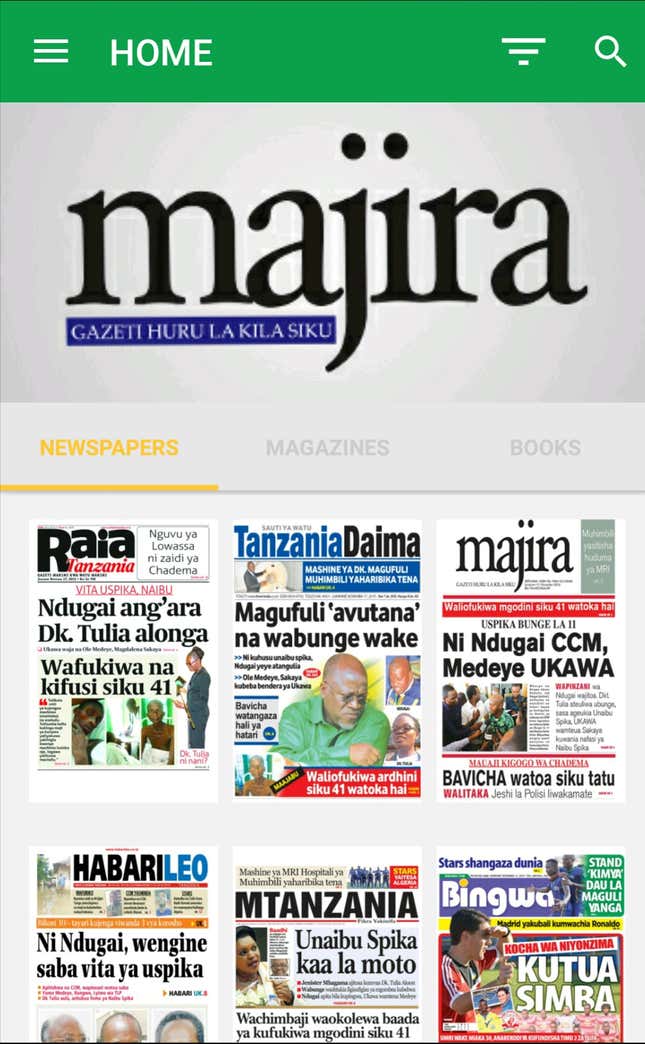 The app has 46 newspapers on its roster, including some of the most prominent publications in the country, such as The Citizen and Habari Leo. It also houses magazines, and to a lesser extent, books.
Every night, as they send the next day's editions to the printers, they also upload it to M-Paper. "When they have uploaded it onto the dashboard, they can schedule at which time they want M-Paper [users] to receive it over their phones," Bruno explains.
In the two months since it launched, M-Paper has attracted 40,000 downloads, according to Smart Codes figures. And M-Paper has started to attract attention, winning an Apps Africa Innovation Award in South Africa this month.
A mobile news-stand
M-Paper is available for free on Google Play Store, and, for now, only to Android users. The decision to start with Android, Bruno explains, was due to the fact that most of the 2.9 million smartphone users in Tanzania own are on Android powered devices.
The way M-Paper works is, once it is downloaded, users can browse the front pages of newspapers for free. But to access content beyond that, one has to actually buy the newspaper. Through a mobile wallet that allows payments via mobile money or credit cards, users can either buy an individual paper or get a subscription. This then allows for automatic downloads of the newspaper every time a new edition hits the proverbial news-stand.
"What the app does is give you the experience that you get when you go to your news-stand," but on your mobile phone, adds Kawedi.
Meanwhile, to grow their user-base, Bruno and company are looking to partner with a mobile carrier, especially one with a continental presence. He believes that the millions of subscribers that a Vodacom or an Airtel come with can be a boon for their business.
"The way they are pushing their mobile money, we want them to push mobile paper," says Bruno.