A florist chain in Argentina, a food delivery service in Hong Kong, and a Singaporean travel agency—these are a few of the companies relying on a Kenyan startup to help them talk to their customers on WhatsApp, WeChat, and other messaging apps.
Ongair, a Nairobi-based startup, says instant messaging could and should replace the traditional channels of customer service—frustrating phone calls, inefficient e-mail exchanges, online chats that don't work well on a smartphone, or SMS messages that costs businesses per text.
"If your customers are on instant messaging, let them be there," says co-founder Trevor Kimenye. Last year, three times as many messages were sent via WhatsApp or Facebook messenger a day than SMS. Ongair helps companies use those apps for customer service by aggregating messages from the various platforms into one dashboard.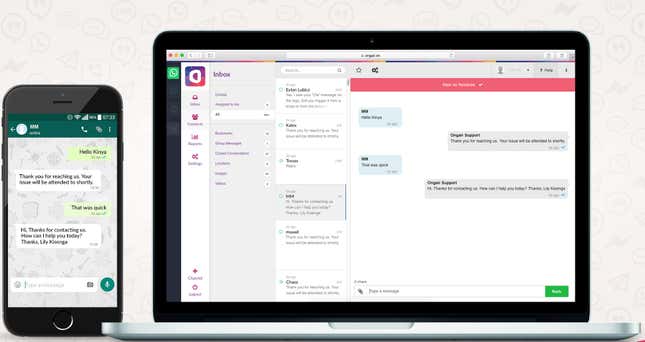 Ongair is a small operation, less then two years old, that occupies a single floor in a house in central Nairobi, East Africa's so-called "Silicon Savannah." It wouldn't be the first time that technology has emerged from Kenya, where one of the most widely used mobile money systems, M-Pesa, and the crowd-sourced mapping software Ushahidi, were both invented.
Where Ongair, whose name is a play on the Kiswahili word ongea, "to speak," differs from many of its peers in Nairobi is its focus. It is not a social enterprise working on one of the many humanitarian issues East Africa faces. Ongair is targeting businesses, and mainly those outside of Kenya in Asia and South America. The company is challenging the idea that African startups should focus on solving problems at home first.
"It's almost like African startups are expressly qualified to fix our problems, but if you are trying [to fix problems] at a global level, there are questions," says Kimenye.
Kimenye and his cofounder Charles Gichuki came up with the concept of Ongair in 2014 after working on a charity fundraising campaign for the Kenyan lender, Chase Bank. When donors sent funds via mobile money, the bank sent an image of a rose to them over WhatsApp.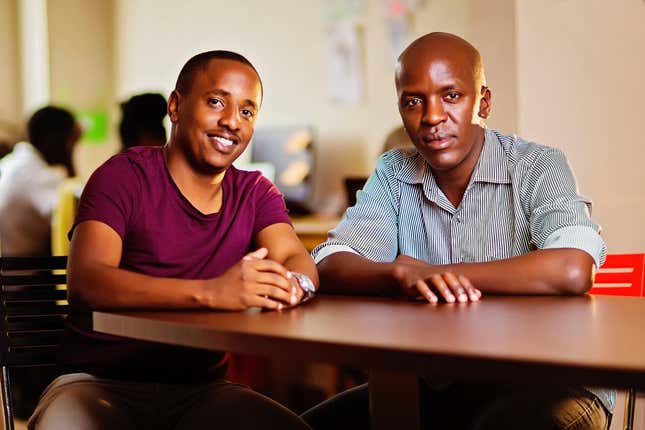 They soon realized WhatsApp's advantages. Sending bulk messages to customers was cheaper than SMS and had a higher chance of being read—a 98% open rate compared to just 30% for email campaigns. The app made it easier for the bank to communicate with clients living abroad.
Now, Ongair has 800 clients in South America, India, and Asia, and works with San Francisco-based customer service company Zendesk to integrate WhatsApp and WeChat into their service. The company recently raised $125,000 from the venture capital firm Nest to expand to Hong Kong where it plans to focus on businesses using WeChat, the Chinese messaging app better known as Weixin within China.
But they are not the only ones thinking about instant messaging for businesses. Ongair faces larger rivals like the California-based Nexmo, which was acquired by the internet communications company Vonage for $230 million earlier this month, or the Beijing and Silicon Valley-based Grata, which already focuses on WeChat.
Facebook and WhatsApp have begun exploring ways for businesses to use their messaging features. Tencent, which owns WeChat and Weixin, has long offered official accounts to businesses.
"There is that risk that one of these players comes out with some really good tools to support businesses. The fact that we aggregate multiple channels is our advantage," Kimenye says.
Ongair faces challenges that its rivals don't, including monthly blackouts that force the team to decamp to the local coffee shop. Kimenye and his cofounder Charles Gichuki say they regularly field questions about the security of their platform and where their servers are located. One reason why they expanded to Hong Kong is that online credit card processing companies won't serve Kenyan-based businesses.
But the biggest concern is one they can't predict. "The one thing in the back of my mind is whether messaging is a fad," says Kimenye.