Treasure Beach, Jamaica
For the last year and a half novelist Marlon James has been sifting through "boring" academic history books, doing research on African kingdoms, from the Benin Empire to the Solomonic dynasty, for his next book, dubbed the "African Game of Thrones."
James became the first Jamaican to win the Man Booker Prize last year and said he considers himself a big fan and student of African literature. James' brief mention of his new project, Black Leopard, Red Wolf, late last year sparked tons of interest. Apparently, there are lots of Afrophile "Game of Thrones" fans.
Game of Thrones, the HBO television series based on fantasy writer George R. R. Martin's A Song of Ice and Fire series, has been criticized repeatedly for its lack of diversity, although its creators have argued that since the fantasy worlds in the series are based on medieval England, roles for characters of color are limited. 
James' award-winning A Brief History of Seven Killings, has been optioned as TV series for HBO. The book was inspired by the 1976 assassination attempt on the life of reggae icon Bob Marley.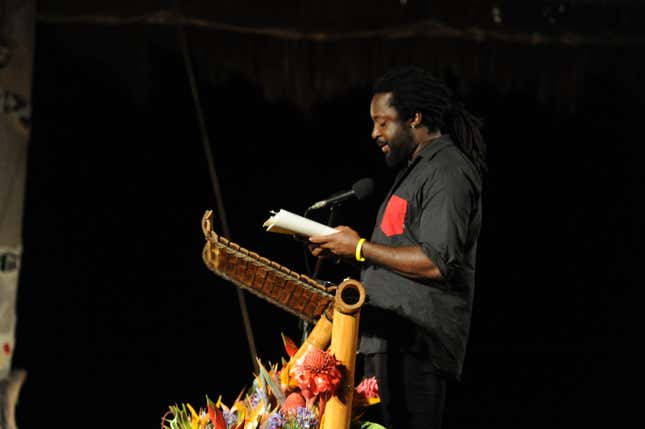 James' new novel will be based on ancient African empires, he wants a fantasy world that "has absolutely nothing to do with the European."
"Definitely lots of Benin, lots of Mali, lots of Songhai, lots of Ghana, lots of the Mossi kingdoms, the Falashas, the Solomonic dynasties in Ethiopia," James said, listing off African kingdoms from across the continent at the Calabash International Literary Festival in Treasure Beach, Jamaica.
While drawing on African history, it won't be a historical novel.
"To write a novel like this calls for a lot of reconstruction. I'm not writing actual cities, because it's still fantasy, it's not history… but it's also clearly influenced by these amazing glorious ages of African kingdoms."
Although he says he's inspired by fantasy icons like George R. R. Martin, Robert Jordan, and Patrick Rothfuss, James isn't so sure the novel will really be an "African Game of Thrones." He's not even a big fan of the show, although he said he does watch it.
"I don't know if it's the Game of Thrones, but it's definitely playing on mythology and history and it's swords and sorcery and all of that," James said.
"I want to pull from a different universe of myths. I want to pull from a different body of history. A different kind of language. Even a different way of how we tell stories. That's what's been fascinating me and that's what I'm setting out to do," he said.
But he admits he's following in an old tradition.
"It's not like I'm doing something new. I mean, the African literary tradition is already there," he said.
James, who said he's an "exhaustive" researcher who usually does two years of research before writing anything, has also been studying African folklore and ancestral art and sculpture.
As a fan of African literature, James wanted to draw on African authors read, and has been reading books like Stephen Belcher's Epic Traditions in Africa, which also showed up on his list of ten books to take to a desert island.
He's been to Africa once—to the Ake Book Festival in Nigeria—but it wasn't a research trip, so he says he'll probably go back at some point.
So when will this epic book be out? Fans will have to be patient. "Oh, I haven't even started it yet. This is all lofty ambitions," James said.