Even though he died at the young age of 30 in 1977, Steve Biko is considered a luminary among the pantheon of great leaders who fought apartheid in South Africa.
He was the founder of the Black Consciousness Movement, which empowered black people to take pride in their way of life and stand in solidarity with each other. Biko was also a writer, a human rights activist, an organizer, and is considered by some as the greatest martyr of the anti-apartheid regime.
Now Google is celebrating the 70th anniversary of his birth with a commemorative Doodle, signifying the importance of Biko to his country and the world.
"Black is beautiful," a note from Google on its website said. "Steve Biko knew this fully well, and fought to spread this message across South Africa at the height of the apartheid movement in the 1960s and 1970s."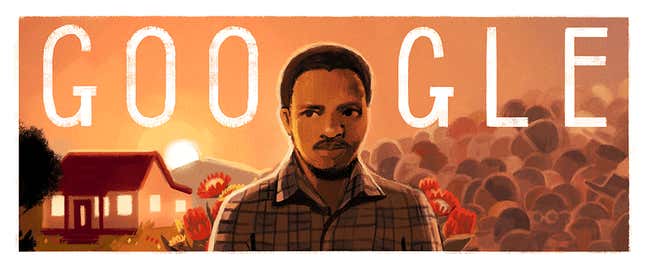 Biko became engaged in the anti-apartheid movement while studying medicine at the University of Natal. He created the South African Students' Organization and in 1968, became its first leader. After he was expelled from medical school in 1972, he started working full time on the cause leading the government to restrict his movement and activities—to the point of prohibiting him from meeting more than one person at a time. Despite that, Biko continued with his activities including taking part in organizing the Soweto Uprising, where police opened fire on student protestors.
The anti-apartheid icon died while in police custody in Sept. 1977 after he was arrested in Port Elizabeth for interrogation and then taken to Pretoria for medical attention. Even though the police first claimed he died of a week-long hunger strike, they later said that Biko hit his head against a wall during a scuffle.
Since his death, Biko's legacy has been the subject of numerous articles, books and a movie, Cry Freedom, starring Denzel Washington. The Steve Biko Foundation also carries on his vision, working with communities to promote greater self-reliance through education and training. The Doodle from Google also joins those of African icons like Nelson Mandela and Nobel Prize winner Wangari Maathai, both of whom dedicated their lives to the pursuit of equality and justice.