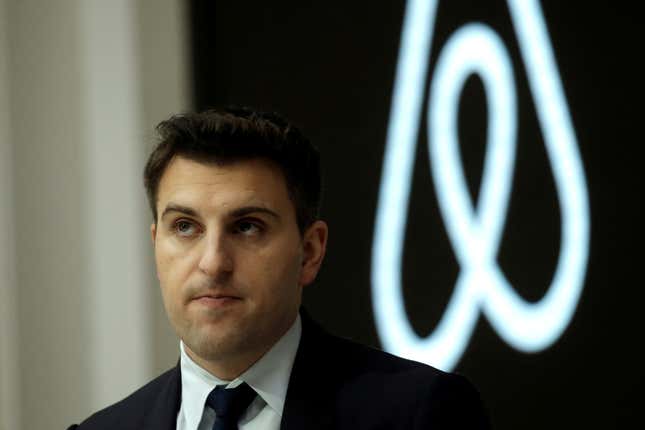 Summer revelers be warned—Airbnb is embarking on an anti-party crackdown.

In a blog post published Wednesday (May 24), the short-term rental platform announced it is implementing a "party prevention system" to detect and block "higher risk" bookings over the Memorial Day and July Fourth weekends. It is the second year that Airbnb is introducing measures against party bookings.
The company is also encouraging neighbors to to call a "24/7 Neighborhood Support" hotline if they detect partying is afoot at one of its rental properties.
Airbnb said it is keeping a close eye on one- and two-night reservations for entire homes, taking into consideration when the booking is made, who is making the booking, and their distance from the property.
"Guests who are able to make local reservations are required to attest that they understand Airbnb bans parties, and that if they break this rule, they may be subject to suspension or removal from the platform," the company said in the blog post.
Airbnb introduced a global party ban in 2020 during the covid pandemic, and has enforced similar systems to cut back on holiday weekend parties over Halloween and New Year's Eve.
Airbnb's clampdown on parties, by the digits
73%: Airbnb listings around the globe that had already prohibited parties, prior to the 2020 ban
55%: Year-over-two-year decrease in the rate of party reports to Airbnb since the 2020 ban
0.039%: Share of global reservations that led to a party report in 2022
300 million: Expected number of Airbnb guests in 2023
Shootings, trashed mansions, and lawsuits
Parties at Airbnb properties have had deadly consequences. In November 2019, five died in a shooting at a Halloween party held in an Airbnb in Orinda, California.
Then in April 2022, a mass shooting took place at an Easter party at an Airbnb rental in Pittsburgh, Pennsylvania. Two teenagers died and eight others were injured, two of whom have since filed lawsuits against Airbnb. A couple months later, Airbnb made its party ban permanent.
Prior to the deadly incidents, Airbnb also contended with reports of pop-up brothels at rental properties, post-party wreckage, assault, drug use, and extensive damage to properties in the thousands of dollars—and in the case of one London mansion, allegedly close to $1 million.
Related stories
💳 Brian Chesky wants Airbnb to feel affordable again
🙅‍♂️ These online searches will activate Amsterdam's "Stay Away" campaign
😌 Airbnb isn't worried about a recession, says Airbnb cofounder