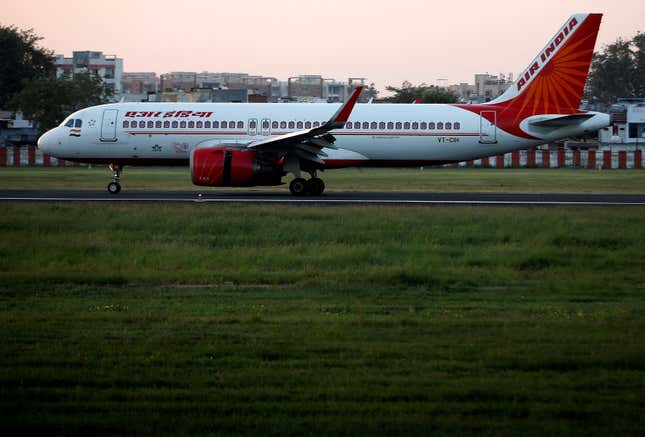 Two particularly nasty instances in the past few months have put the spotlight on a peculiar problem facing airlines that operate in or fly to India: uncouth passengers.
On March 4, an inebriated Indian student urinated on a co-passenger on a Delhi-bound American Airlines flight from New York. A case was filed against the 21-year-old on landing and he has been banned from flying.
In November 2022, a man allegedly peed on a 70-year-old woman in the business class of section of Air India's New York-Delhi flight. Air India was fined $36,657 and the accused was arrested later, but not before much brouhaha in the media and on social media.
A similar incident occurred on a Delhi-Paris flight, too, on Dec. 6.
Unfortunately, these are not isolated cases. Bad behavior by Indian flyers has often caused flight delays and risked others' safety.

Rowdy behavior is common among Indian flyers
Last December, a video went viral on social media showing a heated argument between an air hostess and a passenger on an Istanbul-Delhi IndiGo flight.

This January, at least three people were held at the Mumbai airport in separate incidents involving unruly conduct: On Jan. 28, a man was held for creating a ruckus on an Akasa Air flight. A day later, another was held for putting a Nagpur-Mumbai IndiGo flight at risk by opening an emergency exit before landing. A drunk Mumbai businessman was also arrested on Jan. 29 for abusing a member of IndiGo's cabin crew.

In 2022 alone, 63 people have been temporarily or permanently (based on airlines' reports) barred by Indauthorities from boarding flights. Since 2017, up to 143 names have been added to this list.
What can airlines do to deal with uncouth flyers?
Such unpleasant behavior is triggered by Indian flyers' sense of entitlement, according to Gurugram-based lifestyle and personality development coach Vani Katyal.
"Most Indians with an ability to spend money have an extraordinary sense of entitlement. They already lack respect for the ones they think are inferior to them, especially the ones working in the service and hospitality industry," Katyal said.
This can be tackled by more stringent rules and their efficient implementation, industry experts say.
"I think there is a need to amend the Civil Aviation Requirements of 2017 and make it compulsory to lodge an FIR in all cases of unruly behavior in the plane irrespective of the level of seriousness of the offense," supreme court lawyer Ujjawal Anand Sharma told news agency PTI.
Moreover, these incidents also often highlight the cabin crew's inefficiency.
For instance, following the November 2022 incident, they let the accused walk away without reporting him to authorities for his repugnant act. Similarly, while other flyers on IndiGo's Istanbul-Delhi flight mentioned above backed the cabin crew, at least some industry veterans believe the air hostesses ought to have simply walked away.
"A situation between a passenger and a crew is like fire and oxygen, the more you come together, the more it's going to inflame. The air hostess should get away from the situation, and after some time, when the tempers have calmed down, one should come back to the passenger and address the issue," K V J Rao, former Air India crew and aviation expert, told Business Standard.