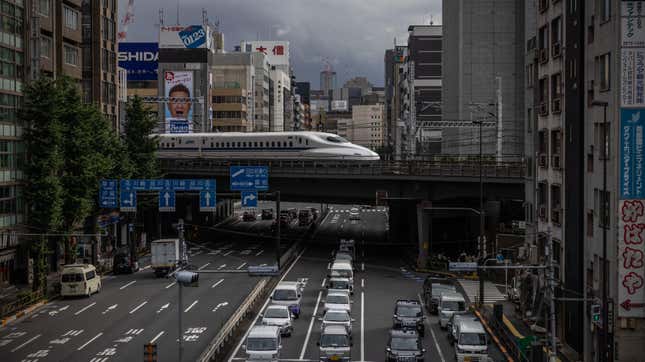 US passenger railroad Amtrak is breathing new life into private high-speed train maker Texas Central Partners' dreams to launch a Dallas-Houston line. The ambitious plan of connecting two of the five largest US metropolitan areas, which has been a decade in the making, proposes a 240-mile (380 kilometer) route that would be covered in under 90 minutes one way.

Should you keep investing in Big Tech?
The state-owned enterprise and the private company have submitted applications to several federal grant programs, seeking funding to research and design a high-speed rail service between Dallas and Houston, the two announced yesterday (Aug. 9).
In the press release, Amtrak said it has worked with Texas Central since 2016, entering agreements "to provide through-ticketing using the Amtrak reservation system and other support services" for the work-in-progress high-speed rail line.
The US Congress approved $66 billion for rail to address Amtrak's maintenance backlog as part of the 2021 infrastructure bill, marking the largest investment in passenger rail since Amtrak was created in 1971. This June, Amtrak said it had applied for $8 billion in grants to modernize bridges, tunnels and other aging infrastructure that will help it boost rail speeds.
A brief timeline of Texas Central Partners trying to stay on track
March 2022: Texas Central owes more than $600,000 in delinquent property taxes to several counties on the railway's path, according to a Texas Supreme Court brief filed in March by lawyers for the counties of Grimes, Madison, Leon, Waller, Freestone, Ellis, Limestone and Navarro.
Early June 2022: Texas Central CEO Carlos Aguilar resigned publicly on LinkedIn.
Later in June 2022: Much to the chagrin of advocacy group Texas Against High-Speed Rail rallying to "protect property, property rights and values, and our way of life from the negative impacts of high-speed rail," the Texas Supreme Court rules that Texas Central Railroad & Infrastructure can use eminent domain—the right of governments to usurp private property for public use, following fair compensation—to acquire land for a Dallas-Houston bullet train. The company claims the route it has drawn up minimizes acres of wetlands impacted permanently, businesses displaced, land parcels required, agricultural structures acquired, and more.
Quotable: Backlash for Amtrak and Texas Central's high-speed rail plan
"Like clockwork, Texas Central is proving what I have been saying for the last year or more: they cannot exist without taxpayer money coming from Washington DC. So, the high-speed rail that doesn't have a board of directors, doesn't have it's own real CEO, doesn't have any employees or even its own telephone number, is trying to partner with another railroad that lost over $2 billion last year. Amtrak and Texas Central seem like perfect bedfellows as they'll both cost taxpayers billions more than they'll bring in. I'll continue to do everything possible to fight this disastrous and failed idea."

—Texas State Representative Cody Harris, who had proposed a bill in the Texas House to create more financial transparency related to the project, in a statement on Aug. 9.
The Dallas-Houston high speed train, by the digits
17,000: Potential jobs created by the high-speed trainline between Dallas and Houston
$36 billion: Expected economic impact of the high-speed train
3: Stations on the line—one at the defunct Northwest Mall in Houston, one in Brazos Valley, and the last south of downtown Dallas
6 million+: Passengers expected to ride the train annually by 2029, which will climb up to more than 13 million by 2050, as per a study commissioned by Central Texas
60 to 90: Minutes the train will save per trip between Houston and North Texas
85%: Texans surveyed who have traveled between Greater Houston and North Texas over the last 12 months who say they would use the train in the right circumstances
100,000 tons: Volume of reduced greenhouse gas emissions annually, saving 65 million gallons of fuel while removing 12,500 cars per day from I-45 highwa
Train of interest: N700S Series Shinkansen
Texas Central's design will draw from Japan's "advanced, proven Shinkansen technology" to develop the bullet train in the US, Texas Central CEO Michael Bui said.
The Central Japan Railway Company's N700S Series Shinkansen trains were firt unveiled in Tokyo in July 2020. The latest models are earthquake-proof and more comfortable.
Another high-speed train of interest: San Francisco to Los Angeles
More than 15 years ago, California voted "yes" on a plan to build an electric train that would cover the 380-mile distance between Los Angeles and San Francisco in two hours and 40 minutes.
Over $9 billion has been spent on the project and there has been some progress—over 10,000 people have found jobs during the construction and 422 out of 500 miles on the route have received environmental clearance. Not a single track has been laid yet, but more than 119 miles are under construction.
The biggest speed breaker, though, remains capital. California High-Speed Rail Authority suggest it will cost between $88 billion and $128 billion to complete the project, and funding is sparse and slow to come.
Meanwhile, another bullet train project is closer to being realised in the Golden State. Rail company Brightline West recently announced it was starting work on a $10 billion project with the High-Speed Labor Coalition later this year, to open a Las Vegas to Los Angeles high-speed rail network in 2027—one year before Los Angeles is due to stage the Olympic and Paralympic Games.
Related stories
💨 The dream of the first hydrogen rail network has died a quick death
🚅 A decade ago, the US was promised high-speed rail—so where is it?
🇨🇳 High-speed rail is at the foundation of China's growth strategy